10+ Lantern Swag Ideas You Must Make
This list has lantern swag tutorials that will give you fun and festive decorations for Christmas, Fall, or any day of the year. I have always loved these types of projects because they are so versatile in what materials to use as well as how many steps there can be involved with each process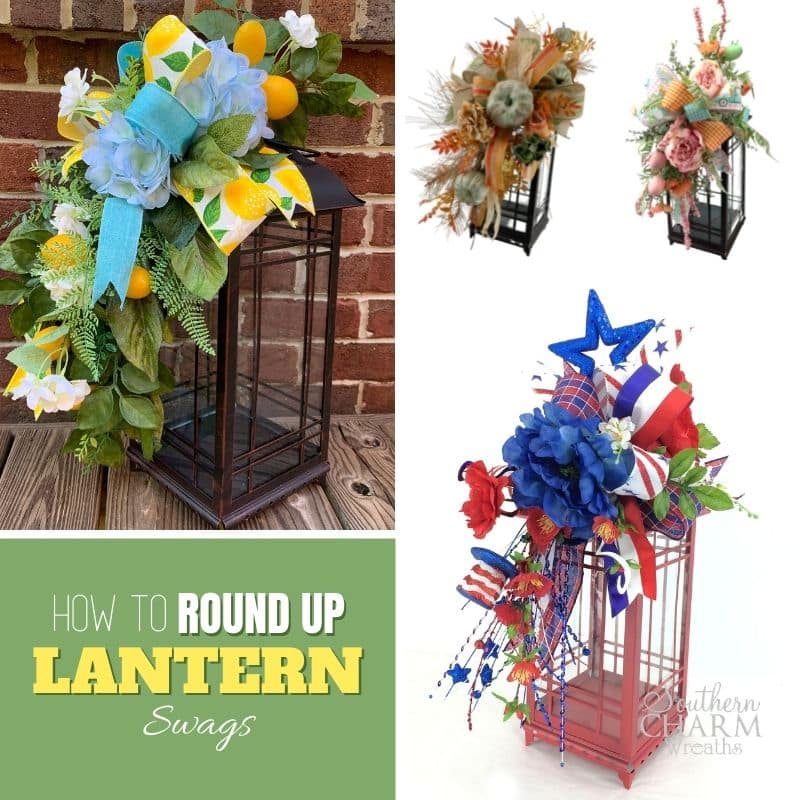 What is a Lantern Swag?
Lantern swag is a term that describes a festive decoration on top of an antique metal lantern. This can range from large ribbon bows to bouquets with foliage.
In this guide, I'll share some really fun ideas for adorning your lantern that you can make any time of year. Whenever you need a fresh and fun tutorial, this is the place to find it.
Must-Make Lantern Swag Ideas
Let's get going on my favorite lantern swag ideas. For easy navigation, I added them in chronological order, starting with Easter, and ending with Christmas. In this list, you'll find different creative tutorials for ways to dress up a lantern with bows and flowers. Happy crafting!
Mardi Gras Lantern Topper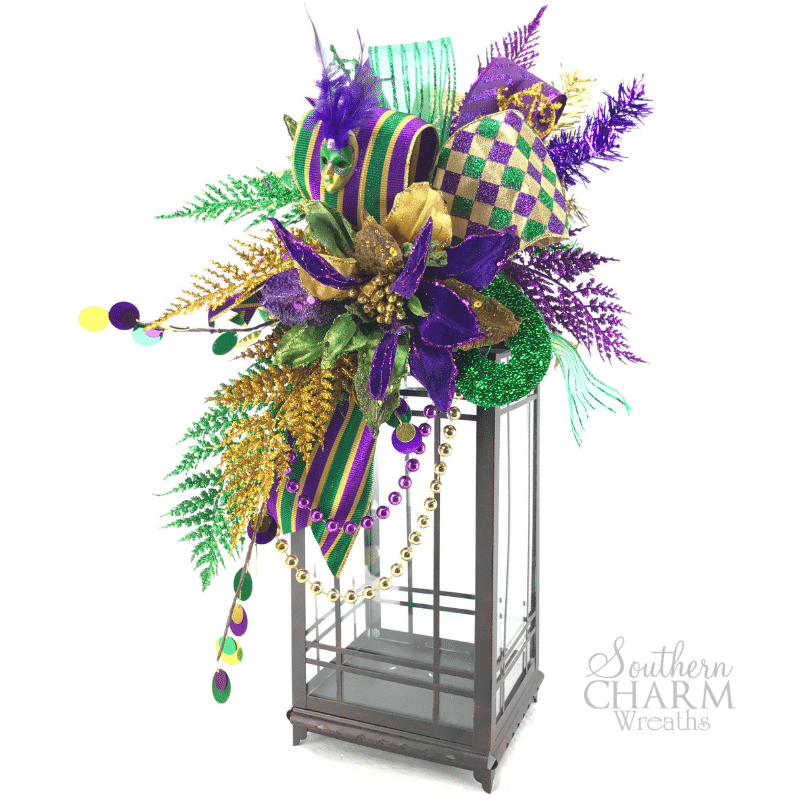 This Mardi Gras centerpiece is bursting with purple and gold colors! Learn the pattern and color combinations that make the most festive Mardi Gras lantern centerpiece. It has poinsettias, sequin picks. wired ribbon, a glittered fern bush, and so much more!
If you like extra, then you will love this one!
Easter Lantern Swag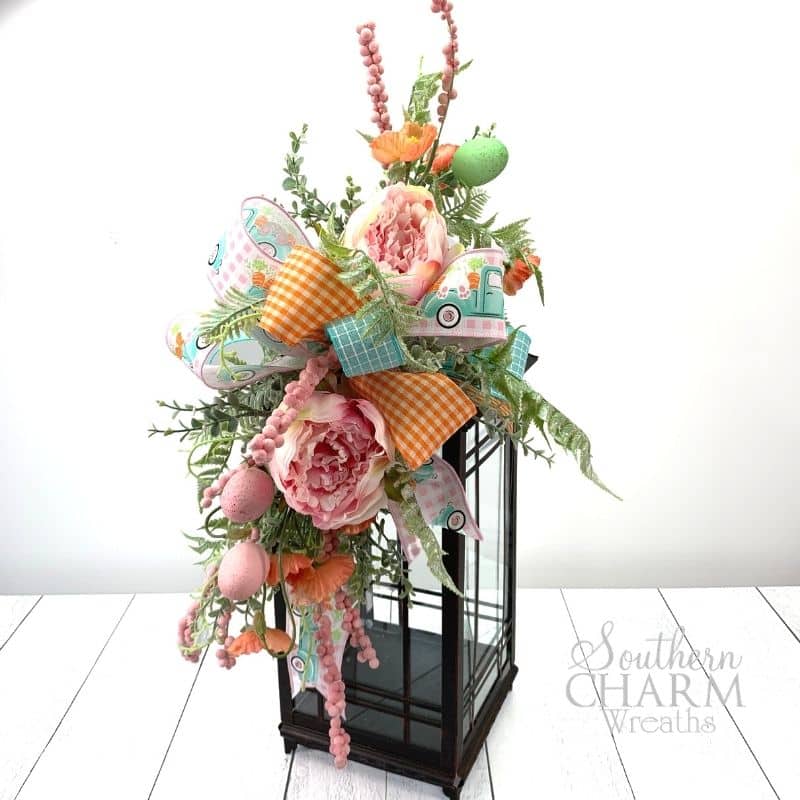 This Easter swag just makes me think of fresh-bloomed flowers and springtime showers. In this tutorial, you'll discover how to use the "Julie Method" to form the base of the swag. I love the combination of printed ribbon, flower picks, and Easter eggs in this one.
Easter Flowers Lantern
If purple is your favorite color, then make this Easter flowers arrangement. The handmade purple bow is the focal point, with greenery and purple Easter eggs overflowing down the sides of the lantern.
Patriotic Lantern Swag
This patriotic red, white, and blue swag is perfect for the Fourth of July, Memorial Day, or Labor Day – or any patriotic holiday. The glittery picks are so fun – that Uncle Sam top hat is probably my favorite part. When you add it to a red lantern, all the colors really pop!
Summer Lemon Swag
Fresh-squeezed lemonade on a hot day is the epitome of summertime! Capture that emotion with this summer lemon lantern swag. This is a super-easy one that is perfect for beginners. The bow is pretty basic and it's full of greenery.
Summer Sunflower Decoration
Another flower that perfectly captures the essence of summer is the sunflower. This sunflower lantern swag is absolutely bursting with happy yellow shades and tones. These sunflowers are large and command all the attention – with the cheerful black and white buffalo check ribbon behind it. This looks like something you might take to a picnic.
Fall Lantern Swag
Hey fall lovers – this one is for you! Yes, there are pumpkins in this fall swag. It also has the warm orange and gold shades that we look forward to every year. It's really easy to customize – use your favorite fall flowers and shades and make your lantern pop!
Halloween Door Swag
I just love how this Halloween door swag came together. Place it on top of a lantern or add it to your door. I love the whimsical colors – it's not spooky at all! Purple, black, orange, and green – they are all here! Don't forget to use your favorite Halloween picks – especially a Jack-O-Lantern.
Christmas Lantern Swag
Follow the Christmas lantern topper tutorial if you really enjoy simple ribbon toppers. In this tutorial, I show you how to create a festive topper that trails down the lantern and fills it with the gorgeous colors that everyone loves in the wintertime.
I called this a Christmas lantern topper, but it can dress up your home all winter long!
Christmas Lantern Topper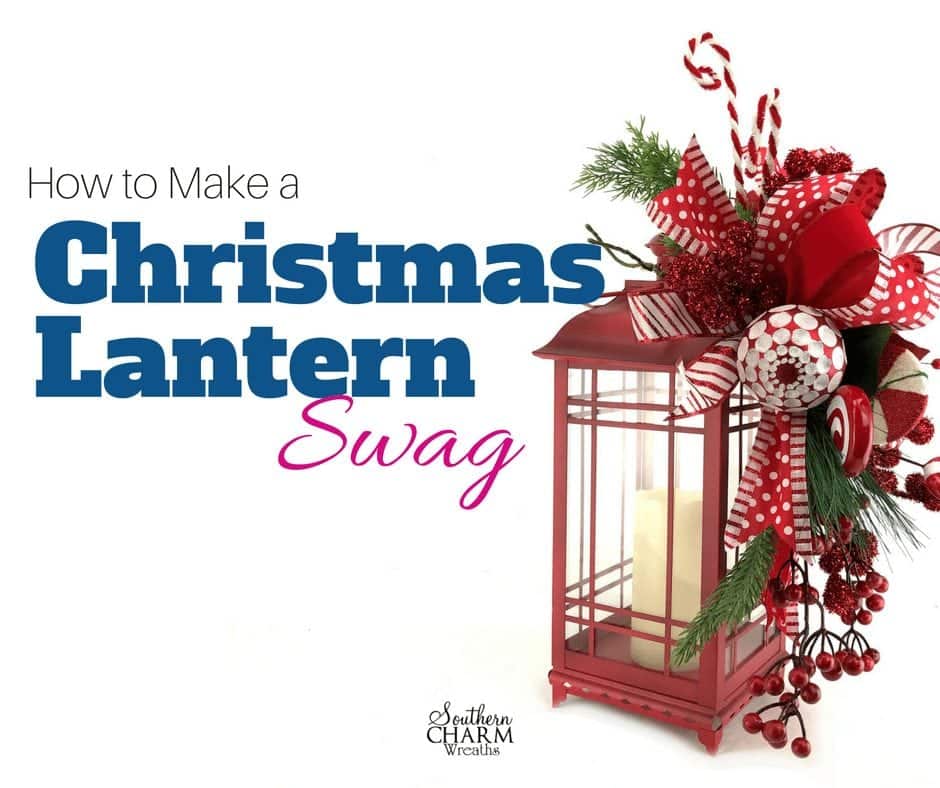 Remember that red lantern from the Patriotic Swag? If you still have it, use it to make this sparkly candy cane and berry-filled Christmas lantern swag. The red in the lantern toppers make the red lantern really pop and look even more festive!
Frosty Winter Lantern Decoration
This green and gold lantern swag will look perfect in your home all winter long! I used a combination of evergreen gold, and silver colors, but this would also look stunning with frosty blue and white to symbolize snowfawll.
As a fun bonus, I also filled my lantern with some pinecones. I love adding things in the lantern if they enhance the decor theme.
Lantern Swag FAQs
Here are some questions people often ask about making lantern swag for each holiday or season of the year.
How do you make the bows?
I made different types of bows, so it depends on which one you are asking about. For example, I made a whimsical bow for the Halloween lantern swag.
Making a bow is pretty simple – and I show you how step-by-step in all of my video tutorials. Just click through to the tutorial that you like and it should have a video at the bottom of the post.
I also have a free video showing you 9 different ways to make bows – check it out here!
Should the bow or the floral bouquet be the centerpiece?
This is entirely up to you. If you are going to be using really showy flowers, then you should probably keep them as the focal point. If you are using smaller flowers, make the bow the biggest thing on your swag.
Can I hang up a swag without a lantern?
Yes, that is definitely an option. I have made swags that I hung up on my front door. They are just like a wreath, expect they are more vertical instead of round. Just attach a hanger to the back of the swag and then hang it up on your front door.
How do you attach swag to a lantern?
The easiest way to attach swag to a lantern is to use florist wire. Twist a piece of florist wire around your swag and then twist/attach that to the lantern. Attach it to the top of the lantern or the side – it is entirely up to you.
Like this post? Pin it for later!