How to Make an Easter Bunny Deco Mesh Wreath
Did you catch this week's live video on my Youtube channel? If not, don't worry! You can check out the replay below to learn how to make this Easter Bunny Deco Mesh Wreath. This wreath would be so fun for your door this Easter season.
Wreath making shop owners: Don't forget to add fun holiday pieces like this to your shop to keep a good variety of price points available for your customers!
Let's get started!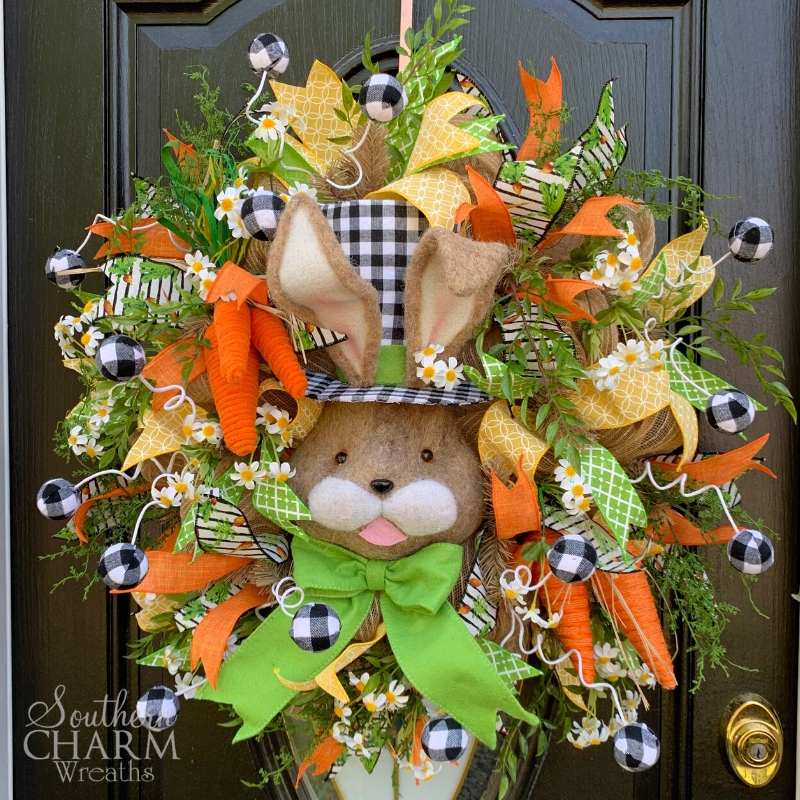 This post may contain affiliate links for your convenience. Click here to read my full disclosure policy.
Supplies for Your Arrangement:
24″ Work Frame
21″ Burlap Mesh
2, 1.5″ Wired Ribbon
2, 2.5″ Wired Ribbon
Easter Bunny head
White Daisies
Greenery Bush
Black and White Picks
Carrot Bundles
Foam
Hot Glue Pan
Hot Glue
Wire
Scissors
Wire Cutters
Steps for Making an Easter Bunny Deco Mesh Wreath
Step 1 – First you'll need to prepare the base by adding the deco mesh to the wire frame. You will want to add 10″ poofs around the wreath base making sure to add the poofs around the inner ring first and then move to the outer ring.
Step 2 – Now add the ribbon throughout the wreath. Cut each ribbon 14″ long and add them by alternating each twist tie. You can see more about adding ribbon streamers to deco mesh here.
Step 3 – Attach the Easter Bunny to the inner part of the wreath. Secure the head with pipe cleaners around the base.
Step 4 – Now it's time for the fun part. Add greenery around the perimeter and the inside of the wreath. Use hot-glue to secure the stems in place. Then add flowers. I like using smaller flowers for my mesh wreaths especially if I have a focal piece like our bunny head. I added in the mini white flower bush.
Step 5 – Then add carrot bundles. The bunny needs carrots to munch on! LOL I like to tie the carrots together with natural colored raffia.
Step 6 – Finally place black and white ornaments throughout the wreath. Be sure to be mindful of placement and space them out evenly around the wreath. This matches the bunny hat and adds a whimsical touch, don't you think??
And that's all there is to it!
Subscribe to my Youtube channel to see more easy floral arrangements like this!
How to Make an Easter Bunny Deco Mesh Wreath
Comment below and tell me your favorite part.

If you enjoyed this and want to learn to wreath the professional way, join me in our exclusive Wreath Making of the Month Club or join a community of wreath makers in our Wreath Making Madness Facebook Group.
Happy Wreathing,
Julie
If you enjoyed this post, you might also like:
Adorable Easter Bunny Grapevine Wreath
Easter He is Risen Wreath Tutorial
Liked this Deco Mesh Easter Bunny Wreath tutorial? Pin it for later!