Adorable Easter Bunny Grapevine Wreath Tutorial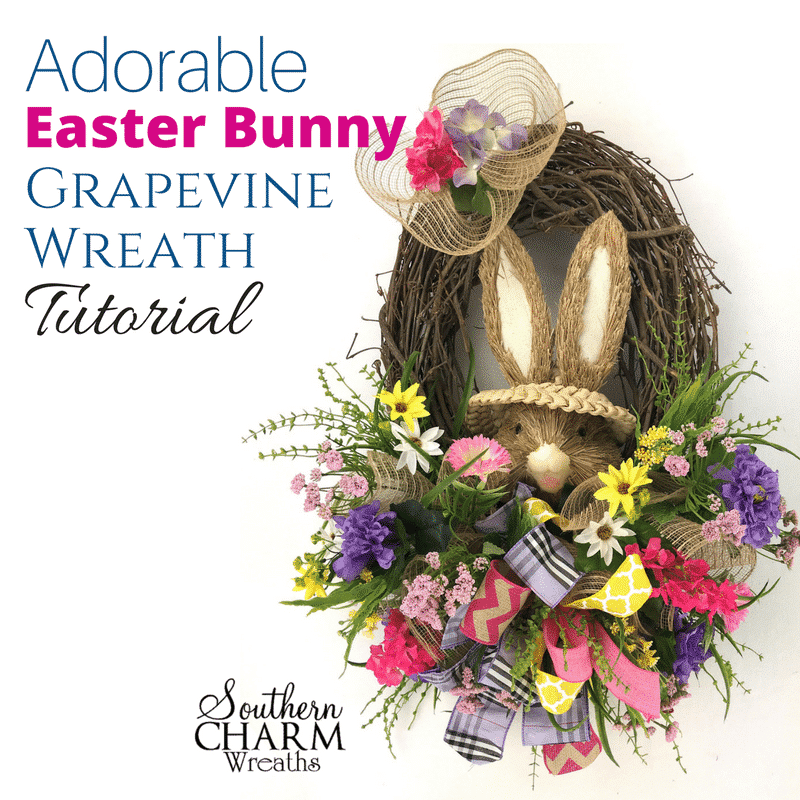 After finding this adorable bunny I knew I had to make an Easter Grapevine Wreath with it. Use your choice of Spring flowers and ribbon and you have a showpiece for your door. This post contains some affiliate links for your crafting convenience. Click here to read my full disclosure policy.
Adorable Easter Bunny Grapevine Wreath Tutorial
In this video, we're making a wreath from scratch using a fun bunny, deco mesh and Spring flowers. Perfect for your front door, this is a simple wreath using only a few supplies. Here's how to make it:
Supplies
Grapevine wreath – 18 inch – (Carolina Pottery)
Bunny (Carolina Pottery)
10 in. Burlap Deco mesh
Pipe cleaners
Assorted Spring ribbon
Awl
Assorted silk flowers & greenery
[Tweet "Adorable Easter Bunny Grapevine Wreath Tutorial"]
Adorable Easter Bunny Grapevine Wreath Tutorial
Begin by choosing where you want to place the bunny. Using an awl, poke small holes through and put a pipe cleaner through it to attach it to the wreath. Note: If it is still a bit loose, you can add florist wire through another part of the bunny like the hat and/or ears and attach it from there to the wreath as well.
Next, cut 12 inch sections of the burlap deco mesh. You can use as many as you would like for your wreath, I used approximately six.
Take each section of burlap deco mesh and gather them together in a bow tie shape. Secure with a pipe cleaner. Note: You can either trim the pipe cleaner and attach a steel pick or leave the pipe cleaner long and use that to attach it.
Add the burlap deco mesh around the bottom of the wreath under the bunny.
Make a bow for your wreath using 12 inch loops. For detailed bow instructions, click here. Secure the bow with florist wire.
Attach the bow to your wreath under the bunny on top of the deco mesh.
Next, begin adding the spring silk flowers and greenery to your wreath using hot glue. I like to work with one color at a time. For this wreath, I added items to the bottom and sides of the wreath. Note: If using a flower bush, cut each stem so you have single stems to work with.
For a beautiful finished look, hot glue greenery stems in the bow loops.
If you would like, you can also add one of the deco mesh sections and a few flowers using hot glue to a top area of the wreath.
Adorable Easter Bunny Grapevine Wreath Tutorial Video…
I hope you enjoyed this project! Remember, you don't have to have these exact same flowers or the same bunny. Take this concept and make a wreath that suits your style using supplies from your local stores.
If you would like to learn more about wreath making, join my Wreath Making Club.
Don't forget to join me on Facebook Live, for my other DIY tutorials. Even better, join our messenger bot HERE and we'll send you a message on Facebook the next time we go live. It's always more fun to join in on the conversation.
Happy Wreathing,
Julie
If you enjoyed this post, you might also like:
How to Make a Mother's Day Flower Arrangement in a Cup
DIY Compact Decorative Spring Wreath Idea