DIY Whimsical Easter Bunny Hat Arrangement
Did you catch this week's live video on my Youtube channel? If not, don't worry! You can check out the replay below to learn how to make this whimsical Easter bunny hat arrangement. This centerpiece would be so cute on your table for Easter or as a decoration to bring a little brightness to your home.
Wreath making shop owners: Don't forget to add smaller pieces like this to your shop to keep a good variety of price points available for your customers!
Let's get started!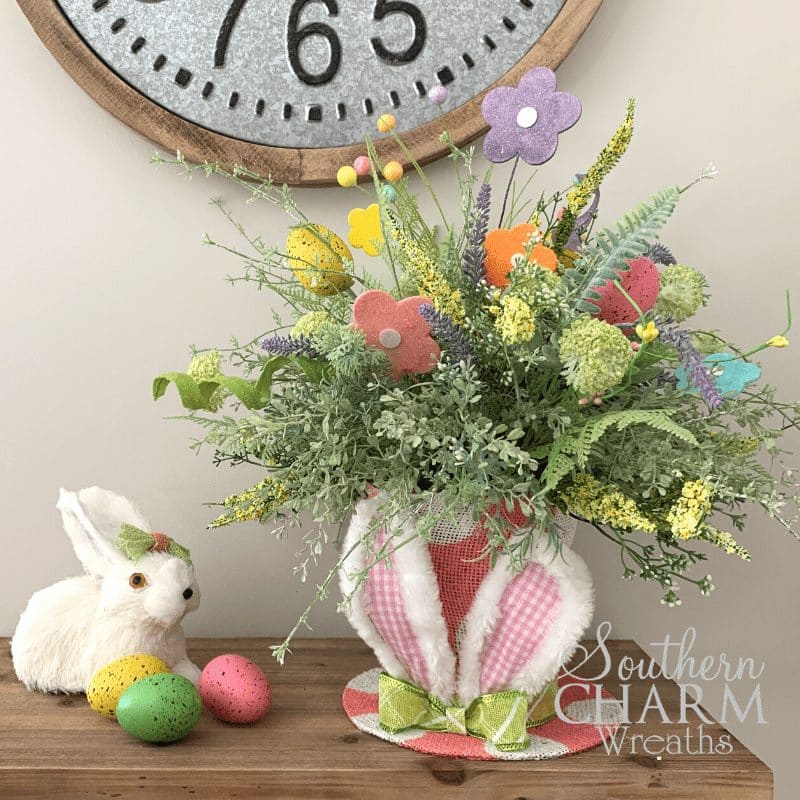 This post may contain affiliate links for your convenience. Click here to read my full disclosure policy.
Supplies for Your Arrangement:
Easter Bunny Hat Container
Green Allium
Lavender Bundle
Flower Foam Pick
Astilbe bush
Fern
Silver Green Boxwood Bush
Easter Eggs (optional)
Foam
Hot Glue Pan
Hot Glue
Moss
Floral Pins
Wire Cutters
Steps for Making a Whimsical Easter Bunny Hat Arrangement
Step 1 – First you'll need to prepare the base by hot gluing your foam into the container. I like to use wooden floral picks to secure the layers of the foam for added security. Then add in a layer of moss securing with floral pins to hide the foam.
Step 2 – Now add the silver greenery bush pieces to the foam. Place them around the rim of the hat and a few in the center. I like to drape a few of the pieces over the side of the hat. Make sure to hot glue the stems to secure them into the foam. A steel pick machine makes this even easier if you have one.
Step 3 – To add more texture place divide and add the fern placing throughout the middle of the foam and throughout the greenery.
Step 4 – Continue adding more of your materials including the green allium flowers and lavender throughout the arrangement.
Step 5 – To add a bit of fun and whimsy, we'll add in the foam flower pick and astilbe bush. Don't forget to shape your stems including uncoiling the spirals to create bigger curls.
Step 6 – You could be finished here however if you wanted to add a few Easter Eggs to the centerpiece or change the bow on the hat, you can easily do so. For the Easter eggs, if they do not have a pick you will need to add one, place just a few sporadically throughout the arrangement.
And that's all there is to it!
Subscribe to my Youtube channel to see more easy floral arrangements like this!
DIY Whimsical Easter Bunny Hat Arrangement
If you enjoyed this and want to learn to wreath the professional way, join me in our exclusive Wreath Making of the Month Club or join a community of wreath makers in our Wreath Making Madness Facebook Group.
Happy Wreathing,
Julie
If you enjoyed this post, you might also like:
How to Make an Easter Door Hanger
Liked this Whimsical Easter Bunny Hat Centerpiece? Pin it for later!