How to Make a Whimsical Halloween Door Swag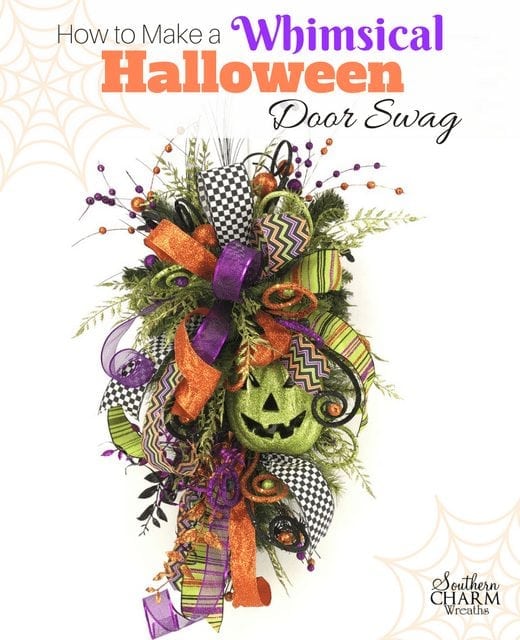 Today in the wreath shop we're making this Whimsical Halloween Door Swag. You would never know we're using a Christmas Evergreen Swag as the base! This post contains affiliate links for your convenience. If you click a link and make a purchase, I could earn a few pennies in commission. Click here to read my full disclosure policy.

How to Make a Whimsical Halloween Door Swag
In this how to video, I'm sharing how to make a Halloween door swag using a Christmas evergreen swag as the base. Make this custom for your décor by choosing your favorite Halloween ribbons and sign. Here's how to make it:
Supplies
Evergreen teardrop swag – 24″ – 60 tips
Styrofoam glittered Jack O'Lantern
Pipe cleaner
Variety of glitter Halloween picks
Variety of ribbons – different textures and widths
[Tweet "How to Make a Whimsical Halloween Door Swag!"]
How to Make a Whimsical Halloween Door Swag:
Before you begin assembling, gather your ribbons. For tips on how to choose ribbons, see the video below.
For the bow I made a Funky Bow with 18 in loops and 16 inch tails on one side and 13 inch tails on the other. If you have one, use a Bowdabra to hold the ribbons while you cut. Note: If you do not have a Bowdabra that is ok! You could hold them or use something like a chip clip to help.
Attach the bow to the evergreen swag by twisting two of the pine needle branches around it. Note: For a finished look, roll or dovetail the ribbon ends.
Determine the placement for your sign (I used a Styrofoam glitter pumpkin). If your sign does not have a way to attach it to the swag you can use an awl to put a small hole in it and attach a pipe cleaner or use a Steelpix machine.
Attach the sign to your swag adding a bit of hot glue before you attach for extra adhesion.
Next I added a few additional ribbon tails to fill in the bottom of the swag. Cut the ribbons 19 inches long and stack one on top of another. Then twist at the top and attach a pipe cleaner so you can then attach it to the swag. I attached them behind the sign so it would be hidden and rolled the ribbon tails to curl them a bit.
Fill in the swag with your Halloween glitter picks. I added one above the bow and others out the sides and bottom. Add a bit of hot glue to the stems to help them stay in place. Continue until you are happy with the result!
How to Make a Whimsical Halloween Door Swag Video…
Or you can buy a Halloween Swag premade from Etsy !
[show_shopthepost_widget id="2816703″]
There you have it, a fun Halloween door decoration you can make in about an hour! I love the flexibility of this project – choose your favorite colored ribbons and a sign or pumpkin and make it your own. Plus you can easily adapt this same technique for any holiday!
Let me know if you enjoyed this and don't forget to join me on Facebook so you can watch me Live!
If you enjoy watching me and/or learning to make wreaths of various styles, join me in my Wreath Making of the Month Club, learn more here.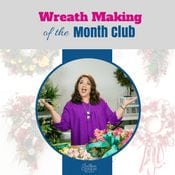 Happy Wreathing,
Julie
If you enjoyed this post, you might also like:
Fall Cornucopia Centerpiece Tutorial
DIY Fall Scarecrow Hat Centerpiece For Your Table