How to Make an Elegant Deco Mesh Christmas Wreath
Learn step by step how to make an elegant deco mesh Christmas wreath featuring the popular colors of champagne gold that is so popular this season using two types of mesh, ribbon and silk flowers.  This post may contain affiliate links for your convenience. Click here to read my full disclosure policy.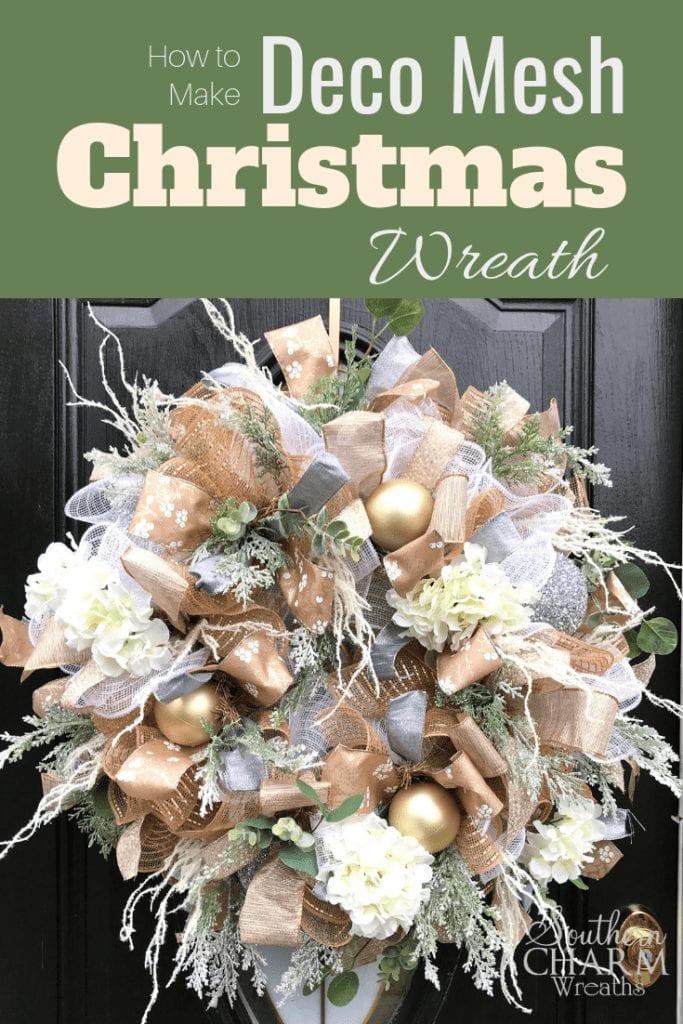 Deco mesh wreath are the easiest to master and great for the beginner wreath maker and since deco mesh is inexpensive, you can make a Christmas door wreath for just a few dollars.  But in this video tutorial, I want to show you how to up your deco mesh wreath making game by using ornaments and silk flowers producing a showstopper wreath for your Christmas door.
If you're ready to add elegance to your home for the holidays, this wreath is for you! Featuring colors like champagne gold, white, silver and softened with greenery, this will make a beautiful addition to your home above a mantel, in your entryway or your front door.
[Tweet "Step by Step How to Make an Elegant Deco Mesh Christmas Wreath"]
Supplies
(qty 1) 24″ Burlap Colored Work Wreath Form
(qty 1) Champagne 10″ Deco Mesh
(qty 1) White 10″ Deco Mesh
(qty 1) 1.5″ Silver Duponi Ribbon
(qty 1) 2.5″ Silver Gold Striped Ribbon
(qty 1) 1.5″ Glitter Dots Ribbon
(qty 1) 2.5″ Champagne Ribbon
(qty 3) Silver Dazzle Ornaments
(qty 3) Champagne Ornaments (Michaels)
Greenery (Carolina Pottery)
(qty 2) Iced Twigs
Scissors
Rotary Cutter
Silicone mat
Awl or Punch
Wire Cutters
Hot Glue Gun
Steps on How to Make a Deco Mesh Christmas Wreath
Step 1 – Prepare Deco Mesh
Begin by cutting 12″ long pieces of two types of 10-inch Deco Mesh using a rotary cutter on a clean mat (glue drip free!). I used one roll each of champagne and white. You can stack the Deco Mesh on top of each other to speed up the cutting process.
Note: I like to use a rotary cutter to make the cut cleaner, which helps to prevent some of the unraveling that happens with deco mesh.
Step 2 – Add Deco Mesh
Next, the deco mesh by using the "ruffle technique" and pinching the center of each piece. Do this for three pieces of mesh and secure these three pieces under one of the twist ties. Continue attaching three pieces of deco mesh into each of the twist ties on the wreath until it is filled.
Make sure all the mesh is facing upward and not stuck under a twist tie.
Step 3 – Add the Ribbon
Next, Cut 14″ ribbon strips of each of the four ribbons. I use two that are 2.5″ wide and two that are 1.5″ wide for added interest. Gather two ribbon strips together, one on top of each other, pinch in the middle and attach to the wreath using one of the existing twist ties. I like to alternate the ribbon patterns as I go.
Step 4 – Add the Ornaments
Prepare the larger ornaments by cutting off the hangers and piercing with an awl on each side of the ornament.  Then thread through a piece of wire. Use the wire to attach to the wreath frame. I added 3 silver ornaments around the wreath.
Next, add the medium or smaller ornaments. For this it was my champagne colored ornaments. Simply thread wire through the hanger and attach to the wreath frame using the wire.
Tip: Nestle the ornaments in the ribbon and mesh so that they aren't sitting on top of the wreath.
Step 5 – Add Flowers and Greenery
Now it's time to add your greenery. Start by cutting apart the greenery stems to separate them out. Then attach in the wreath by adding hot glue to the stems.
For the silk flowers, again, cut apart any stems that are too large and attach to the wreath using hot glue on the stems.
I added the iced twigs next. These will blow in the wind and add beautiful texture to your wreath. Add hot glue to the stems and attach them around the wreath to fill in.
Step 6 – Cleanup the Wreath
Step back, take a look at your wreath and add greenery or twigs to any areas that need to be filled in.
Fluff your ribbon to ensure nothing is laying flat and cut any excess wire sticking out the back.
As a result, an Elegant Deco Mesh Wreath for Christmas.
Video How to Make a Deco Mesh Christmas Wreath
That's it! I hope you loved this step by step deco mesh Christmas wreath tutorial.  If you would prefer to use other colors to match your Christmas deco, you can! The steps are the same, just choose what works for you and your décor.
Let me know if you enjoyed this and don't forget to join me on Facebook so you can watch me Live!
If you enjoy watching me and/or learning to make wreaths of various styles, join me in my Wreath Making of the Month Club, learn more here.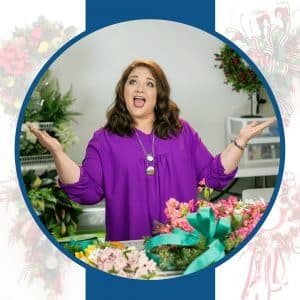 Happy Wreathing,
Julie
If you enjoyed this post, you might also like:
How to Make a Red Truck Christmas Wreath
How to Make a Deco Mesh Snowman Wreath
How to Make A Funky Bow -Christmas Edition
Save