How to Make a Red Truck Christmas Wreath
If you've been out shopping for holiday décor at all lately, you've probably noticed red trucks are a huge theme this year.  Today I'm showing you how to incorporate a fun red truck sign into a Christmas wreath! This post contains affiliate links for your convenience. If you click a link and make a purchase, I could earn a few pennies in commission. Click here to read my full disclosure policy.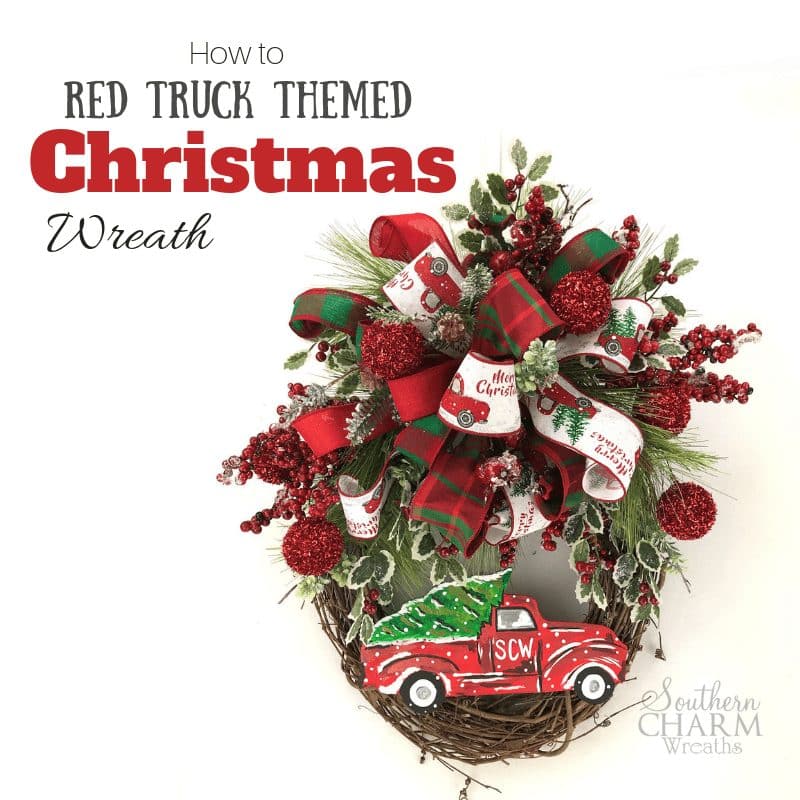 How to Make a Red Truck Christmas Wreath
In this video, I'm sharing how to make a Red Truck Christmas wreath. This tutorial is extra special because we are using a Red Truck sign from Heidi of Texas Art & Soul! This wreath is perfect for the farmhouse look and gives a bit of a vintage feel as well. Let's get started:
Supplies
Red Truck Sign (Texas Art & Soul)
14″ Grapevine wreath
Zip tie attachments
Christmas picks & greenery (Carolina Pottery)
Glue gun or glue pan
[Tweet "How to Make a Red Truck Christmas Wreath!"]
How to Make a Red Truck Christmas Wreath:
Begin by determining where you want to place your truck sign (I chose to put mine towards the bottom of the wreath). Mark the spots on the back where it will attach to the wreath so you know where to put your wire.
Add zip tie mounts to the back of the sign where it will attach to the wreath. I like to add a bit of hot glue to ensure it attaches well. Then simply thread wire through the attachment and onto the grapevine wreath.
Now it's time to make your bow. I used fun red truck ribbon and some coordinating ribbons in reds and greens to go with our theme. Not sure where to start with bow making? Check out my FREE 9 Ways to Make a Bow!
Secure the bow with wire and attach the bow to your wreath. Note: Don't forget to fluff up your bow and either roll or trim your bow ends.
Cut pieces of greenery and picks and attach to your wreath using hot glue. I like to start by adding greenery behind the bow loops for a beautiful finished look. Then I work my way down the wreath from there.
Continue adding picks to your wreath until you love it!
How to Make a Red Truck Christmas Wreath…
Learn to Paint the Red Truck Sign by Heidi….
That's it! I hope you loved this fun Red Truck Christmas wreath. A special thanks to Heidi from Texas Art & Soul for the fun sign! Remember, if you would prefer to use other colors or a different sign you can! The steps are the same, just choose what works for you and your décor.
Let me know if you enjoyed this and don't forget to join me on Facebook so you can watch me Live!
If you enjoy watching me and/or learning to make wreaths of various styles, join me in my Wreath Making of the Month Club, learn more here.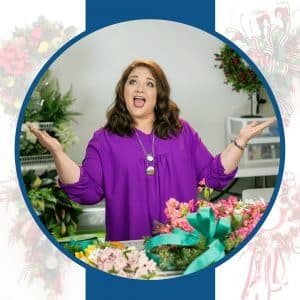 Happy Wreathing,
Julie
If you enjoyed this post, you might also like:
How to Repurpose an Old Christmas Wreath
Top 15 Wreath Making Tools Needed for Beginners
Frosty Winter Lantern Swag Tutorial