How to Make a Fall Sunflower Wreath
Learn how to make this whimsical fall sunflower wreath. With amazing texture, creamy sunflowers, and gorgeous fall colors, this autumnal wreath is a thing of beauty!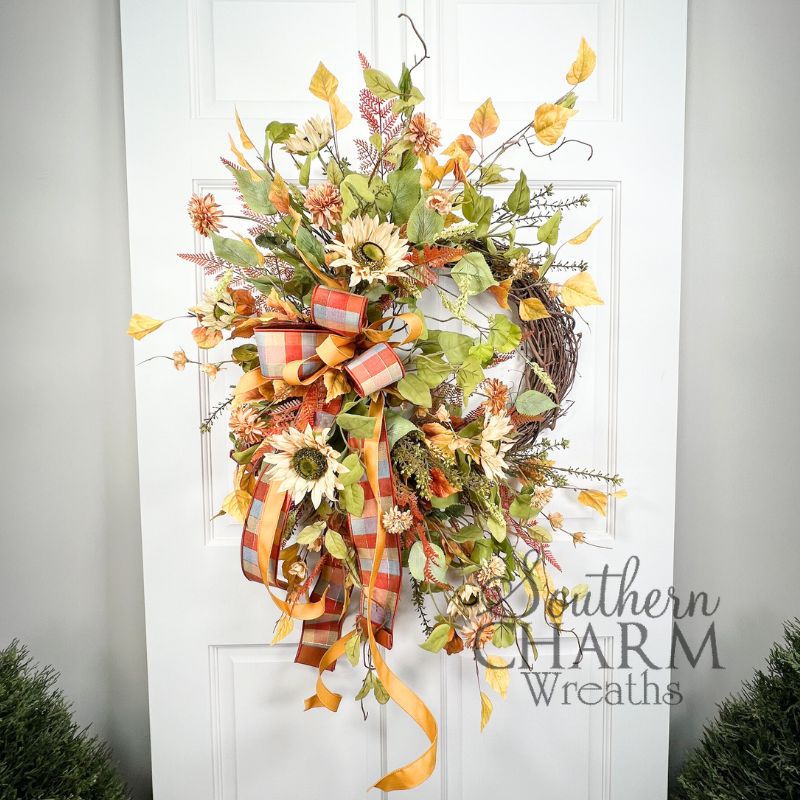 Fall sunflower wreath
Sunflowers are the symbol of the season! Well, for flower lovers, anyway.
Today's design is a total showstopper. It's full, spindly, and straight-up BIG! In other words, it's made to turn heads.
In this post, I'm sharing how to make a beautiful DIY fall sunflower wreath, complete with layers of seasonal colors.
This post may contain affiliate links for your convenience. Click here to read my full disclosure policy.

Supplies for this project
You'll need:
Silk, wired ribbon

2 ½" rust and light blue plaid
⅞" yellow

Assorted faux flowers

Cream sunflower sprays
Yellow autumn branch
Peach filler flowers

Various greenery

Yellow-green
Textured greens
Rust autumn sprays

Yellow berries
Hot glue
Clippers
How to make a fall sunflower wreath
1. Use ribbons to make a bow
First up – the bow!
Begin by measuring 12 inches of your plaid ribbon, pinch, and twist. Then measure another 12 inches, pinch, and twist for a 6-inch loop.
Repeat this for a total of three loops, trimming the tail at 12 inches.
Then, repeat these steps with your yellow ribbon, working on top of your base.
Once complete, secure your bow with florist wire and attach it to the top left of your grapevine wreath, feeding the florist wire through.
2. Begin adding greenery
Next, you're going to build your base using yellow-green greenery.
Use your bow as a centerpiece, attaching greenery from behind the top and bottom of the bow. Follow the natural shape of the wreath, securing greenery with hot glue.
Work your way outwards; the goal is long, spindly, and full.
3. Add yellow berries
Now, use floral picks to add yellow berries to your design, dispersing evenly through your base. This adds good texture and depth.
4. Insert sunflower focal flowers
For focal flowers, add cream sunflowers throughout your base, ensuring everything is evenly spaced for a balanced design.
5. Introduce filler flowers
Fill in around your focal flower with peach filler flowers, ensuring an even distribution of color. This is going to add incredible dimension and additional color.
6. Include fall leaves
For an autumnal touch, begin trimming pieces of yellow branches, evenly distributing them throughout your design, and hot gluing to secure them.
Repeat this step with rusty, airy ferns. Remember to aim for balance.
7. Continue adding greenery
For a super full design, use your textured greenery to fill in any gaps or holes around the wreath.
You can also use any leftover scraps you have, like leaves, greenery, or berries.
8. Finishing touches on your fall sunflower wreath
Finally, add a few ribbon streamers to the bottom of your arrangement, securing them with hot glue. This adds length to your design and helps draw the eye throughout.
All that's left are some finishing touches!
Dovetail ribbon ends, fill in any holes, and fluff to perfection. And there you have it – a gorgeous sunflower fall wreath.
Watch the video: How to make a fall sunflower wreath
If you enjoyed this post, you might also like:
Like this post? Pin it for later!