How to Make a Silk Flower Cream Sunflower Arrangement
It's so easy to make a silk sunflower arrangement – and you can make it as simple or as fancy as you like. Watch this tutorial to see how!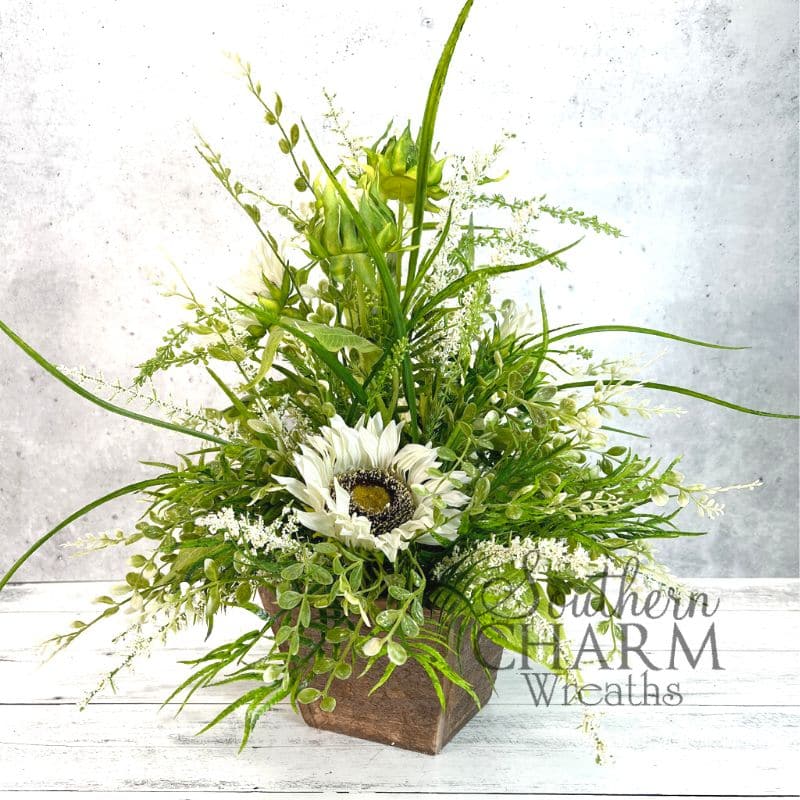 DIY silk flower cream sunflower arrangement
This cute little sunflower arrangement is perfect for your living room or as a centerpiece at a brunch or bridal shower.
Supplies for this arrangement were provided by Trendy Tree. Click here to purchase a kit to recreate this arrangement while supplies list. Supplies are limited.
Supplies for this project

How to make a silk sunflower arrangement – Step by step tutorial
1. Prep your container
Before you even begin, the very first step is to prepare your container.
2. Cover blocks with moss
You can do these two steps ahead of time and keep some prepped containers in storage to speed up the process.
3. Add greenery
I used three different types of greenery to give it more texture. If you are in my Wreath Making of the Month Club, you know how much I love creating things with different textures – and I usually use the rule of threes. In this case, I used three different types of greenery.
4. Layer with silk sunflowers
Place the first flower on the front side of your container. If your container doesn't have a clear front or back, make it up. That's the fun of floral arranging.
5. Fill in with more greenery
6. Fill in with the third type of greenery
The third type of greenery I used is variegated boxwood. These are pushers, so when you push them up and down, they will be compact or spread out.
7. Add white filler flowers
Once you are satisfied with the shape and fullness of the arrangement, fill in the empty spots with white filler flowers.
This step is completely optional. You can add them if you want it to have a bit more color and texture.
8. Fill and finalize silk sunflower arrangement
Watch the video: How to make a quick DIY silk sunflower arrangement
If you enjoyed this post, you might also like:
Liked this sunflower arrangement tutorial? Pin it for later!