Easy 4th of July Wreath Tutorial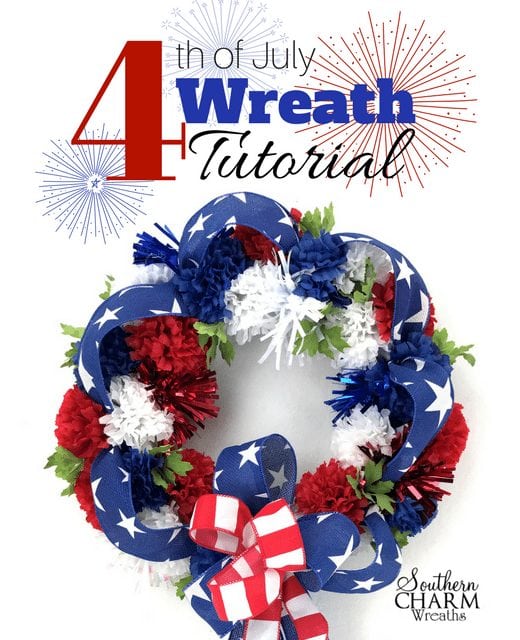 In today's video, I'm showing you how to make an easy 4th of July wreath tutorial using silk flower carnations and ribbon. This is a great way to add patriotic colors to your door this summer! This post contains some affiliate links for your convenience. Click here to read my full disclosure policy.
Easy 4th of July Wreath Tutorial
Ready to add some red, white and blue to your front door? This easy project can be completed in one afternoon and will have your neighbors wanting one! Using some basic supplies including a grapevine wreath and silk carnations, I created a simple wreath bright with patriotic colors. Here's how to make it:
Supplies
Grapevine wreath (approx. 12″)
Red, white, blue silk carnations (dollar tree)
Ribbon for a bow (optional)
Red, white & blue pom poms (Michael's)
Florist wire or pipe cleaner
Glue gun or Glue pan
Glue pillows for Glue Pan
[Tweet "How To Make an Easy 4th of July Wreath"]
Steps for an Easy 4th of July Wreath Tutorial:
To begin, cut the carnations from the stems leaving a very short stem to insert into the Grapevine wreath. This will be a "close" wreath meaning the flowers will not stand far away from the wreath.
Insert flowers (I started with the blue). Add hot glue to each stem before inserting. Note: I like to add a flower on one side and mirror it on the other. This ensures it is evenly distributed and helps if I run out of flowers!
I added in the white flowers between the blue followed by the red. Use the red flowers to fill the holes. If you know you would like to add a bow later, leave a space with no flowers.
For the bow, I used a blue ribbon with white stars and made 10 inch loops. I then added a red and white striped ribbon. Note: I shared step-by-step bow instructions in the video below.
Attach the bow to the grapevine wreath using florist wire or pipe cleaner. Cut extra wire off in the back.
Cut pom poms from picks (leave about 3 inches on the pick), add a bit of hot glue to the pick and insert into any of the gaps left in the wreath.
To add ribbon to the wreath, add a bit of hot glue to the end of the ribbon, place it under the bow and insert a florist pin over the ribbon. Drape ribbon from there around the wreath, careful not to pull it tight. Secure using the same technique you did for the end of the ribbon. Note: I used pieces of the leftover stems from floral items as pins, they were thicker than traditional florist pins.
If you would like, as your final step, add a few bits of greenery in any gaps to give it some additional color and texture.
Easy 4th of July Wreath Tutorial video…
Isn't this a fun, yet simple wreath? I love the pop of color. You could also lay this on a table with a hurricane glass in the center to use it as a centerpiece or hang it above a mantle. This could easily be made larger or smaller, just adjust the size of the Grapevine wreath base and the number of flowers etc. you use.
Let me know if you enjoyed this and don't forget to join me on Facebook so you can watch me Live!
If you enjoy watching me and/or learning to make wreaths of various styles, join me in my Wreath Making of the Month Club, learn more here.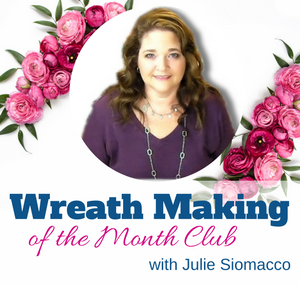 Happy Wreathing,
Julie
If you enjoyed this post, you might also like:
DIY Summer Flower Basket for Front Door
4 Tips on How to Decorate a Wreath with Flowers