Fall Sunflower Lantern Topper
This fall lantern topper is so versatile and an easy way to use some of those left-over floral pieces in your stash. Let's create this festive fall swag to help bump your everyday lanterns to the next level.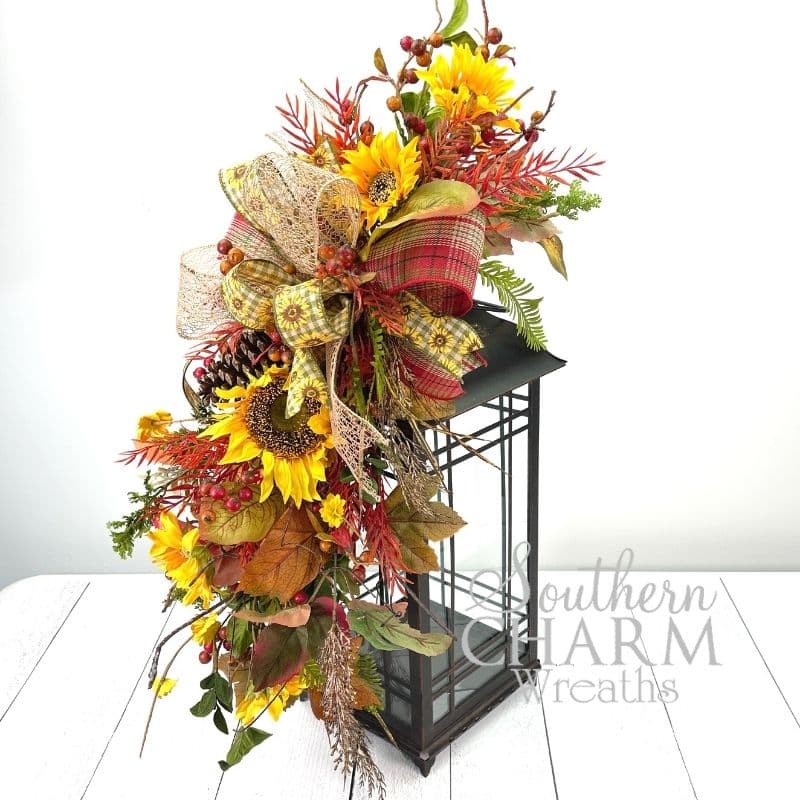 How To Make A DIY Fall Sunflower Lantern Topper
Lantern toppers are all the rage right now, have you heard? Especially here in the South where we like to go big or go home! A lantern swag or topper is a floral arrangement that can be attached to any lantern you already have in your home décor. You can adjust your topper to how big or small your lantern is and make different toppers for each holiday season. They would even be beautiful lining the aisle for a classic wedding.
Lantern toppers aren't just for lanterns! You can remove them and add them to a banister in your home. They make a great Christmas tree topper in a pinch too! The possibilities are endless from outdoor carriage lights to your mailbox. Allowing you to add a fun and festive touch to any holiday season. Once your lantern topper is attached, don't forget to use a flameless candle for safety, or fill your lantern with pinecones, pumpkins, or LED lights. These toppers are going to make a great addition to your Holiday décor!
This post may contain affiliate links for your convenience. Click here to read my full disclosure policy.

Supplies for this Project:
Sunflower Spray
Fall Variety Leaf Spray
Fall Berry Spray
Red Leaf Spray
Yellow Yarrow Bunch
2 ½" Fall Ribbon
2 ½" Burlap Weave Ribbon
1 ½" Sunflower Gingham Ribbon
20" Lantern
Pinecone
How to Make a Fall Sunflower Lantern Topper : Step-By-Step Tutorial
1. Prep your Floral Sprays
When you have a group of flowers together, it's called a spray. I like to tie my own together but it's best to buy some that are pre-tied. Make sure to bend and fluff your spray so the branches are full. Use some binding wire to cluster some leaves together with the sunflowers. Clip the large leaves on the bottom to fit more into the Fall theme.
Grab your Fall berry spray and layer on top of the Fall leaves spray, intermingling them together as one. Lay the sunflower spray on top and use the stems to incorporate the greenery, leaves, and berries together as one large floral spray. Take your red leaf spray and clip it into separate pieces. Incorporate these pieces into your large floral swag base. Add any zip ties necessary to secure them together.
2. Create the other end of your Swag
I like to create two ends of a swag or lantern topper. Start with a sunflower spray and start layering with a fall leaf spray, fall berries and red leave spray. Incorporate each one together using their individual stems to make them look as one.
Connect this smaller floral swag facing downward and the opposite of the top end of your swag. Use a few zip ties to attach the two ends together, leaving a space for the bow in the center. Turn your swag to the back and use wire cutters to cut off any excess stems that you don't need.
3. Make a Bow
Start with a 12" tail and pinch, then make two 12" loops, pinching and twisting in the center. Cut the tail. Repeat the same with the second layer of 2.5" ribbon making 12" tails and 12" loops. Shape your bow as you go by adjusting loops towards the front. With the sunflower ribbon, add 12" tails and 12" loops to the top of your bow. Make one more single loop and tails with the sunflower ribbon.
Use your wire to secure the center of the bow with 22-gauge wire. Twist around the loops to make it secure. Add your bow into the center of your topper using the zip ties that connected the two ends together. Dovetail the ends. Use glue and place ribbon tails and a spare leaf to cover the mechanics on the back.
4. Add Topper to your Lantern
Use wire to attach your topper to a lantern. You can use lanterns anywhere from 20-30" making sure that your topper doesn't cover the whole thing. Make sure not to get any glue on the lantern so that you can interchange them with the seasons.
Now it's time for shaping! Move and adjust your floral pieces and bows to fit around your personal lantern. Start with the top and then work yourself down shaping and bending things towards the lantern so it seems airier.
5. Final Touches
Now is the time to set back and look for any holes to fill. Add a wire to the stem of a pinecone to fill a hole just underneath the bow. Workaround the bow and hot glue some spare greenery stems into your swag. Trim off some extra fall berries, leaves, and small clusters of yellow yarrow. Hot glue the ends and attach on your topper to fill in any holes and to add a lot of texture. Make sure that the hot glue does not go directly onto the lantern. Work your way down the swag adding texture and finishing touches.
Watch The Video: How To Make a Fall Sunflower Lantern Topper
If you enjoyed this post, you might also like:
Like this post? Pin it for later!