How To Make a Mother's Day Flower Arrangement in a Cup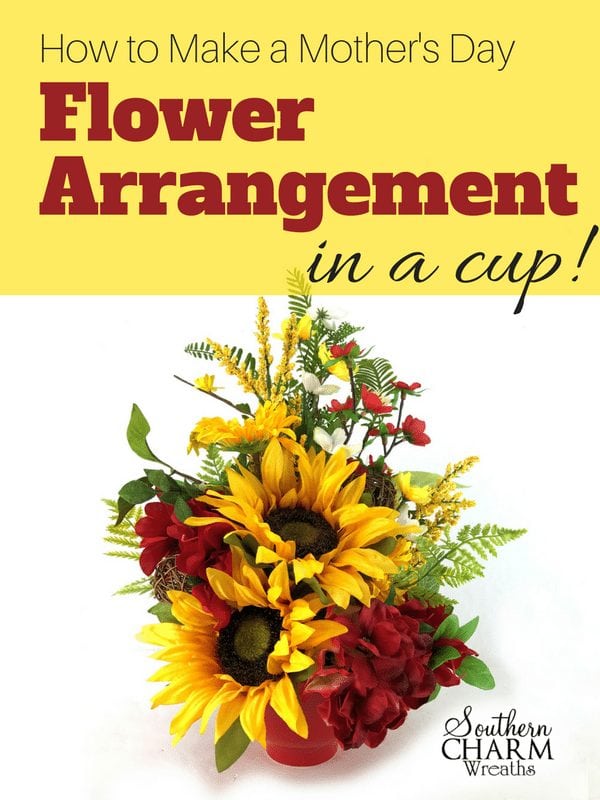 If you have a coffee mug and silk flowers, it's not too late to make something fun and creative for Mother's Day! This quick project is perfect for the mom in your life. This post contains some affiliate links for your convenience. Click here to read my full disclosure policy.
How To Make a Mother's Day Flower Arrangement in a Cup
In this latest video, we're creating a sweet Mother's Day flower arrangement in a coffee mug! This fun project would also be great for a teacher gift or housewarming. I found my mug at Hobby Lobby but obviously you can find coffee mugs almost everywhere. Here's how to make it:
Supplies
Silk flowers (Carolina Pottery)
Rattan ball picks (wholesale)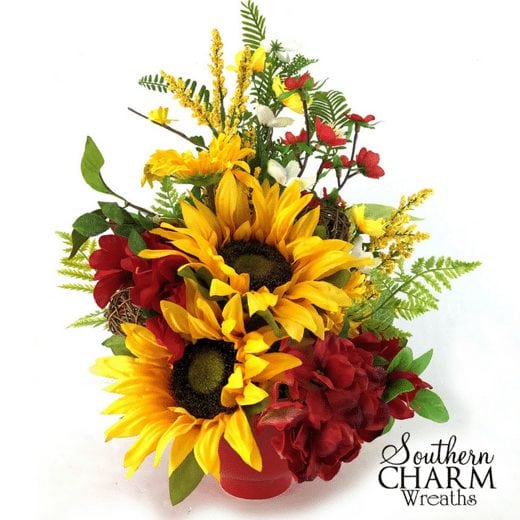 How To Make a Mother's Day Flower Arrangement in a Cup:
Cut the Styrofoam to fit your container. I stood a block of the Styrofoam next to the mug to gauge size and cut it so it would stand approximately 1 inch above the container. Then using a knife, carefully trim the excess until it fits into your mug.
Hot glue the Styrofoam to the bottom inside of the mug. For this project I used my glue skillet.
Start adding your silk flowers to the Styrofoam. I began with a sunflower. Add hot glue to the stem and insert it into the Styrofoam.
Next, I added a bush of yellow flowers and greenery to the center. Tip: As you add your silk flowers, remember to place them in various angles and heights. You don't want all of your flowers straight up and down.
Continue adding flowers filling in empty areas.
For a beautiful finished look, add in rattan balls and greenery to fill in and cover Styrofoam.
That is all there is to it! You now have a beautiful arrangement for Mother's Day.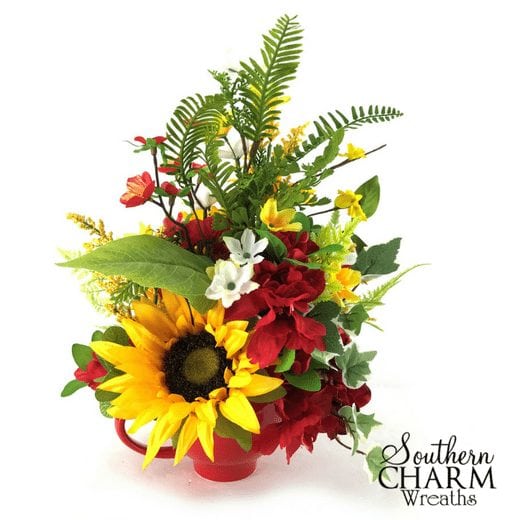 How To Make a Mother's Day Flower Arrangement in a Cup video…
You will only need about an hour to complete this project so there is no excuse for not having a gift for your mom this Mother's Day! Add in more fun by finding a mug from your mom's favorite TV show or with a favorite quote. Don't forget to include your mom's favorite flowers!
Let me know if you enjoyed this and don't forget to join me on Facebook Live, most Thursdays 7:30PM EST.
If you enjoy watching me and/or learning to make wreaths of various styles, you should consider joining my Wreath Making of the Month Club, learn more here.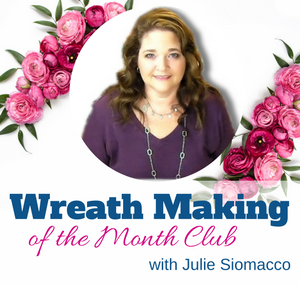 Happy Wreathing,
Julie
If you enjoyed this post, you might also like:
My Stick Fix Unboxing May 2017
Picture Frame Wreath Tutorial for Mother's Day