How to Make a Summer Lemon Wall Basket
We are so lucky to welcome our Guest Designer Teri Smith from Adoorable Décor today to show us a beautiful and bright DIY Summer Lemon Wall Basket covered in Moss perfect for summer or your front door. She's an amazing designer and we are so happy to have her show us this quick and easy showstopper!
DIY Summer Lemon Wall Basket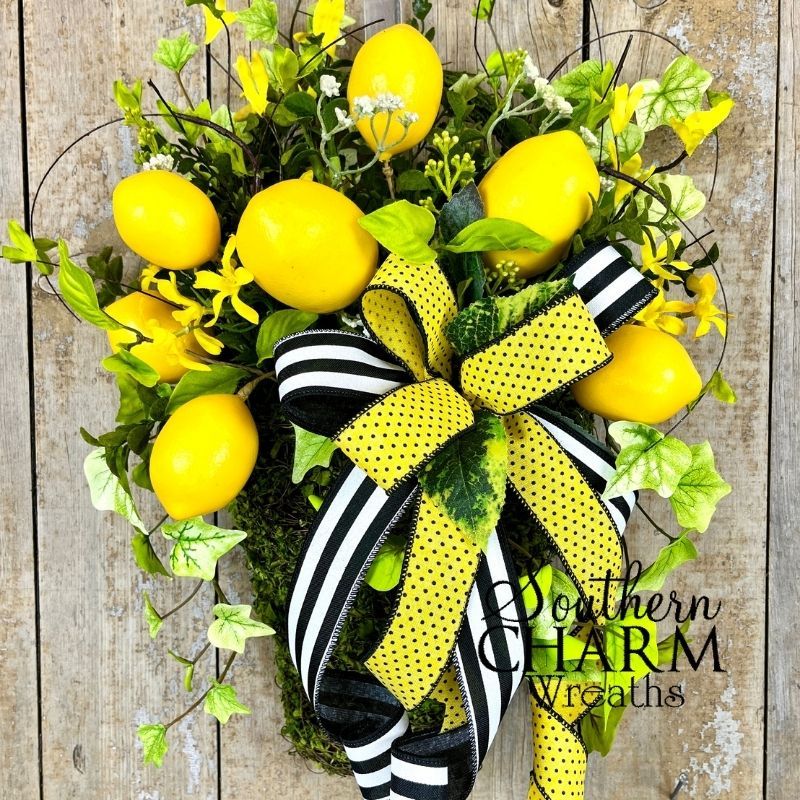 Nothing says summertime like a bright and cheery basket full of lemons! Teri Smith is here to show us how to create a lemon wall basket that is sure to put a smile on anyone's face this summertime! We are mixing it up and using a Moss-covered basket that is a great alternative to a traditional wreath. They also make great gifts for an office or to hang in someone's kitchen.
Sometimes homemade gifts mean so much more to those who receive them, especially when they are this cute! In this DIY lemon wall basket, Teri uses a lot of picks that she has from garlands or larger bushes from previous projects. A good tip she gives is to scour craft stores for post-season deals on large garlands or bushes and break those down into smaller craft picks for future projects. Let's get started on this beautiful lemon wall basket!
This post may contain affiliate links for your convenience. Click here to read my full disclosure policy.

Supplies for this project:
Moss Covered Basket Form
Lemon with Greenery Picks
Light Green Ivy Bush
1 ½" Black and Yellow Swiss Dot Ribbon
1 ½" Black and White Striped Ribbon
Forsythia Bush
Black Pipe Cleaner
How to Make a DIY Summer Lemon Wall Basket: Step-By-Step Tutorial

1. Prep your Basket Base
Cut a piece of floral foam that will fit into your basket and wedge it inside. Cover the top of the foam with Spanish moss and secure it with floral pins. Break down your light green Ivy bush into smaller pieces, some longer and some shorter. Green the base by adding some light green Ivy into the foam so it's naturally flowing out of the basket. Also, add some coming out of the back of the floral foam.
2. Add in the Lemon Picks
Spread and fluff the greenery and lemon stems from the lemon picks. Dip the end in hot glue and insert the pick into the center of the foam basket. Add a second lemon pick with greenery into the floral foam also. Adjust any stems that need to be moved. Repeat the same process and add another lemon craft pick. If your picks start to spread apart when you are trimming the extra stem, you may need to re-wrap them with floral tape. Stagger the lemon picks to have various lemon sizes in your basket. Cut any extra leaves out to keep the basket light and airy.
3. Make and Add a Bow
Take a 1 ½" black and white striped ribbon and make a tail by putting it up against your basket and measuring a length that looks good. Add three 4" loops, pinching and twisting in the center while holding it together. Add your 1 ½" black and yellow Swiss dot on the top and make a tail. Make three slightly smaller loops and cut your tail. Use a black pipe cleaner and twist around the center. Cut the extra pipe cleaner off and wrap it around a wire pick. Wrap the pipe cleaner and wire pick with floral tape. Dip the end in the glue pot and insert it into the foam inside the Moss basket.
4. Adjust Leaves and Lemons
Once you have your bow in, adjust any lemons you need or cut some out if they are blocking the bow. Dovetail the ends of your bow and curl up the tails. You can add a 6" floral pick into the lemon you cut out and floral tape around. Add into the foam just behind the bow. If you need to cut any leaves out so it isn't too full, go ahead and do that as well. Add in an extra lemon where you need it towards the back or any other place that you need to fill in.
5. Add Some Forsythia and Ivy
Take a Forsythia bush and trim a few sprigs from the larger bush. Sprinkle a few sprigs of Forsythia throughout the greenery in your Moss basket. Dip the ends in hot glue to secure them into the foam. If you didn't want to use yellow, you could add a touch of a blue or red flower into your floral foam. Add another stem of light green Ivy to incorporate that greenery into the front and to help keep your bow up and forward. You can also add a few more sprigs of light green Ivy to add some height in the back on both sides. Make any last minute adjustments you need and enjoy your lemon wall basket!
Watch The Video: DIY Summer Lemon Wall Basket
If you enjoyed this post, you might also like:
Liked this Summer Lemon Wall Basket? Pin it for later!