How to Make a Lambs Ear Wreath for Spring
Today in the wreath shop, follow along and learn how to make a lambs ear wreath for spring. This lambs ear wreath is bursting with vibrant blooms nestled in a bed of the blue green foliage of lambs ear and it fits with any decor.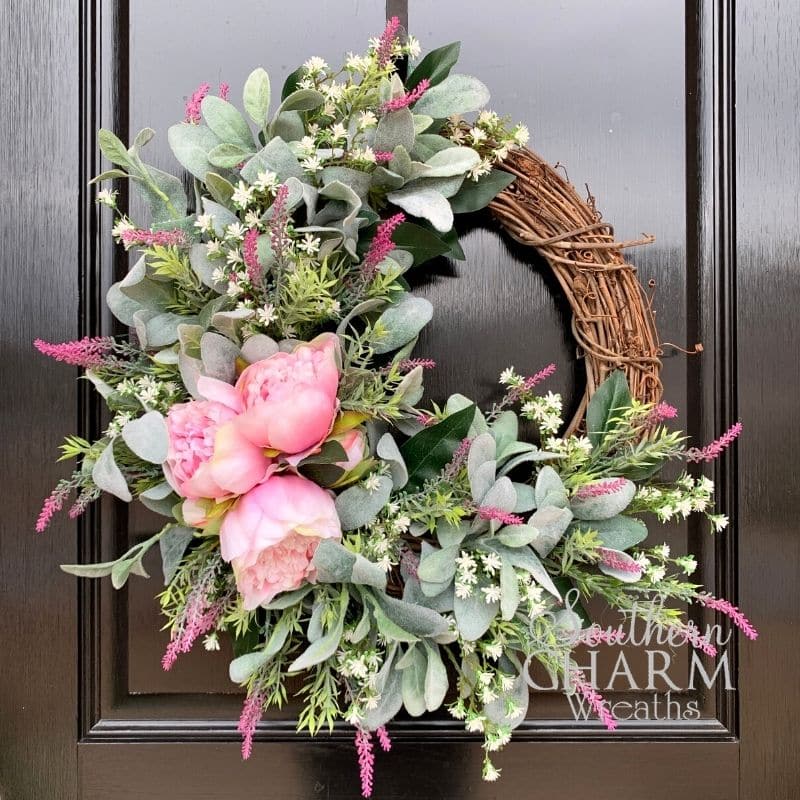 How to Make a Lambs Ear Wreath for Spring
I just love a pretty lambs ear wreath, don't you? Pull out your favorite spring florals and decorate a blooming and colorful wreath. It's one that lots of people love, so you'll be able to sell it in your shops or keep it for yourself and brighten your front door!
This is going to be a crescent-shaped wreath. That means, we are just going to decorate part of it.
This post may contain affiliate links for your convenience.Click here to read my full disclosure policy.
Supplies
14-inch grapevine wreath
Lamb's Ear Greenery
Peonie Sprays
Faux Lambs Ear Wreath: Step-By-Step Tutorial
Here's how to make this easy faux lambs ear wreath.
1. Cut & Divide The Lambs Ear
Lambs ear is a very popular greenery for spring wreaths. I used wire cutters to split up about 6 stems of lambs ear sprays. You can also choose to substitute with eucalyptus – it's another beautiful spring-time choice for greenery.
2. Cut Off Some Peony Blooms
Next, grab some Peonies and cut off as many blooms as you want to use. Trim them about 2-3 inches from the bloom so that they have enough stem to stick into the wreath, but not so much that it's difficult to glue.
3. Glue The Peonies To The Wreath
I melted some glue sticks in a mini electric griddle. Then, I dipped the flower stems into the melted glue and stuck them into the wreath. As the glue dries, the wreath will adhere to the flower.
Put them in a bundle in the corner or side of your wreath.
4. Add The Lambs Ear
Start attaching the lambs ear leaves around the flower. I always tell my Wreath of The Month Club group to work from the central binding point out. I did that by adding the lambs ear leaves under the peonies and working my way around the wreath from there.
Keep adding lambs ear pieces underneath each other until you fill up as much of the wreath as you want. This could be half, this could be 3/4 of the way around the wreath.
This is a compact wreath, meaning the florals and leaves are very close to the wreath base.
5. Decorate With More Flowers
Be creative and use your favorite colors and blooms. I love the thin and wispy look of the lavender sprigs, so I added them to my wreath. It's a great filler flower for spring and if these were real flowers, it would smell divine too.
Use the lavender for some dimension. If they are too long, move them down further under the lambs ear.
6. Accent With Baby's Breath
Another one of my favorite accent flower is baby's breath. I love just adding tiny sprigs of it all throughout the wreath. I just tuck it in around all the other leaves and flowers that I already used.
It gives the wreath even more depth and pops of springtime color.
7. Use A Steel Pick Machine If Needed
If you discover that some of the picks on your leaves or flowers are too flimsy, use a steel pick machine when making wreaths to add a thicker pick. It's a heavy gadget and it bends steel picks around the bottom of your leaves/flowers so they can stick into your grapevine wreath better.
8. Fluff And Finish It
When you look at it is and you think it's ready, go through all the leaves and flowers one last time. Fluff them out and make sure everything is popping!
Watch The Video: How to make a Lambs Ear Wreath for Spring
If you enjoyed this and want to learn more on how to get started with wreath making, try my Wreath Making 101 Workshop!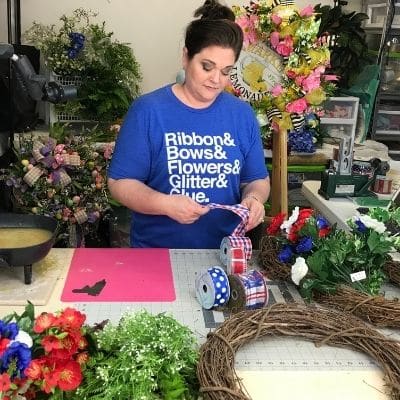 Thanks for joining me today in the wreath shop learning how to make a faux lambs ear wreath! Comment below and tell me what your favorite part was and let me know what I should make next!
Happy Wreathing,
Julie
More DIY Spring Projects
If you enjoyed this spring wreath, then here are some more spring projects you will enjoy too.
Liked this lambs ear tutorial? Pin it for later!