Mardi Gras Bows – Make a Pretty Multi-Ribbon Bow
If you have the post-Christmas blues, perk up your decor with some beautiful Mardi Gras bows! This colorful festive multi-ribbon bow is the perfect way to add some color and texture into any home decor project.
Plus, making this couldn't be simpler! I'll walk you through it step by step.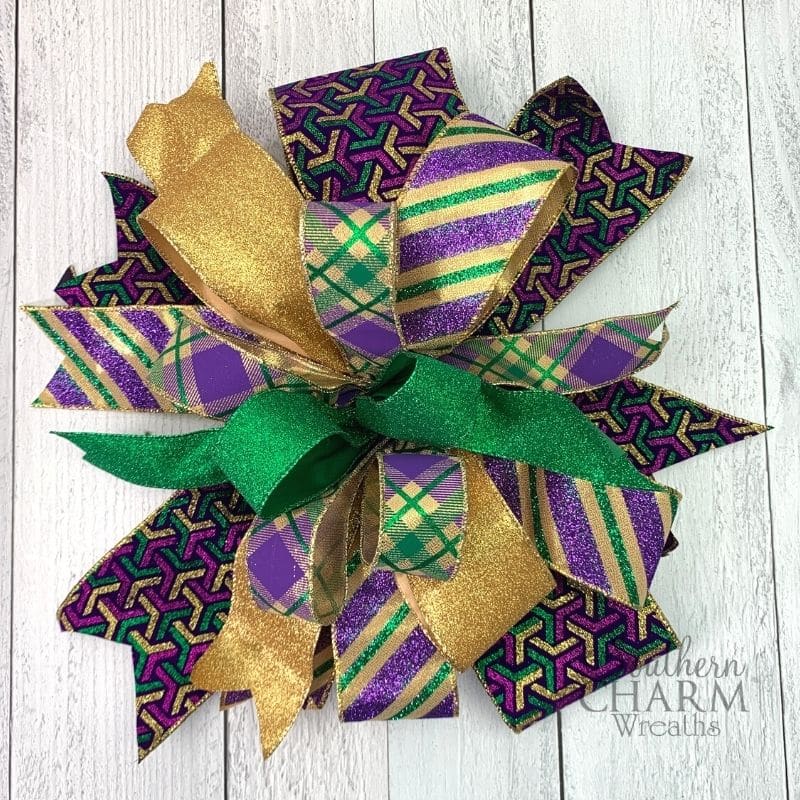 This post may contain affiliate links for your convenience. Click here to read my full disclosure policy.
How to Make Multi-Ribbon Mardi Gras Bows
Whether you add these bows to a wreath, use these as part of a floral arrangement, or simply add them to a gift for your favorite Mardi Gras-loving friend, this easy DIY will be sure to make you feel festive!
Supplies Needed
To make this Mardi Gras bow, all you need is:
4 different types of wired ribbon (see below)
Pipe cleaners, florist wire, or zip ties
I bought my supplies from Deco Exchange, Greenery Market, and Trendy Tree.
Choose Your Ribbon
For Mardi Gras, you have to choose something sparkly! So I recommend at least one ribbon having some shimmer to it – but you can also do what I did and make sure all of them do too!
Of course, I recommend sticking with the signature Mardi Gras color pallet of green, purple, and gold. Just make sure you get wired ribbon.
2 Ways to Make Bows
There are 2 ways you can make bows like this. Both have their merits and both can yield beautiful results!
With an EZ Bow Maker. If you have arthritis or want to make several of these, an EZ Bow Maker is your best option.
Hand-tied. On the flip side, if you feel physically able, you can create the same stunning look simply using your hands! This takes a little more practice but is very doable.
How to Make a Mardi Gras Multi-Ribbon Bow Step by Step
Use a 4″ ribbon to cut a 20″ tail. This will be the piece that goes on the bottom of the bow.
With the 4″ ribbon, cut a 54″ long piece, and make two loops measuring 8″.
Then, use one of the 2.5″ ribbons. Cut a piece that is 83″ long, and make four loops measuring 7″.
With the other 2.5″, cut to 45″ long and create two loops measuring 6″.
Then, use one of the 1.5″ ribbons cut at 63″ long and make four loops measuring 5″.
Lastly, use the other 1.5″ ribbon, cut it to 35″ long, and make two loops measuring at 4″.
Secure the ribbon together using a zip tie, floral wire, or pipe cleaner.
Video: How to Make Multi-Ribbon Mardi Gras Bows
Y'all if you are anything like me, you're probably a visual learner, particularly when it comes to bow-making! In this video, I'll walk you through exactly how to put together these pretty bows.
First, I'll show you how to make the ribbons with the EZ Bow Maker. If you don't have one, or prefer to make it by hand, you can skip ahead to 19:30.
Remember, just like anything you will get better and better as you practice these skills! I have made hundreds of bows over the past few years, and I still find myself having to undo and redo certain steps to get them right. Just be patient with yourself and keep going!
You'll be making these multi-ribbon bows in no time!
If you enjoyed this and want to learn to wreath the professional way,
try our Wreath Making 101 Workshop!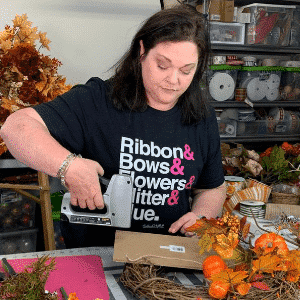 Happy Wreathing,
Julie
More Mardi Gras Projects:
Liked this Mardi Gras bow? Pin it for later!