How to Repurpose an Old Christmas Wreath
Instead of throwing out that old tired Christmas wreath found in the attic, let's repurpose it and make it Christmas ready by adding a bow, ornaments, and picks.  Today in the wreath shop we're repurposing an old Christmas wreath in less than 30 minutes. This post contains affiliate links for your convenience. If you click a link and make a purchase, I could earn a few pennies in commission. Click here to read my full disclosure policy.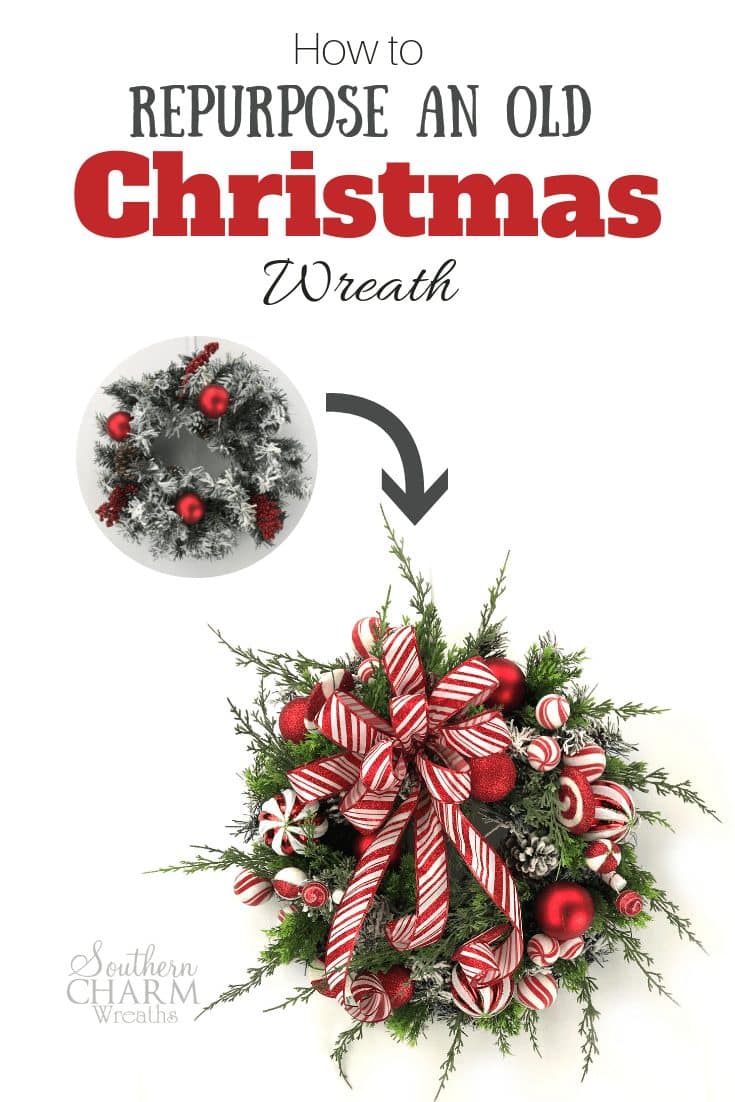 How to Repurpose an Old Christmas Wreath
In this video, I'm sharing how to take an old Christmas wreath found in your attic or from a garage sale and repurpose it to make it Christmas ready. Let's get started:
Supplies
Faux Flocked Wreath or any old tired wreath Christmas wreath
Greenery or garland
Christmas ornaments
Christmas picks (Hobby Lobby)
Glue gun or glue pan
Christmas ribbon (wired)
[Tweet "How to Repurpose an Old Tired Christmas Wreath!"]
How to Repurpose an Old Christmas Wreath:
Begin by fluffing up your wreath, making sure it is not laying flat.
Next, cut off the berries that came on the wreath and any other items that may be on yours that you do not want to keep.
For added dimension, add pieces of greenery to your wreath. I used pieces from a 6 foot garland from Hobby Lobby as well as a slightly different shade of green from a small greenery bush. Simply pull off or cut the branches, add hot glue to the base of the stems and insert in the wreath. Note: Make sure all of your greenery is going the same direction around the wreath.
Now it is time to make the bow. I used red and white wired ribbon for my bow. Note: If you're unsure how to make a bow, check out my 9 Ways to Make a Bow free video!
Attach your bow using florist wire. You can attach it wherever you would like – top, bottom or even to the side. I placed mine at the top with the ribbon streamers hanging down. Note: For a finished look, roll or dovetail the ribbon ends.
Now it's time to add the ornaments and picks. Simply add hot glue to the stem/base and insert into wreath among the branches. I like to use a variety of sizes for more interest. Note: To help ornaments stay in place you can wrap the wreath branches around them.
Continue adding until you are happy with your wreath!
How to Repurpose an Old Christmas Wreath…
There it is, a completely new look for your wreath in less than 30 minutes! Anyone can do this, just gather up your supplies and get started. I used red and white for a peppermint theme on mine but you can easily use any colors or themes you would like for your wreath.
Let me know if you enjoyed this and don't forget to join me on Facebook so you can watch me Live!
If you enjoy watching me and/or learning to make wreaths of various styles, join me in my Wreath Making of the Month Club, learn more here.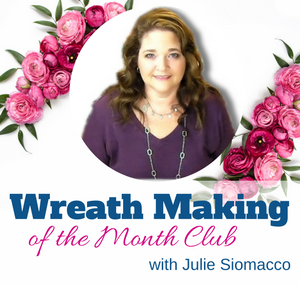 Happy Wreathing,
Julie
If you enjoyed this post, you might also like:
DIY Christmas Potpourri Wreath
30 Minute Christmas Wreath Tutorial
Step by Step Deco Mesh Christmas Wreath Tutorial