30 Minute Christmas Wreath Tutorial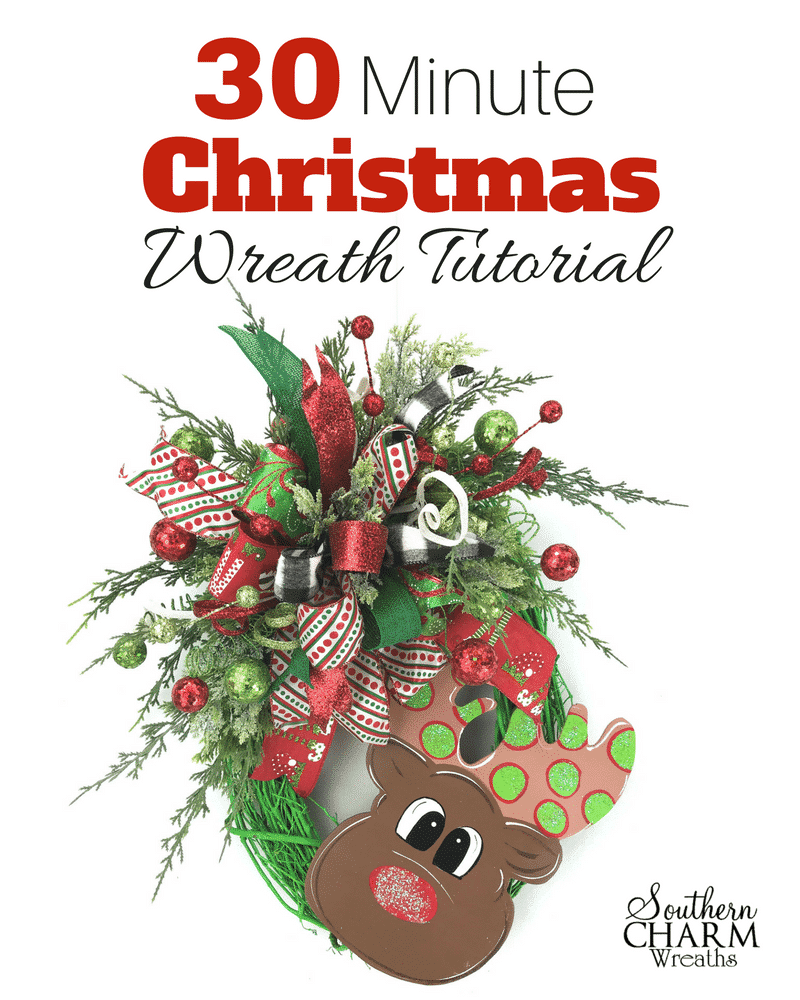 What's better during the busy holiday rush than a wreath you can make in just 30 minutes? Today in the wreath shop I'm going to show you how to do just that. This post contains some affiliate links for your crafting convenience. Click here to read my full disclosure policy.
30 Minute Christmas Wreath Tutorial
In today's video, we're making a Christmas wreath in just about 30 minutes! This is a great wreath for a beginner. I'll show you how to make a fun wreath using minimal supplies and time. Here's how:
Supplies
Green grapevine wreath (Carolina Pottery)
Reindeer sign (handpainted by another crafter)
Green pipe cleaners
Zip ties
Wired ribbon
Christmas picks
Silk greenery
Glue sticks or glue pillows
[Tweet "A 30 Minute Christmas Wreath Tutorial"]
30 Minute Christmas Wreath Tutorial
First, determine the side you want to use as the front of your grapevine wreath.
Next, take your sign and lay it on the grapevine wreath to get an idea of placement. If your sign does not already have a place to attach it, determine where the sign will touch the wreath and adhere a bracket to those areas and thread a pipe cleaner through each.
Attach the sign to the grapevine wreath using the pipe cleaners.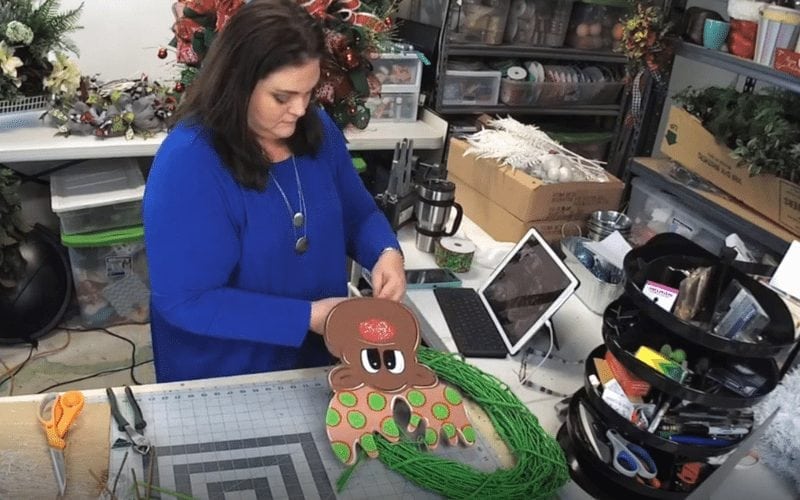 Now it's time to make your bow. For this wreath, I made my Funky Christmas Bow.
Attach your bow using florist wire or pipe cleaners. I placed mine opposite the reindeer sign – in the top left. Tip: For a beautiful fluffy bow, pull your ribbon tails to the back and your loops to the front.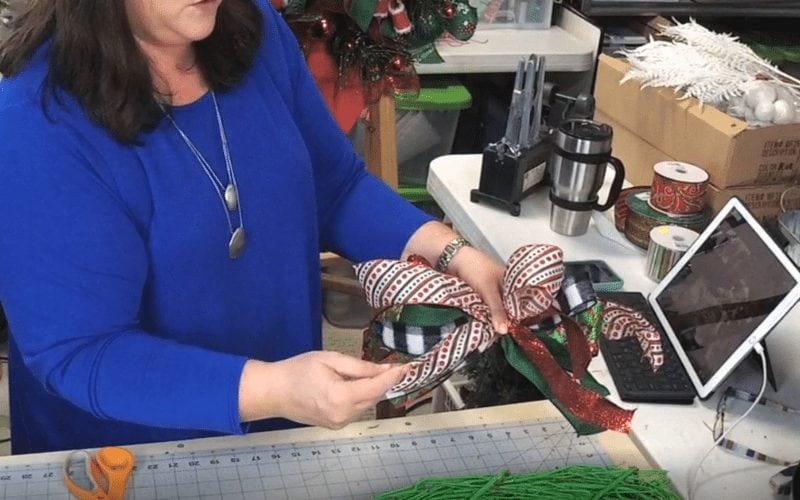 Now it's time to decorate! To start, I added some greenery around and behind the bow and adhered with hot glue. If you're new at wreath making or just not feeling sure about placement, lay out all of your pieces first before attaching and gluing.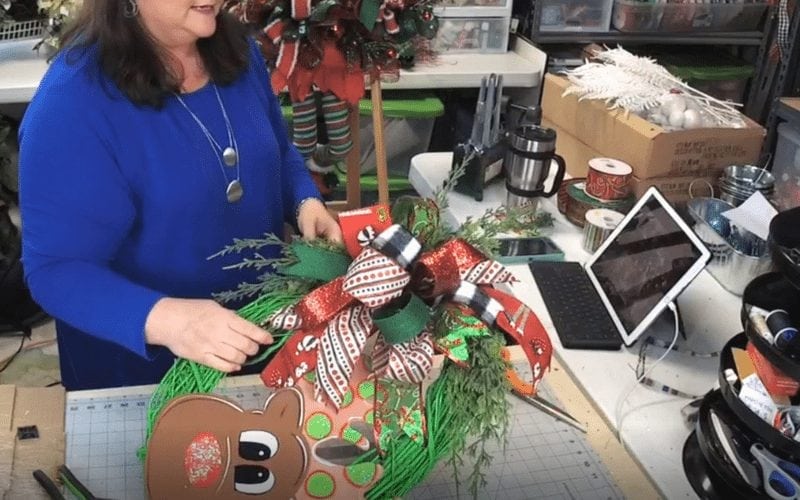 Next, add Christmas picks around and in the bow. Adhere with hot glue.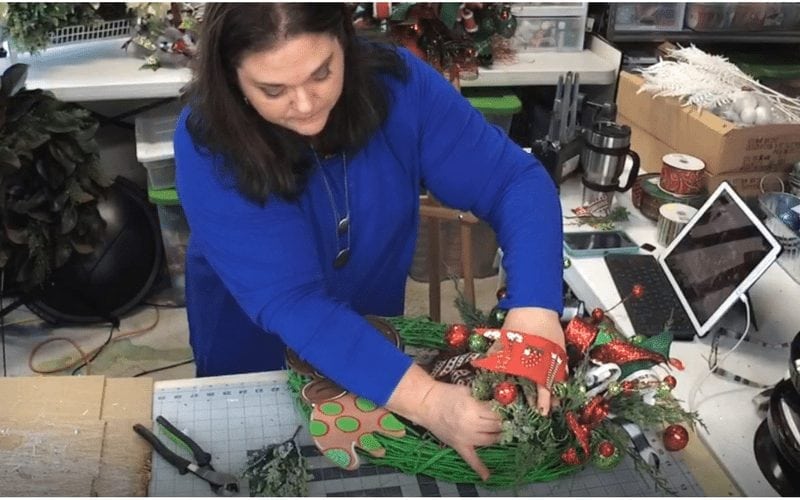 For a finishing touch, I added a few springs of greenery in the bow loops. Again I attached them with hot glue. Remember, when you are using a painted grapevine wreath, you can leave parts of the grapevine exposed. There is no need to cover it all up!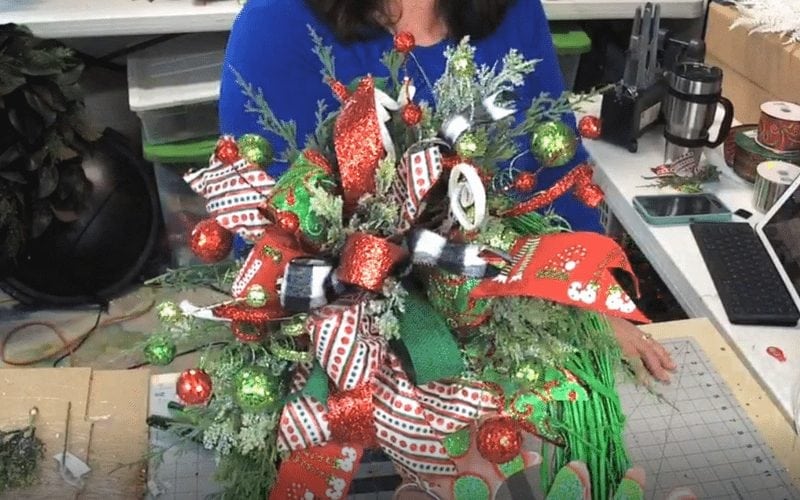 30 Minute Christmas Wreath Tutorial Video…
I hope you enjoyed this fun Christmas wreath tutorial and in approximately 30 minutes, you can make one too!
If you would like to learn more about wreath making, join my Wreath Making Club.
Don't forget to join me on Facebook Live, for my other DIY tutorials. Even better, join our messenger bot HERE and we'll send you a message on Facebook the next time we go live. It's always more fun to join in on the conversation.
Happy Wreathing,
Julie
If you enjoyed this post, you might also like:
Step by Step Deco Mesh Christmas Wreath Tutorial
How to Make a Slim Storm Door Christmas Wreath
Quick 30 Minute Fall Wreath Tutorial