My Stitch Fix Unboxing May 2017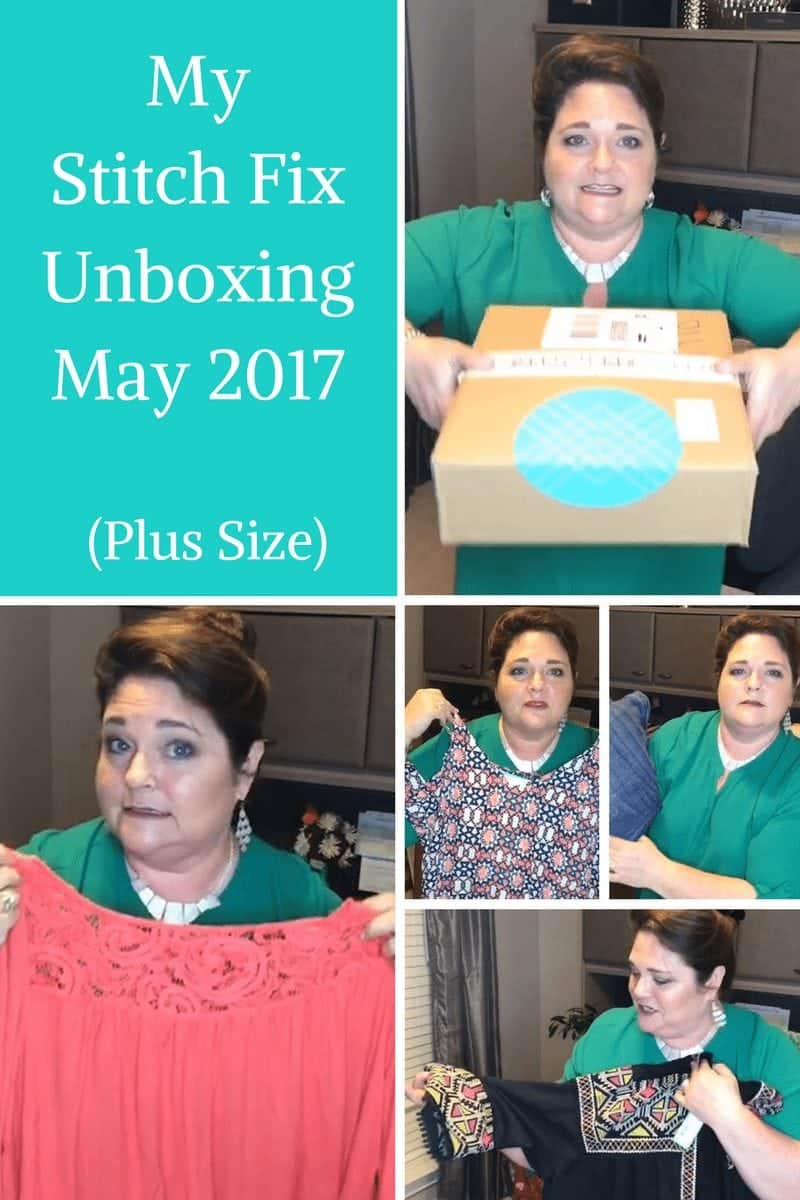 Ya'll, this is my Stitch Fix unboxing, I know it's not a DIY but don't worry, next week I'll get back to crafting and making pretty! However, when I find something amazing like Stitch Fix, which makes my busy life easier, I'm compelled to share it with you…my peeps! Let's get right to it shall we. This post contains some affiliate links for your convenience. Click here to read my full disclosure policy.
My Stitch Fix Unboxing May 2017
Listen, I suck when it comes to style and worse, I hate shopping for myself!  Can you relate? I mean I will shop all day long for my kiddos but when it comes to me… I think I would rather have root canal. HA! I know it's crazy…I'm not normal.
A friend introduced me to Stitch Fix earlier this year and I've been waiting for them to include a plus size option…which they did. Yippee! They also have maternity and men, if you're interested. I'm thinking of adding the hubs because he can seriously use some style. Hubs if you're reading this, I'm just kidding (as I smile and then roll my eyes).
When I signed up for Stitch Fix, not only did I give them my weight, height, sizes and measurements. But in my styling profile I answered questions about my body shape, how I like my jeans to fit, what parts of my body do I want to flaunt and what parts do I not like, how often do I dress up and they showed me a series of outfits for me to rate. They do a great job pinpointing your style.
Also in your Stitch Fix styling profile, you can choose what price range you want to be in…lower, middle, or higher. I choose the middle knowing I can change it at anytime.  And you can choose the frequency, so if you want a box every month or maybe every two months, you're in control.
After you join, they send you a box with five items inside for you to try on to see if you like and want to keep them. I have to admit the first Stitch I got, I was not too impressed. I kept 2 things, a pair of shoes and a blouse. But the second Stitch I received, I kept everything (I had to exchange one blouse for a different size). My stylist nailed it. I think it was because I created a Pinterest board and started pinning clothes that I liked to that board.
You can keep all five items in your Stitch Fix box, or you might want to keep only one item, or you might want to send the whole thing back…it's totally up to you.  For the items you want to send back, place them inside the prepaid envelope and place in your mailbox. So stink'n easy!
If you do keep all five items you get a 20% discount. And for all items ordered, they deduct your $20 styling fee.  So for this Stitch, I can purchase the whole box with 5 items for $170ish. I don't think that's bad. Totally worth not having to drive to the mall.
In the video below,  I was on Facebook Live with my Stitch Fix Unboxing.  This way my followers could help me decide which fixes to keep.  You can watch the replay below.
If you're interested in trying Stitch Fix to see if it's right for you, click here and complete your own style profile.  I also mentioned you can get Stitch Fix gift cards for mom for Mother's Day, you can get those here.
Let me know what you think of Stitch Fix, is it something you would try? Do you already subscribe to Stitch Fix?
Happy Wreathing,
Julie
If you enjoyed this post, you might also like:
DIY Picture Frame Wreath for Mother's Day
Make a Beautiful Mother's Day Wreath
23 Delicious Pancakes Mom Will Love