Picture Frame Wreath Tutorial for Mother's Day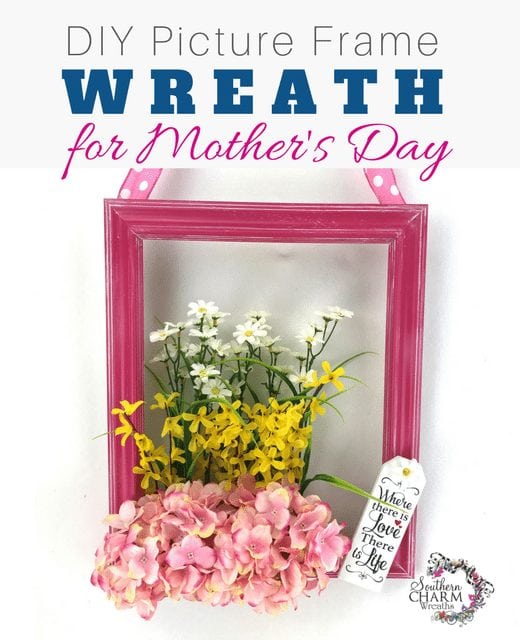 I have a new project for you today that I've never made before and its a super fun wreath alternative! It's a picture frame wreath tutorial using silk flowers for Mother's Day. You only need a few items and you can do it in just a few hours (including drying time). This post contains some affiliate links for your convenience. Click here to read my full disclosure policy.
Picture Frame Wreath Tutorial for Mother's Day
In this latest video, we're putting together a fun frame that looks like a window full of flowers! Choose your mom's favorite flowers and colors for this and it's sure to be a big hit on Mother's Day. Here's how to make it:
Supplies
Acrylic craft paint
Sealer (Krylon)
11″x14″ Unfinished wood frame (Michael's) or use an old frame and repurpose
Silk flowers (some tall, some medium, some short)
Styrofoam
Small Decorative sign (Hobby Lobby)
Ribbon
Scissors
Staples
[Tweet "How to Make a Picture Frame Wreath for Mother's Day"]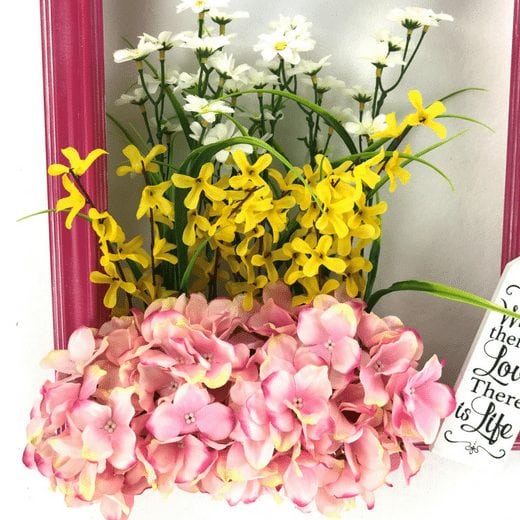 Picture Frame Wreath Tutorial for Mother's Day:
If you'd like to paint your frame, spray it first with your base color. Let it dry. Water down white acrylic paint, brush it on and wipe the excess off quickly with a damp cloth. Make it last by using Krylon sealer after your paint dries.  You can see how it gives the frame a white washed finish and makes all the details on the frame pop.

Gather the silk flowers you would like to use. You want to cut them in varying heights so that they are stacked, some tall, some medium, some cut short and cover up the mechanics, like hydrangeas.
Attach a small strip of Styrofoam to the bottom back just under the opening on one side using hot glue. This will be for added stability for the flowers.
Begin laying out the flowers but don't attach them until you are sure you like the layout.
Attach the first set of flowers by stapling them to the frame. I started with yellow forsythia (the medium height) and then added the white (taller height) stems.
For my third set of flowers I used hydrangeas and attached them with hot glue on the Styrofoam. I cut these very short so they would help hide the Styrofoam.
Hide the stems in the back of the frame by hot gluing thick green leaves (I use leftover leaves from other projects) over the stems and staples.
Add a loop of ribbon (I stapled it on) to hang the frame. I tied a little bow at the top before attaching.
Attach the sign of your choice to the frame using hot glue. Tip: If your sign had a hole for hanging like mine, simply trim the jute from it and glue a small flower where the hole is to hide it.
Picture Frame Wreath Tutorial for Mother's Day video…
Wasn't this a fun and easy Mother's day project? Of course you could always make one for yourself or sell in your Etsy shop!
Let me know if you enjoyed this and don't forget to join me on Facebook Live, Thursdays 7:30PM EST.
If you enjoy watching me and/or learning to make wreaths of various styles, you should consider joining my Wreath Making of the Month Club, learn more here.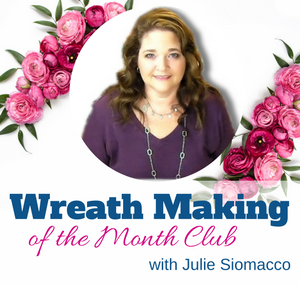 Happy Wreathing,
Julie
If you enjoyed this post, you might also like:
How to Make an Elegant Wedding Wreath for the Front Door
DIY Summer Chalkboard Sign Wreath