DIY Deco Mesh Summer Sweet Tea Wreath
The south is known for its sun and sweet tea – and this happy deco mesh summer sweet tea wreath celebrates both in the cutest way! Learn how to make your own with this easy tutorial for beginners.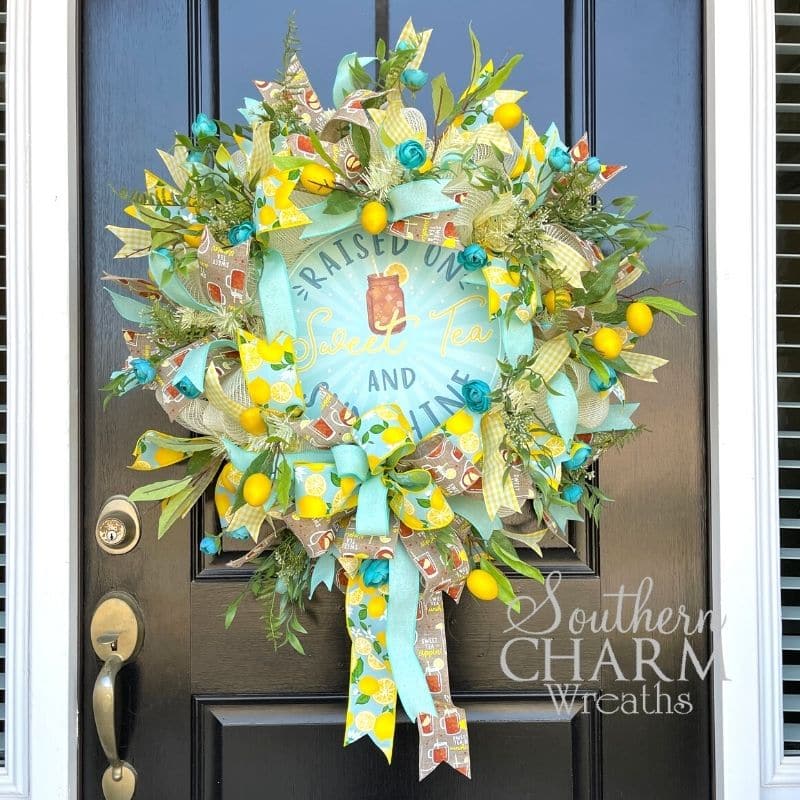 How To Make A Summer Sweet Tea Wreath
The best thing about making a wreath with deco mesh is that it looks showy and impressive, but it's actually one of the easiest wreaths you can learn to make.
I love to make seasonal wreaths. When I was thinking of how to create a wreath that looks at home all summer long, a cold glass of sweet tea came to mind! There is nothing quite like sitting on the porch, watching the sunset while sipping on some southern sweet tea.
Keep reading, and I'll share all the exact steps so you can make your own sweet tea wreath. I even have a video so you can watch, pause, replay, and learn along with me.
This post may contain affiliate links for your convenience. Click here to read my full disclosure policy.
Supplies For This Project
15 inch Deco Mesh Work Wreath Frame (24-25 inch diameter)
Ribbon
Greenery Bush
Lemon Picks
Sweet Tea Sign
Tea Ribbon
Lemon Ribbon
Wire Cutters
How To Make A Deco Mesh Summer Sweet Tea Wreath – Step By Step Tutorial
1. Add Deco Mesh To Wreath Form
Take your wreath form and find a location in your inner ring and lay your mesh down into it and twist it tight with the needle ties. The twist ties are the fuzzy wire pieces that come attached to the wreath. However, some people use a green wreath form and pipe cleaners. If that's you, then twist the pipe cleaners around the deco mesh.
Next, measure out 10 inches and place in the next twist tie. You will make loops around your wreath using twist ties. Work your way all the way around that section. As you do, keep spoofing the deco mesh.
After you make it completely around the inner ring, connect your inner ring to your outer ring by pulling down your deco mesh and connecting it to one of the inner ring twist ties, and twist. Cut the end off and stick the end down into the frame.
2. Add Ribbon Tails
Using four different ribbon patterns, cut each ribbon 14 inches long and dovetail the ends. To dovetail the ribbons, fold the end of the ribbon in half, and then on the fold, cut diagonally to the corner.
Then, layer two ribbons on top of each other, fold them in half, pinch, and start adding them to the twist ties of the wreath form. Work your way around the wreath adding your ribbon tails but alternating ribbon patterns as you add to the wreath.
Remember to give the ribbon tails a little tug to make an X shape after you attach them to the needle ties.
3. Attach The Sweet Tea Sign To Wreath
Add florist wire to the top of the sign and then attach the sign to the center of the wreath form. Twist the sign's florist wire to the wireframe.
Then repeat this same step with the bottom of the sign. Make sure the sign is completely secured to the wreath frame. At this point, you can choose to stop, or you can keep adding more to your wreath. It's entirely up to you!
4. Make Your Bows
To make the bows, I used the same ribbons that I used earlier. Make as many ribbons as you want! Here's how to make them really quickly.
First, measure your first ribbon tail, then pinch it and make two loops, both measuring 12 inches long and twisting after each loop. Do the same with the second ribbon, stacking them on each other. You can add a third ribbon or stop with two. Keep adding loops and ribbons until you are satisfied with how it looks.
Secure the middle of the ribbon with a wire and then attach it to your wreath.
If you need a beginner lesson (or even just a refresher) on bow making, check out my free 9 ways to make a wreath bow video tutorial here!
5. Attach Bows
Add the bow wherever you want it to be on your wreath. I like to place my bows somewhere close to the sign.
6. Add Greenery
Greenery adds texture to your wreath. You want to fluff out and shape your greenery pieces first before placing them in your wreath. Once your greenery pieces are nice and fluffed, start by placing them around the perimeter of your wreath.
Before placing, be sure to dip the end of the stems into your hot glue pot. Then, to place them, simply stick the stem into your mesh right where the needle ties are placed.
7. Add Focal Florals
Instead of flowers, I used lemons on branches because they look like lemons I would put in my tea, and it matches the lemon print on the ribbons.
Dip the ends of the lemon branches into the hot glue and place them into the wreath.
8. Final Touches
Step back and check out your work! If you see any holes, you can add a ribbon piece to fill those gaps and holes.
Watch The Video: Deco Mesh Summer Sweet Tea Wreath
If you enjoyed this post, you might also like:
Liked this sweet tea wreath? Pin it for later!