How to Make a Christmas Greenery Bell Wreath
This Christmas greenery bell wreath is simple to make and totally on-trend. With a variety of mixed greens and simple bell accents, you can make this gorgeous holiday wreath!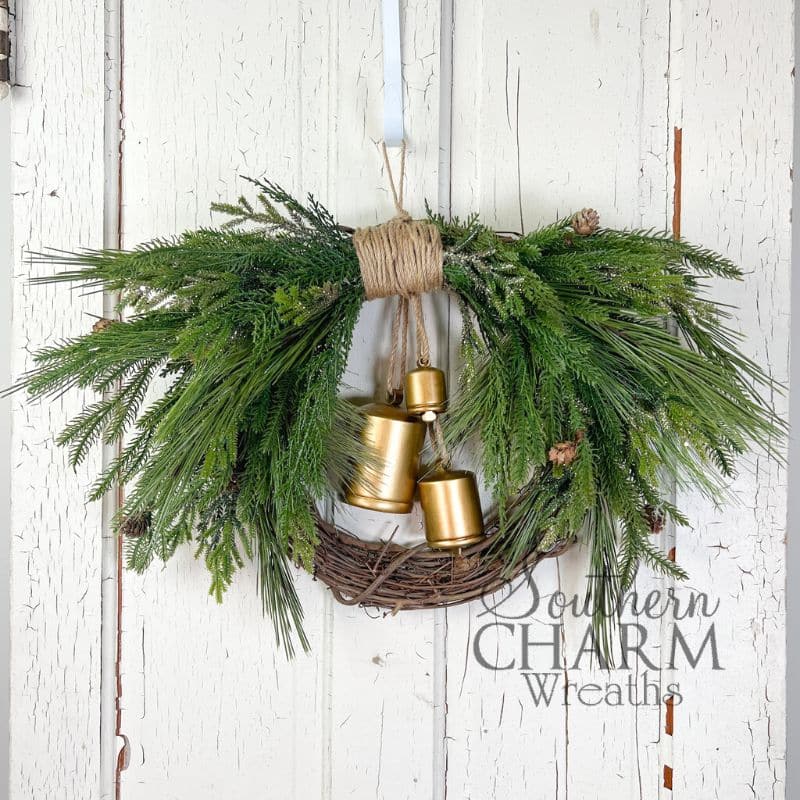 Christmas greenery bell wreath
I've been seeing this bell wreath everywhere this month – people are really drawn to its toned-down design.
And despite their simplicity, these wreaths are going for big bucks! But you can easily make them at home for a fraction of the price.
Today, I'm going to share how y'all can make these rustic wreaths with tons of mixed greenery and just a touch of gold.
And if you'd like to learn more about the basics of wreath making, try out my Wreath Making 101 Workshop!
Supplies for this project
You'll need:
Variety of Artificial Greens – such as:

Long Needle Pine with Pine Cones – in varying shades
Noble Pine Sprays
Noble Pine Spray with Gold Glitter

Wire Rope – for anchoring
3 Gold Bells – on jute rope
You'll also need:
How to make a Christmas greenery bell wreath: Step-by-step tutorial
1. Clean up your grapevine base
First, you'll want to clean up your base.
Because of this simple design, there will be a bit more grapevine showing than usual. So we want to make sure it looks neat and tidy!
Take your clippers and clean up the grapevine, clipping any extra, messy bits.
2. Create a central binding point
Next, we want to create our central binding point.
Wrap your wire anchor around the top center of your wreath, tying a tight loop. This will be the main anchor for our greenery.
3. Build your foundation
Greenery is the big star of this simplistic wreath.
Begin by creating a solid foundation as your base. Slip long needle pine (or whichever green you prefer) into either side of your grapevine near the central binding point and hot glue to secure.
The sprays should be facing away from each other. Bend your greens downward in a circular motion to help shape the wreath.
4. Add texture
Next, we want to add texture to our wreath through different kinds of greenery.
Clip pieces of noble pine spray and secure them to either side of your wreath at varying heights. Make sure they're fairly symmetrical on each side for balance!
Then, add lighter green pine to the centers and bottoms of your greenery bundles on both sides to thicken and diversify.
The trick to this wreath is to have a good selection of greenery for texture and interest.
Finally, add in bits of glittering greens and pinecones. The glitter is optional if you prefer a natural look.
5. Wrap your jute
Pull out a few yards of jute, doubling up to create a loop at the end.
Then, wrap around the anchor point of your wreath, Leaving a three-inch loop for hanging at the end. Your wrap should cover a few inches of your wreath.
Add more greenery clippings to fill in any extra space between the jute wrapping and your greens.
6. Attach your bells
The final step is to add your bells! These bells are the centerpiece of your wreath, adding just a touch of holiday fun.
Wrap and tie your hanging bells around the jute center of your wreath, clipping the ends for a neat finish.
And there you have it; a Christmas greenery bell wreath!
Watch the video: how to make a Christmas greenery bell wreath
If you enjoyed this post, you might also like:
Like this post? Pin it for later!