Using Silk Flowers In Outdoor Planters
Looking for a unique way to make your front porch more festive for the fall months? Look no further! These outdoor silk flowers placed in planters are so easy to design and make and add the perfect pop of curb appeal. Here's how to make them!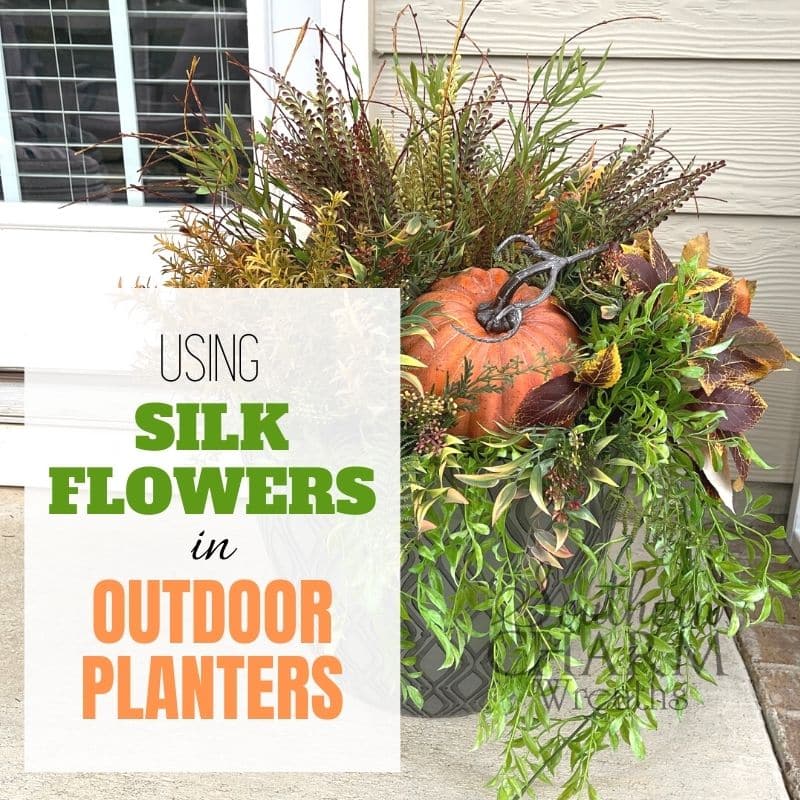 How To Use Outdoor Silk Flowers In Planters
Don't exactly have a green thumb? No problem! The best thing about this tutorial is that when you use silk flowers, they never die! No more watering or worrying about whether it's too hot or cold. These little guys survive almost anything.
No matter which zone you live in, when you use outdoor silk flowers in a planter, it looks like festive plants that are eternally at their prime.
For best results, I highly suggest you use quality materials that look authentic. Of course, you can also do this on the cheap and get a bunch of fake plants from Dollar Store. They both look fantastic!
Keep reading and learn how to fill up your favorite planters with the best outdoor silk flowers to really dress up your porch or deck.
This post may contain affiliate links for your convenience. Click here to read my full disclosure policy.

Supplies for this project:
Outdoor Planter
Yellow Fall Leaves Floral Bunch
Orange Fall Leaves Floral Bunch
Orange Floral Bunch
Greenery Bunches
Pumpkin
Dirt
Pipe Cleaner
How To Use Silk Flowers In Outdoor Planters – The Easy Way!
1. Fill The Planter With Dirt
I grabbed a planter from my back porch that already had dirt in it. There is no wrong way to do this, so if you have an empty planter, you can either fill it with more dirt or fill it with florist foam blocks. You just need something in the planter that will hold everything.
2. Start In The Middle
Now that your planter is ready, start adding taller twigs to the middle. I used plastic woody stems that had green buds on them and placed them really close to each other in the middle of the pot.
3. Add Fall Leaves
I made a fall planter so I added some fall leaves to the bunch. Insert the leaves into the dirt in a bunch on one side of the planter.
Have fun with this part! Use as many different types of leaves as you want. I used a mixture of different types of foliage – from changing colors to evergreen.
4. Keep Adding Greenery To Add Texture
Fill in all sides of the planter with as much variety as you want. Use different colors and textures. Use gold leaves, burgundy feathery greenery, and even some golden greenery.
The best part about sticking these picks and bunches into the dirt is that you can keep moving them around as many times as you want.
Then, keep adding more greenery and leaves until it is completely full. Don't forget to fluff each piece as much as possible! When it is as full as you want it, you are ready to add the pumpkin to the middle.
5. Insert An Artificial Pumpkin Or Another Centerpiece
Since this is a fall planter, I used an artificial pumpkin. Grab one that is the perfect size to fit inside your planter without overtaking it. For most planters, a smaller pumpkin will probably be best.
You could just place it gently on the dirt, but that won't keep it very secure. So, to make it stay in better, I added a skewer into the pumpkin. You can use either a wooden skewer or a pipe cleaner. Insert the skewer into the bottom of the pumpkin and then stick the skewered pumpkin into the dirt.
The skewer also lifts the pumpkin off the dirt, giving it some height.
6. Keep Adding Greenery Until It's Finished
This is a fantastic way to use your leftover twigs and picks. Layer your favorite pieces to fill in any empty spots. Keep going until you have the look you love.
Watch The Video: How To Use Silk Flowers In Outdoor Planters
If you enjoyed this post, you might also like:
Pin this Using Silk Flowers In Outdoor Planters to make later!