Whimsical Christmas Wreath
With some festive picks, deco mesh, and a red wreath base this whimsical Christmas wreath by Guest Designer Laurie Anne Coxe of Plum Blessed Y'all will surely be the best thing you add to this years Christmas decor. Follow along as she teaches you all her tips and tricks to wreath making and designing.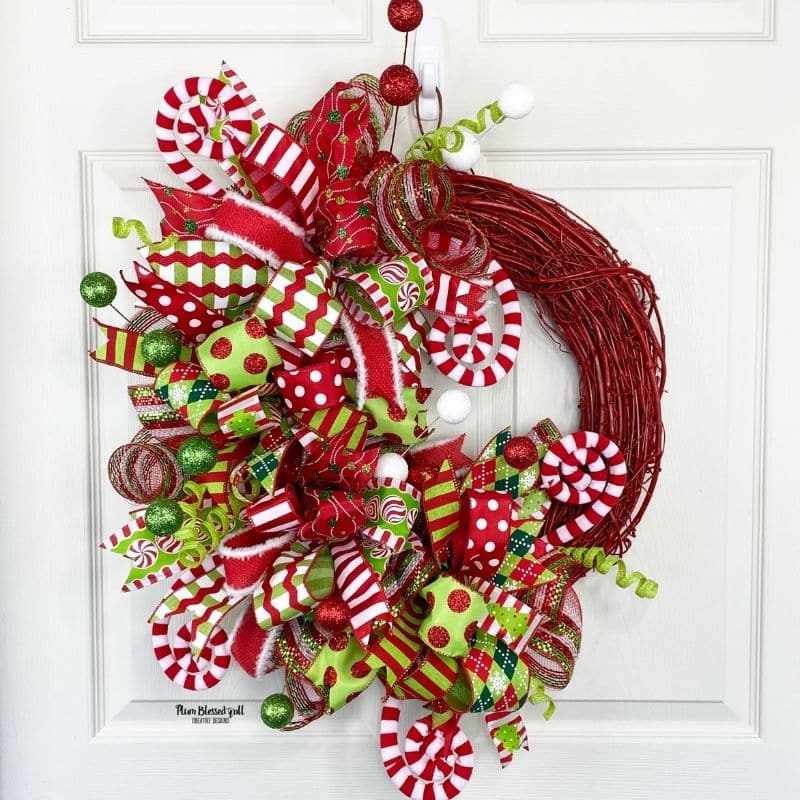 We are so happy to welcome a special guest from Plum Blessed Y'all! Designer Laurie Anne Coxe. She is going to show us how to make a beautiful whimsical Christmas ribbon wreath for this Holiday Season. This is a great way to use up supplies such as Christmas ribbon or deco-mesh when you may be running low.
I just love how she has so much knowledge about design when you are creating your own wreaths. Watch and learn as she walks you through how to discover just exactly what design you want. Whether it's all the way around your base or a crescent moon shape. She is the girl to help you figure that out!
In this tutorial you will lear tips about wreath designing and how to check and see if your wreath books nice and balanced. You will also learn how to design using deco mesh to help break up the ribbon and bows and give your wreath a fun and festive whimsy look. This tutorial will not disappoint. you will come away with a beautiful wreath and tons of wreath making knowledge.
This post may contain affiliate links for your convenience. Click here to read my full disclosure policy.

Supplies for this Project
Grapevine Wreath (Painted Red)
10" Red with Green, Red and White Stripes Deco Mesh
3 Spools of 2.5" Christmas Ribbon
2 Spools of 1.5" Christmas Ribbon
3 Spools of 1.5" Christmas Ribbon
2 Spools of 2.5" Christmas Ribbon
1 White, Green and Red Christmas Ball Craft Pick
1 Lime Green Curled Ribbon Craft Pick
How To Make A Whimsical Christmas Wreath: Step-By-Step Tutorial
1. Prep Your Wreath
Start with a grapevine wreath base and paint it red. Clean up any stray twigs that may snag or scratch any door. Pull your deco mesh up about an arm's length and cut into strips. Roll in both ends and scrunch together at the center. Run a wire around the center and twist in the back.
We are going to do a crescent moon design on our wreath base so we'll want our starting point at the top. Use the wire to attach the deco mesh into the base and twist on the back side.
2. Make and Attach Your Bows
Use three spools of 2.5" Christmas Ribbon and 2 Spools of 1.5" ribbon and make sure that the colors and patterns coordinate. Using Julie's Funky Bow recipe, create Christmas Bows for your wreath. Use the wire from the bow to add to the right of the deco mesh on your wreath base.
Repeat the same process by pulling a length of deco mesh and rolling in the ends, scrunching in the center and securing with wire. Add the next deco mesh curl to the right of your bow. Make another bow using Julie's Funky Bow recipe with two 2.5" spools of Christmas Ribbon and three 1.5" Christmas ribbon spools that coordinate in colors and patterns. Add the second bow to the right of your deco mesh.
Repeat the same process and alternate a deco mesh curl and a bow using the first set of Christmas ribbons. In total, you'll have four bows with deco mesh alternating in between. Make sure that you start and end with a curl of deco mesh.
3. Finishing Touches
Cut your Christmas ball craft pick to separate into clusters of three with each color. Twist the bottom together to make your own craft pick or use a pick machine if you have it. Insert your Christmas ball craft picks on the top and continue down your crescent design, spacing them evenly.
Separate your lime green curled ribbon craft pick into smaller pieces and add them into your wreath along your crescent moon design, spacing them evenly.
Dovetail the ends of your ribbon making sure that you stay within the line of your wreath along the outer edge. Make any final adjustments you'd like and enjoy your beautiful piece!
Watch The Video: How To Make a Whimsical Christmas Wreath
If you enjoyed this post, you might also like:
Like this post? Pin it for later!