Williamsburg Christmas Wreath with Faux Fruit
Travel back to the 1800s with this Williamsburg Christmas wreath. Made with old-fashioned fruits, red berries, and just a touch of modern glam, this traditional design will never go out of style.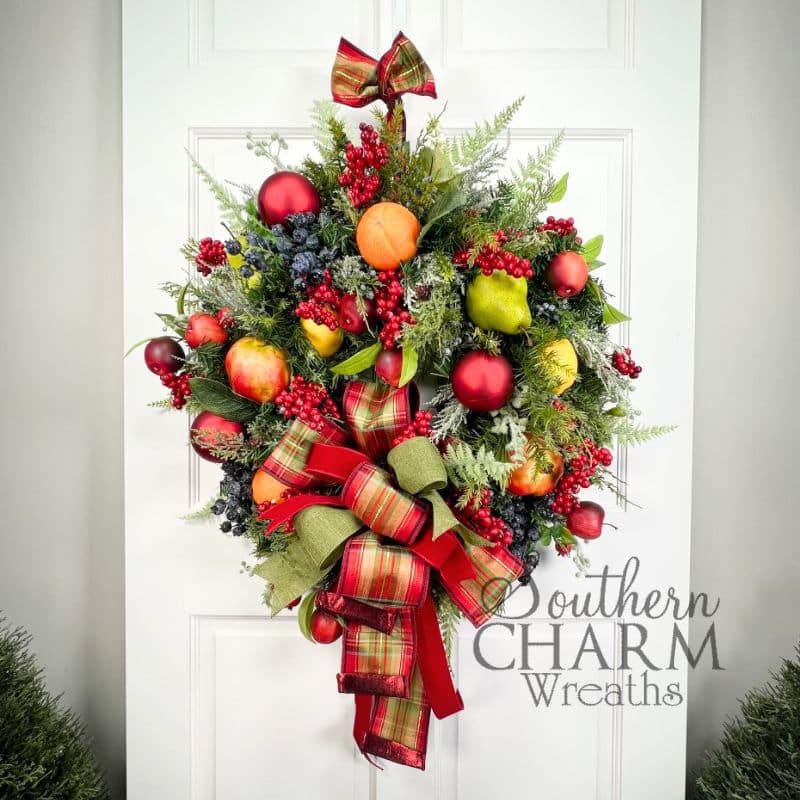 Williamsburg-style Christmas wreath
Today's design is for all of y'all who romanticize old-timey Christmas.
Christmas is one of the most nostalgic times of the year, celebrating quiet times with family, a relaxing winter solstice, and timeless traditions passed down through time.
And this Williamsburg Christmas wreath fits right into that cozy Christmas feeling, filled with fruits, berries, and festive additions.
This post may contain affiliate links for your convenience. Click here to read my full disclosure policy.

Supplies for this project
You'll need:
Green wreath base
Silk, wired ribbon

4" Christmas plaid
3" Green
2" Red velvet

Assorted faux fruits

Pears
Pomegranates
Oranges
Lemons
Blueberries
Orchard apples
Mini picks

Greenery

Green
Half-frosted
Frosted

Red berries
Christmas ball ornaments
Hot glue
Clippers
Wooden florist picks
Metal hole punch
How to make a Williamsburg Christmas wreath
1. Prep your wreath
Start by picking through your wreath base until it is nice and fluffy.
Then, add additional greenery throughout to elevate the design. Choose three types of greenery in various stages of frost, and hot glue clippings evenly throughout the base.
2. Make a statement bow
Next, we're going to make a festive statement bow!
Grab your thick plaid ribbon, measuring a 14" streamer, then pinch and pleat. Measure another 14" for a 7" loop, pinching and twisting. Repeat this step for a total of 2 loops, then trim a 14" streamer.
Repeat these steps for your solid green ribbon, working on top of the plaid.
Then, repeat these steps with a red velvet ribbon, this time measuring 12" for 6" loops.
Include a final loop of plaid ribbon in the center, secure it with florist wire, and attach it to the bottom center of your wreath.
3. Include a variety of fruit
Next, add a variety of fruit to your design, including pomegranates, pears, oranges, lemons, blueberries, and orchard apples.
To attach your fruit, use a metal hole puncher, then dip a florist pick in hot glue and feed it through the hole.
Disperse fruit evenly for a full and vibrant design!
4. Include Christmas balls
For more festive charm, hot glue Christmas ball ornaments throughout the wreath.
5. Add textured extras
To give the wreath more visual interest, bump up the texture by adding additional greenery clippings, mini bundles of fruit, and red berries.
6. Williamsburg Christmas wreath finishing touches
Finish your wreath with a streamer of plaid ribbon and a streamer of red velvet ribbon at the bottom of your wreath.
Fluff your bow, dovetail ribbon ends, twist the fruit to make their best sides shine, and you're done – a beautiful and nostalgic Williamsburg Christmas wreath.
Watch the video: How to make a Williamsburg Christmas wreath
If you enjoyed this post, you might also like:
Like this post? Pin it for later!