How to Make a Simple Traditional Christmas Teardrop Swag
Learn how to make gorgeous Christmas swag in this post. Watch the video and read the simple steps to create your own piece. Then, hang it up to enjoy or sell it (or both!).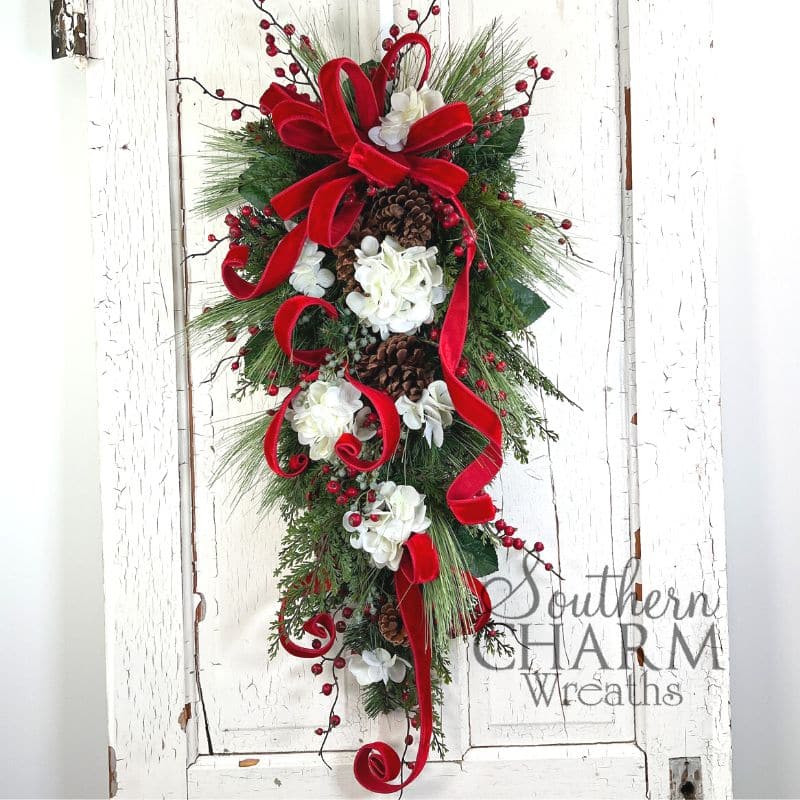 Everyone has a different style they like when it comes to wreaths and home decor. Some like large, flashy things. Others prefer the more classic or traditional approach.
This teardrop Christmas swag is for everyone that loves classic Christmas decor. It's beautiful because it is so simple. With understated charm, the dark red ribbons and white flowers accentuate the pinecone and evergreen branches.
This teardrop swag will never go out of style – it's a classic design with simple colors. A crowd pleaser that many people love, this is the perfect thing to sell in your Etsy shop or craft booth.
In this tutorial, I'm going to show you how to combine two teardrop swags and make them into one stunning Christmas swag.
This post may contain affiliate links for your convenience. Click here to read my full disclosure policy.

Supplies for this project
24-inch Evergreen Swag
30-inch Evergreen Swag
1-inch Wired Red Ribbon
White Hydrangea Bush
Red Christmas Berries
Greenery
DIY traditional Christmas swag: Step-by-step tutorial
Follow the steps below and make your own classic and simple Christmas teardrop swag. Remember, my tutorials are just to give you some beginner guidance. Use your creativity to make your swag or wreaths uniquely how you like them to look.
1. Layer the swags
Since I am using two different sizes of evergreen swags, I layered them on top of each other, with the smaller one on top of the longer one.
Before you secure them together, open and fluff out the larger bottom swag. This will make it look fuller and more evenly spaced out.
Then, grab the bottom needles, pull them up through the smaller swag, and twist them around the smaller swag like a bread tie.
Do this at the top and bottom of the swags.
2. Make your bow
You could make the bow before you design the swag or make one while you design it – it's up to you.
I used a 1-inch wired red ribbon to keep it simple. Measure out a 36-inch streamer. Then pinch the ribbon in your hand and measure out 12-inches for the first loop.
Fold the ribbon in half to make a loop and pinch it into your finger. Keep repeating this process, twisting to keep the good side of the velvet ribbon facing out.
I made nine loops in this bow. You can add as many or as few loops as you want.
Then, measure out the last long piece for the tail and cut it from the bolt. Twist some florist wire around the middle of the loops, adjust the shape, and twist the wire snugly until it is secure.
3. Attach the ribbon
Use the florist wire in the middle of your bow to attach it to the top of your Christmas teardrop swag. Fluff each loop out, so they are standing up and not laying down flat.
Then, adjust the ribbon tails throughout the swag. Since it is a wired ribbon, you can give it a cute twist, and it will stay that way.
4. Insert white hydrangeas
Next, let's add some pops of white! I love these white hydrangeas because they remind me of white fluffy snowballs.
Feel free to buy hydrangea florals that are flocked with snow, but it's not necessary. If you have an hydrangeas left over from spring or summer wreaths, then you can use those in this swag design.
Divide up the hydrangea bushes by cutting them into smaller flowers.
Lightly place each flower in a zig-zag design throughout your swag without gluing. Step back and look at the positioning. If you're satisfied with where they are sitting, dip them into the hot glue and make them permanent.
My pinecones got in the way of my flowers, so I removed a few and repositioned them in other places.
5. Add some red berries
I added some red berries to the swag as a way to accentuate the red ribbon and add some contrasting textures to the fluffy white hydrangeas.
Cut the berry picks into smaller pieces. Then, bend and shape the berry pieces before you glue and insert them into your swag.
6. Fill in with more ribbon
Take a step back and look at your swag. Is it complete? I wanted to add a bit more ribbon to mine, so I cut some more streamers and added them to the bottom. This pulls the red colors throughout the evergreen swag.
Watch the video tutorial below, or leave a comment if you have any questions! Happy wreath-making!
Watch the video: How to make a simple traditional Christmas teardrop swag
If you enjoyed this post, you might also like:
Like this DIY Christmas Swag? Pin it for later