DIY Christmas Wreath Ideas – Christmas In July
Reindeers, grapevine, and deco mesh, oh my! These are just a few examples of what you'll find in this Christmas in July collection of DIY Christmas wreath ideas. Make one (or more) today! It's never too early to start the festivities. 😉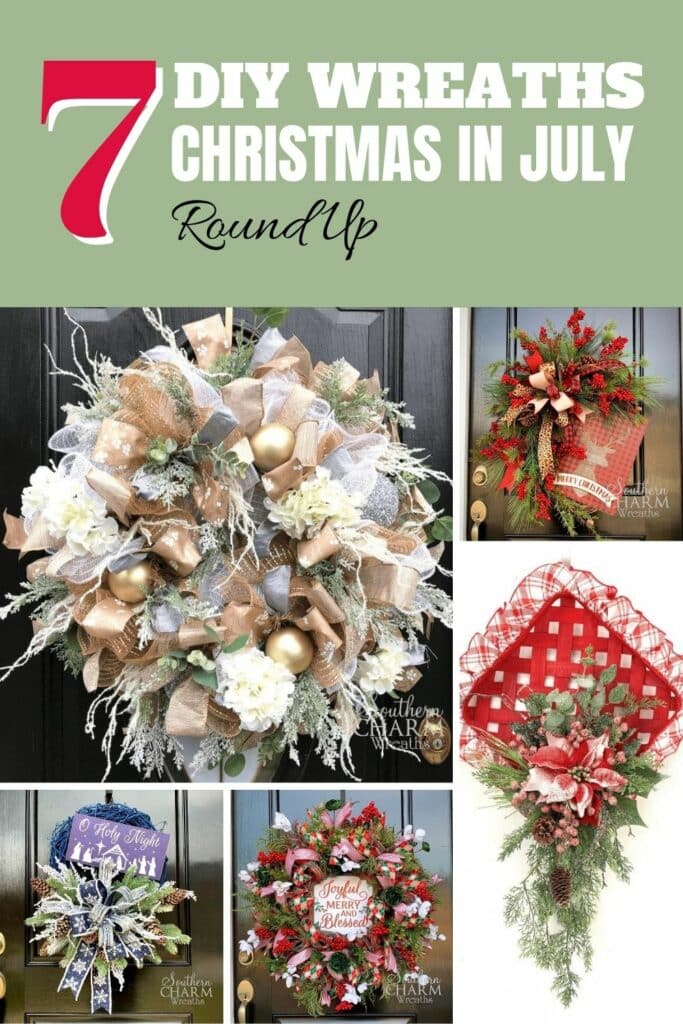 Christmas In July Ideas
It might be the middle of the year and the hottest month of summer, but I've got sleigh bells and reindeer on my brain. July is the perfect time to start thinking about Christmas, especially if you own a wreath-making shop. You'll need to start buying your supplies and planning your inventory now before the season sneaks up on us.
Whether you are thinking ahead for your small business or you are a DIY crafter and dreaming about red and green buffalo check ribbons, these ideas will help you out. In all my years of making Christmas wreaths, these are my 7 all-time favorite and most popular tutorials. I am sure you will enjoy them as much as I enjoyed making them!
7 DIY Christmas Wreath Ideas
My favorite thing about this list of easy DIY Christmas wreaths is that every single one is completely different from each other. You could make all 7 of them and sell them at a craft fair, or give them all away as DIY gift ideas.
No matter what you choose to do with these tutorials, browse this list and pick out your favorites, or make all of them!
1. Rustic Reindeer Christmas Wreath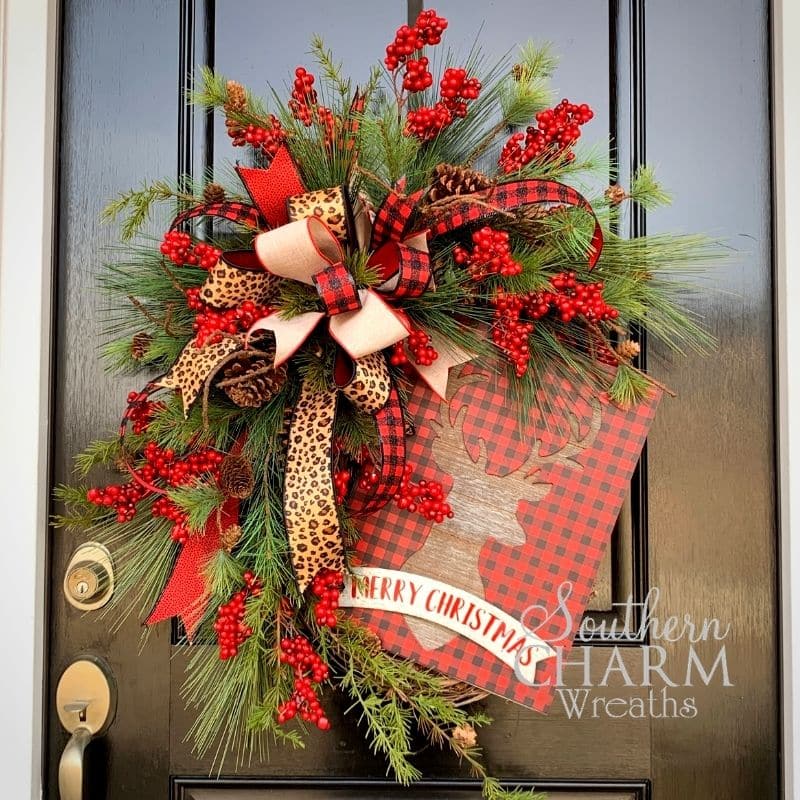 There is so much to love about this rustic wreath. The buffalo plaid reindeer sign is the center of attention. Then, I added my favorite evergreen sprays, winterberry sprigs, and even some fun cheetah print ribbons. Grapevine is the perfect base because it has a rustic charm.
In this case I used both a sign and some bows and I think it turned out beautifully.
2. Christmas Cardinal Wreath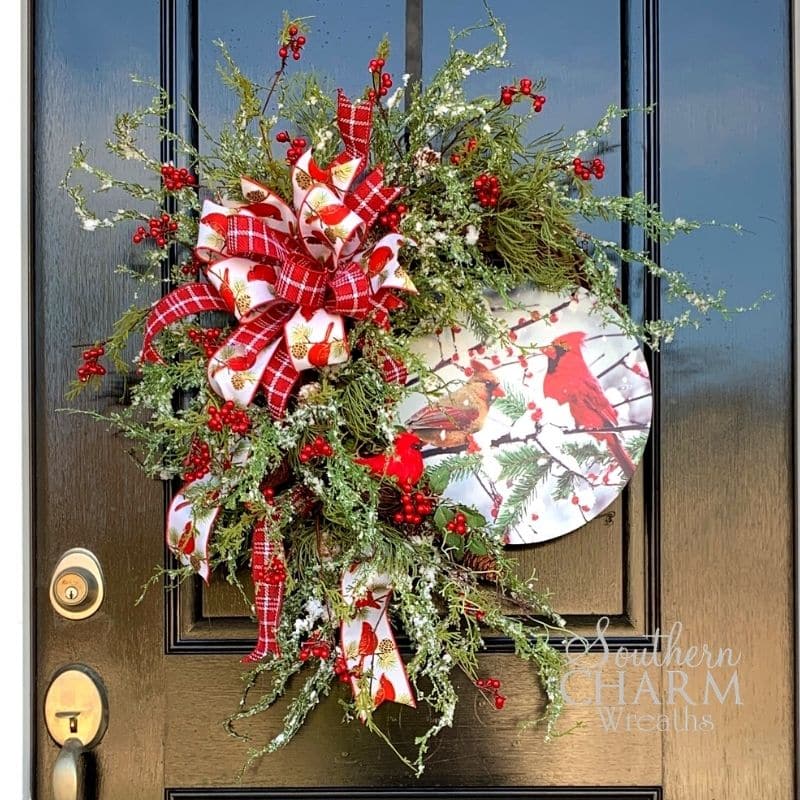 This Christmas cardinal wreath looks lovely on the front door all winter long – even after Christmas is over. It is another charming wreath built on a grapevine base. My favorite thing about this wreath is how the ribbon and the sign compliment each other so perfectly.
3. Blue Christmas Wreath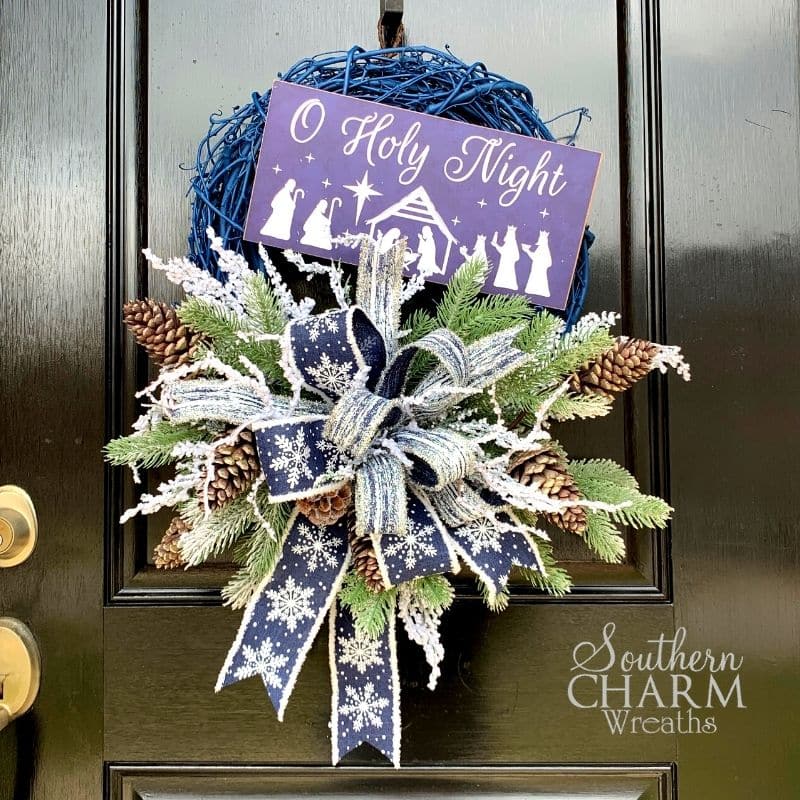 Celebrate a blue Christmas with this blue Christmas wreath. The ribbons, the sign, even the grapevine itself, all reflect the dark starry night Christ was born.
The bow almost looks like a firework, bursting out of the center of the wreath. It also reminds me of that stunning star of David that led the wise men to Jesus. It's a fantastic conversation piece for sure.
4. Tobacco Basket Christmas Wreath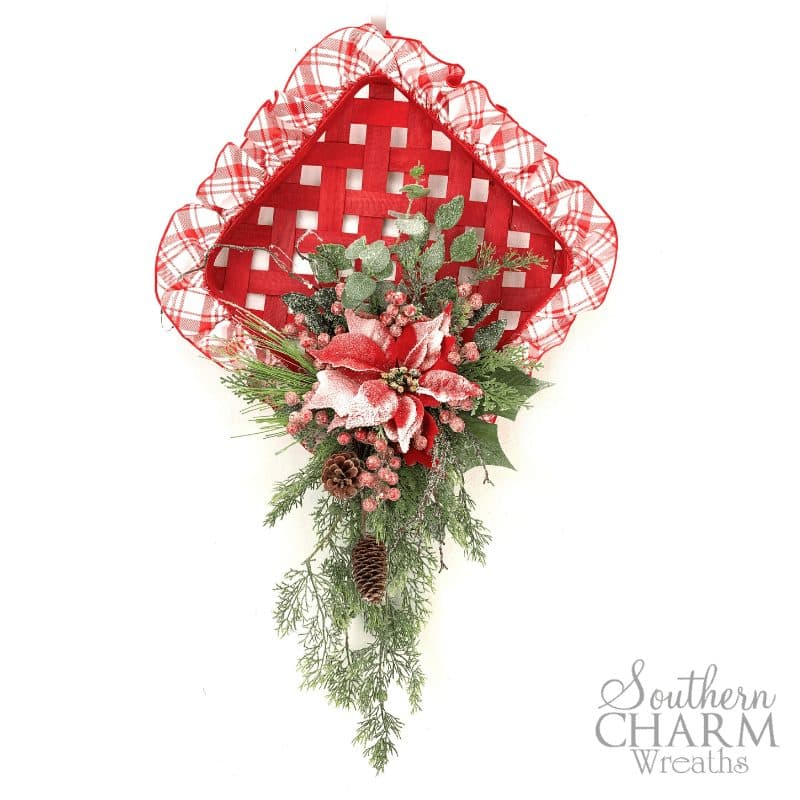 This tobacco basket Christmas wreath has a vintage charm. Its elegance is in its simplicity. The vibrant poinsettia brings out the warm red colors in the tobacco basket.
It's so much fun to vary the size and shape of the wreaths you make. This has a diamond shape – very unlike the typical round ones you will normally find.
This is one of my favorite beginner-friendly tutorials. It comes together quickly and you don't need very many supplies.
5. Grapevine Santa Christmas Wreath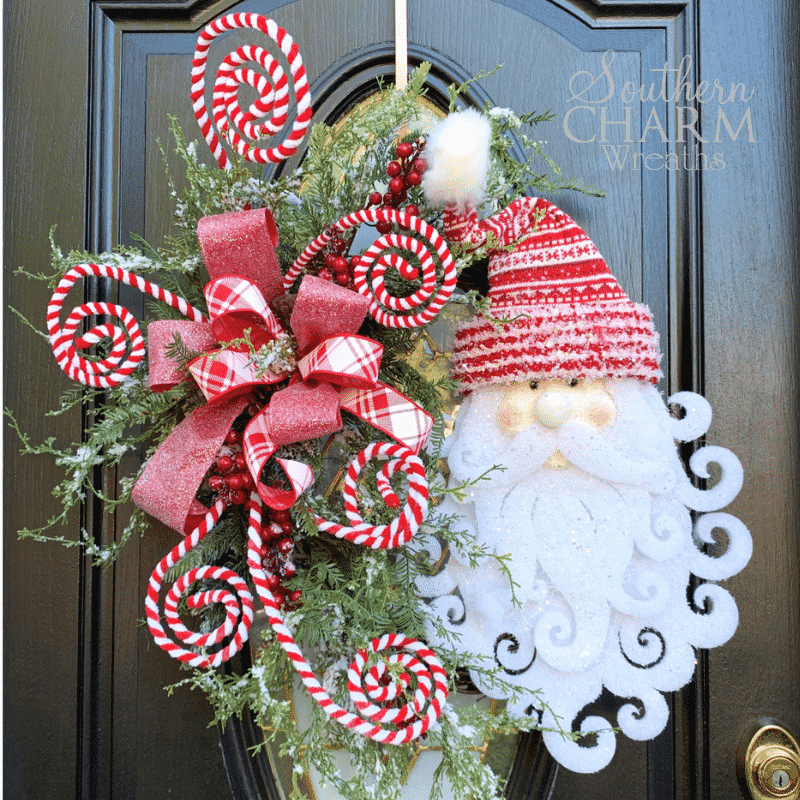 Ho ho ho! This Santa Christmas Wreath is full of whimsical flair. When you find a Santa sign you love, replicate the curls in his beard throughout the wreath. The playful red and white stripes remind me of sweet candy canes. This is definitely one of my favorite wreaths on this list.
6. Deco Mesh Christmas Wreath With Evergreen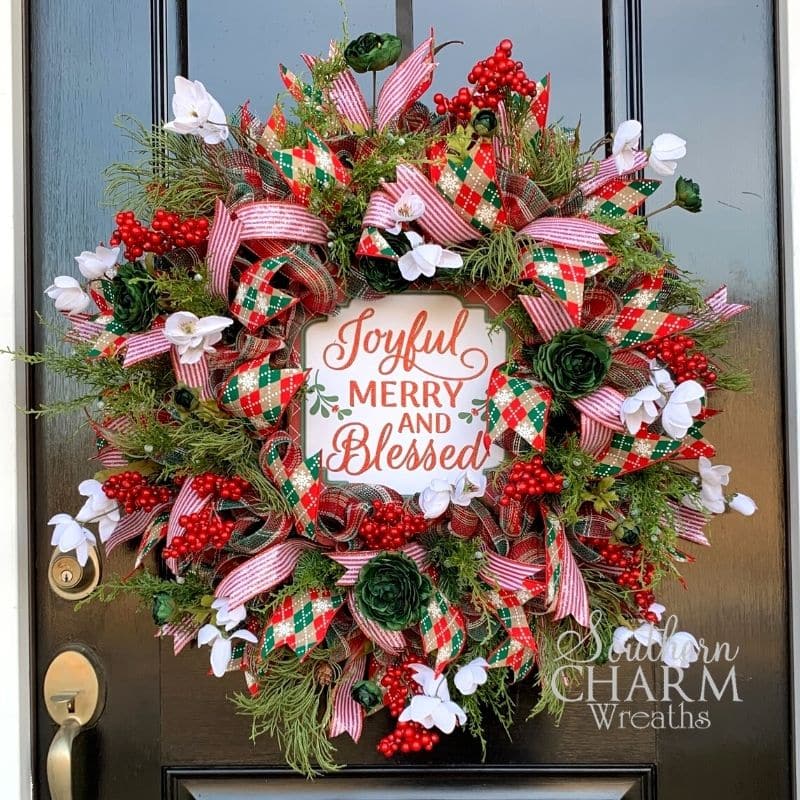 Deco mesh wreaths are a lot of fun to build on – so much fun that I included two of them in this list. This deco mesh wreath with evergreen is bursting with traditional red and green colors. It features an uplifting sign in the middle and of it, with ribbons weaving in and out of the holiday berries.
7. Silver and Gold Deco Mesh Holiday Wreath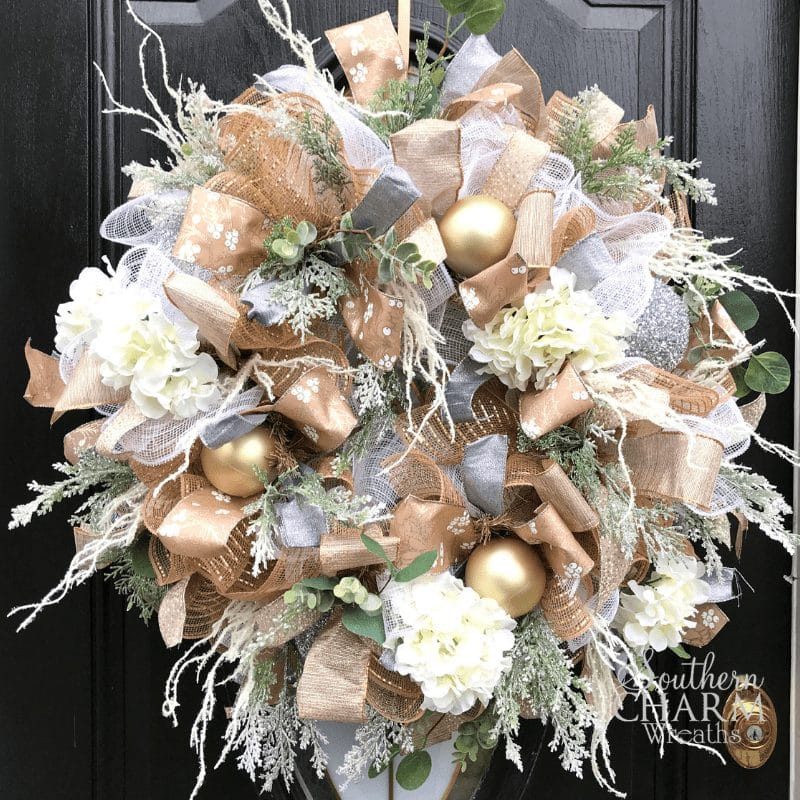 This silver and gold deco mesh wreath uses ribbons and Christmas ornaments to create an elegant look. It ventures away from traditional reds and greens and embraces the glittery side of the holiday season. In my tutorial, you'll learn how to make lots of bowls that dress up your deco mesh wreath.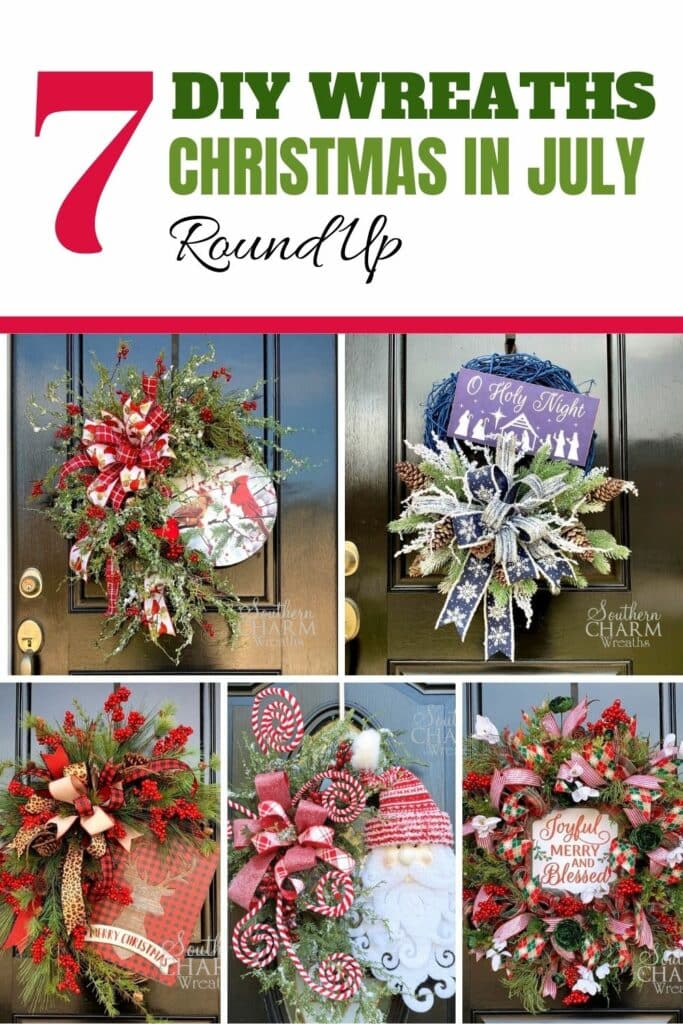 If you enjoy learning how to make wreaths, then you should follow me on YouTube or join me over on Facebook. I frequently post new ideas and tutorials as I think of them. There are so many fantastic people that make their wreaths along with me as I do my live videos, I hope you will join us!
Final Thoughts
There you have it! I hope you enjoyed the list of my all-time favorite DIY Christmas wreath ideas. I hope these tutorials inspire you to create something beautiful for the holiday season. Christmas is one of the most popular times of year for wreath-makers. It's no wonder – this is a holiday full of celebration and joy! Go purchase your supplies, set up a workstation, and make something beautiful. I can't wait to hear what you make!