DIY Pastel Teardrop Halloween Swag
Dress up your door in trendy pastel pinks, purples, and greens. Follow this tutorial to make cute pastel Halloween swag to keep or sell. All the supplies came from a Halloween swag kit – so it's even easier than ever to create this adorable arrangement.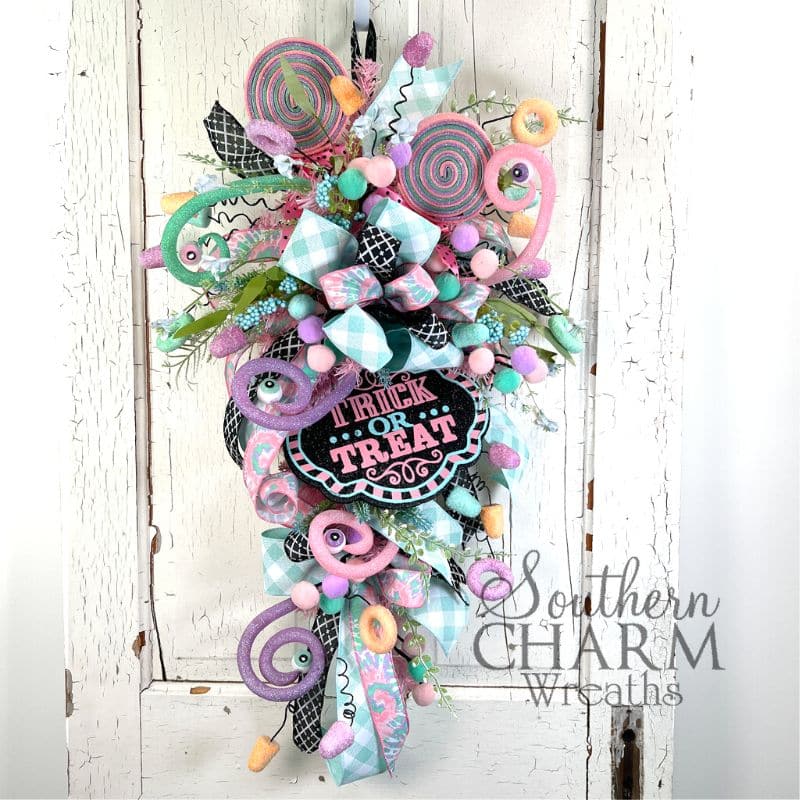 How to Make your own Pastel Halloween Teardrop Swag
Dark orange and black can be a lot of fun for Halloween, but these whimsical pastel colors stand out in a whole new way. These colors are family and kid-friendly and are so inviting. The bobbles and picks remind me of the interior of a candy shop – the perfect thing for Halloween.
This swag comes together in just a few minutes – it's one of the easiest things to create. Even better, everything you need comes in a pastel Halloween swag kit from Greenery Market. You don't have to search all over the place for the supplies – Greenery Market puts everything together for you.
Follow along as I show you how easy it is to make a DIY pastel Halloween teardrop swag from a Greenery Market swag kit.
This post may contain affiliate links for your convenience. Click here to read my full disclosure policy.

Supplies for this project:
Some of the items from this wreath can be found at Greenery Market.
1 – 24″ Pink Pine Teardrop Swag
1 – Pink Mint Trick or Treat Sign
1 – Felt Ball Spray Spray
1 – Eye Spray
1 – 2.5″ Mint Diagonal Plaid Ribbon
1 – 1.5″ White Black Argyle Glitter Ribbon
1 – 1.5″ Tie Dye Ribbon
1 – Gumdrop Spray
1 – Turquoise Flower Spray
1 – Lollipop Spray
Floral Wire
DIY pastel Halloween teardrop swag: Step-by-step tutorial
1. Prep the swag
Before we even get started, we need to set the swag base on an easel and pull all the wire pieces apart.
Prep your swag by positioning the pieces, so they are nice and full. Fluff them here and there to make sure your swag is ready to have adorable bows, greenery, florals, and embellishments added to it.
2. Make bows
After your swag base is all prepped, you are ready to make the bows. Make as many as you want. Use the ribbons that come in the kit (if you bought the kit).
Next, make the bow (or bows) for your wreath. Either follow along with how I do it in the video or make as many (or as few) loops as you want.
First, measure your tail. Then, make a loop and twist. Next, measure out 12 inches, make a loop, twist it, and make another loop. Finally, pull your tail down.
Repeat this process with your two other ribbons. Be sure to hold each ribbon tight in the middle as you add your layers.
Twist some florist wire around the middle of your bow, twisting it as tightly as you can. Once it is secured, dovetail the ends of your ribbon tails. Repeat the process for each bow that you make.
You can even layer the smaller ribbon on top of the bigger ribbon and make a multi-ribbon bow.
3. Attach your bow
Attach the bow to your swag base with the wire that you used on your bow. Twist the wire together after you push it through the base. Make sure you take the time to fluff and arrange your bow – this step is what really makes your bow look pretty!
Add the bow where you want the focus of the swag to be. I added the bow to the top of the teardrop swag.
4. Attach the sign
This kit comes with a pastel Trick or Treat sign. Add some florist wire to the sign, and then use that wire to attach the sign directly under the bow. I suggest adding wire to the top and bottom of the sign – this will keep it more secure.
5. Add candy picks
This is the best part of the process because it's where your creativity takes over. Start adding the pastel candy picks and baubles. Place them around the top and bottom of the bow.
You don't have to use all of the picks that came in the kit. Just use your creative judgment and create a well-balanced swag. To keep it balanced, whenever you add a pick on one side, add another one on the other side.
I used a lot of them. They added height and dimension to the swag.
6. Fill in with greenery
After you are satisfied with how many picks and baubles your swag has, take a step back and look at it. The final step is to fill in any empty spaces with some lighter-colored greenery.
Dip the ends of the greenery picks into your glue and then stick them into the swag base.
7. Final touches
With your leftover greenery, florals, and embellishments, start filling the empty holes you see on your teardrop swag. You may find that all it needs is a nice floral or a piece of greenery to make it look complete and finished.
Fluff and arrange your bows and enjoy the finished product!
Watch the video: DIY Halloween swag
If you enjoyed this post, you might also like:
Pin this tutorial about how to make a DIY pastel Halloween teardrop swag for later!