DIY Quick Easy Rose Flower Wreath Tutorial
In this video, I'm sharing one of the easiest wreaths to make, a DIY Rose Wreath tutorial using styrofoam base. As you'll see, this wreath can be used for a variety of events including wedding, receptions or showers. This post may contain affiliate links for your convenience. Click here to read my full disclosure policy.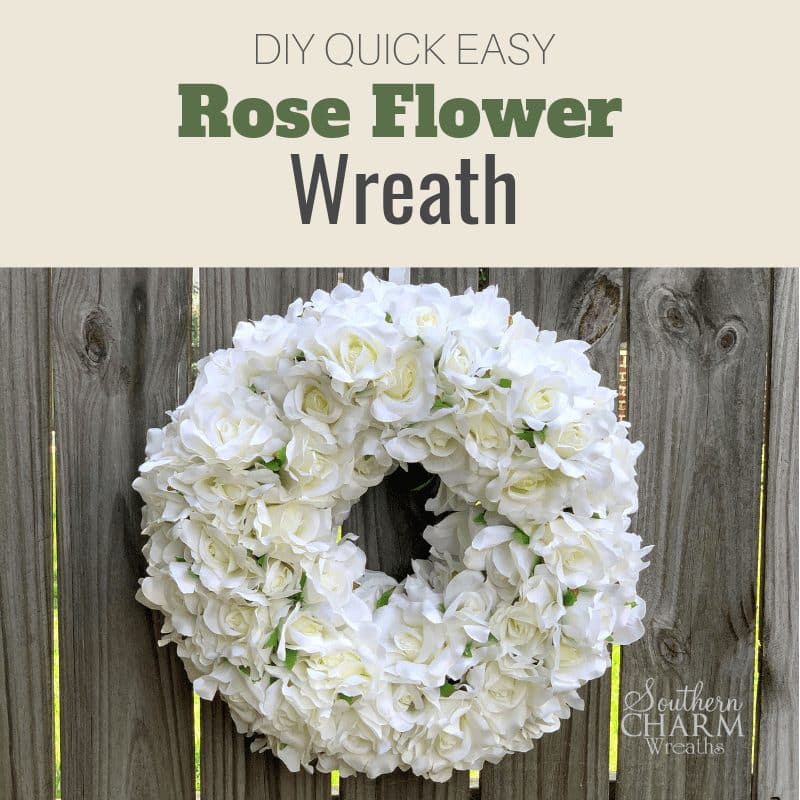 Today we're making an easy DIY Rose Wreath on Styrofoam base. This compact wreath is elegant and perfect for weddings, showers, memorials and more. Feel free to change up the flower colors to match your occasion or season.
[Tweet "How to Make a DIY Rose Wreath Tutorial for wedding, receptions, showers and more"]
Supplies for Making an easy DIY Rose Wreath Tutorial for Wedding or Receptions
Rose bushes (lots and lots) approx 8
Styrofoam wreath form
Scissors
Wire Cutters
Hot glue gun
glue sticks
craft mat
Steel Pick Machine
Steps for making an Easy DIY Rose Wreath Tutorial for Door
Step 1 – Start by cutting the flower heads from the rose flower bushes leaving approximate 2″ of the stem. Then remove the leaves by simply pulling them off the flower stem.
Step 2 – Next insert the stem of a flower head in the hot glue and insert it into the Styrofoam wreath form using a random yet compact placement. Making sure the stem does not pierce through the back of the wreath.
Step 3 – Continue adding flowers until the Styrofoam is completely hidden.
Step 4 – If you would like, you can hand tie a bow. I made a bow with 12-inch loops using patriotic colors. Simply attach with floral wire.
Step 5 – For a professional, finished look, hot glue leftover silk leaves to the back of the wreath to cover the Styrofoam.
Watch the video below for detailed instructions.
Video How to Make a Rose Flower Wreath Tutorial
The most common question I get about this wreath style is "How many flowers did you use?" I used a lot! Approximately 8 bushes total. The number of flowers you use will depend on the size of your flower heads and wreath base. In order to gauge the quantity needed, hold your flower bushes up to the wreath and estimate how many will be needed for 1/4 of your wreath and then multiply that number by 4 to fill the whole wreath.
Did I inspire you to get creative? What next event or holiday will you use this wreath recipe?
If you enjoyed this and want to learn to wreath the professional way, join me in our exclusive Wreath Making of the Month Club!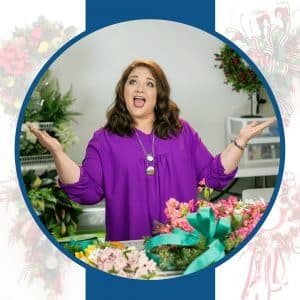 Happy Wreathing,
Julie
If you enjoyed this post, you might also like:
How to Make an Elegant Wedding Wreath for Front Door
Easy DIY Wooden Farmhouse Sign With Wreath
DIY Compact Decorative Spring Wreath Idea
Liked this DIY Rose Wreath Tutorial? Pin it for later!