Easy DIY Wooden Farmhouse Sign With Wreath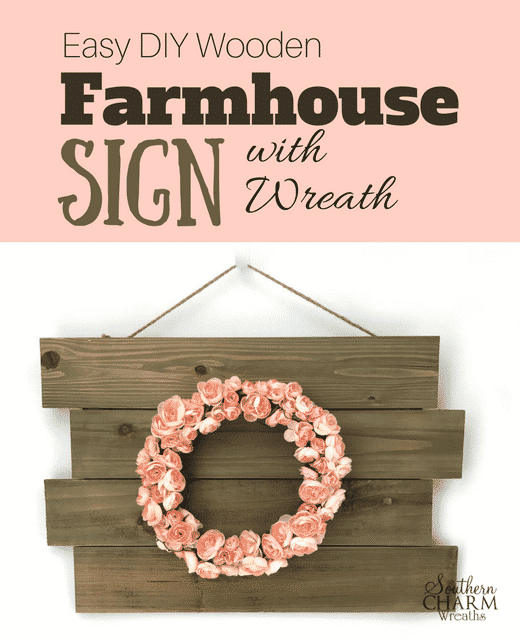 If you love farmhouse style, you are going to love today's project! We're making an easy DIY wooden farmhouse sign adorned with a beautiful wreath.  This post contains some affiliate links for your convenience. Click here to read my full disclosure policy.
How to Make an Easy DIY Wooden Farmhouse Sign With Wreath
For my latest project, we're making a farmhouse style sign using a beautiful Ranunculus flower wreath as the centerpiece. This is a wonderful quick project, perfect for beginners. Customize this project by changing up the flowers or even paint the pallet to match your decor. Here's how to make it:
Supplies
[Tweet "How To Make an Easy DIY Wooden Farmhouse Sign With Wreath"]
How To Make an Easy DIY Wooden Farmhouse Sign With Wreath:
Lay the grapevine wreath on the center of your pallet and mark where it is with a marker or pen. Set the grapevine wreath aside.
Using a staple gun, attach a pipe cleaner or piece of rustic wire to each side of where the wreath will lay on the board.
Add a bit of hot glue over the staples to ensure adhesion for the pipe cleaners or wire to the board.
Cut the Ranunculus flowers from the bush so you have individual stems. Note: I wanted my flowers close to the grapevine so I trimmed the stems very short.
Begin hot gluing the flowers to the grapevine wreath. I like to add one to one side and then mirror that on the other side. Continue until your grapevine wreath is completely covered.
Add the wreath back to the board and attach it using the pipe cleaners or wire. Trim off the excess wire. Note: Make sure to wrap it under the flowers, not over. You should not be able to see how you attached it to the board.
That is it! Now the rest is up to you. Add your monogram, paint on a word or your last name, whatever you would like.
How To Make an Easy DIY Wooden Farmhouse Sign With Wreath video…
Wasn't that easy? This is a super fast project you can easily complete in one afternoon. If you have a vinyl cutting machine you could cut out a Monogram or word in vinyl and stick it on. You could also paint welcome or a quote on the board. The possibilities are endless!
Let me know if you enjoyed this and don't forget to join me on Facebook  so you can watch me Live!
If you enjoy watching me and/or learning to make wreaths of various styles, you should consider joining my Wreath Making of the Month Club, learn more here.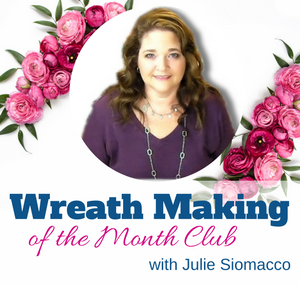 Happy Wreathing,
Julie
If you enjoyed this post, you might also like:
DIY Summer Chalkboard Sign Wreath
How to Make an Elegant Wedding Wreath for the Front Door