How to Make a Rustic Patriotic Rooster Wreath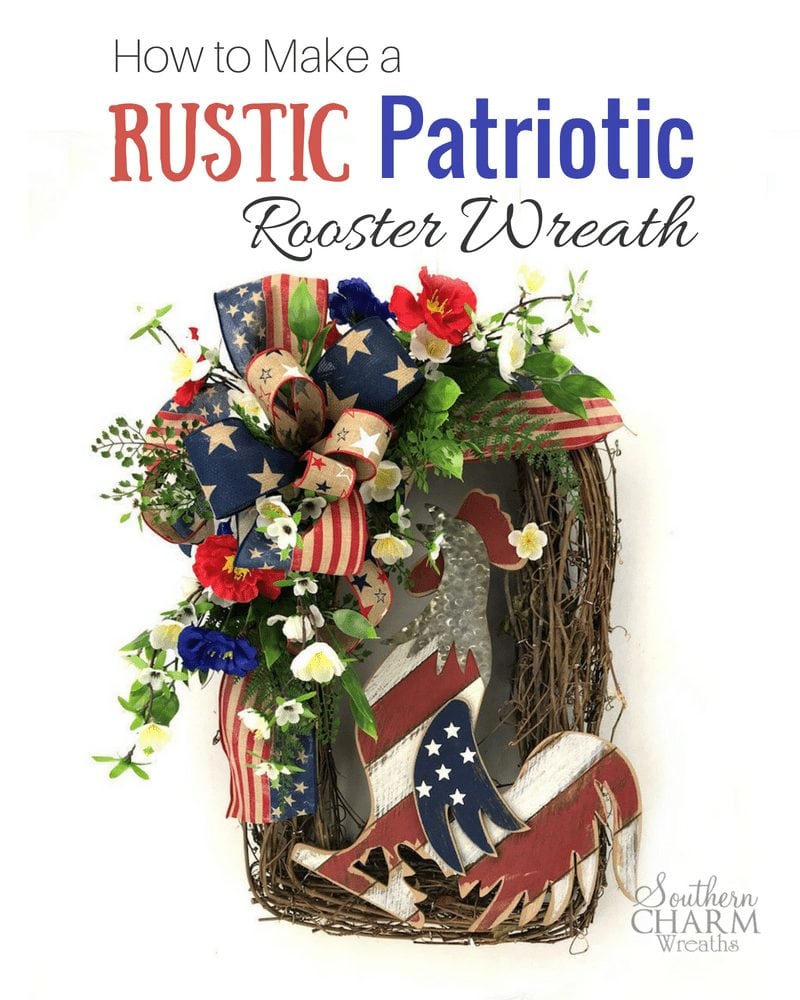 Do you decorate your door for Memorial Day or 4th of July? Maybe you just need some inspiration? If you do, we're teaching you how to make a Rustic Patriotic Rooster Wreath! We'll add in flowers and ribbon to make this perfect for your patriotic door.  This post contains some affiliate links for your crafting convenience. Click here to read my full disclosure policy.
How to Make a Rustic Patriotic Rooster Wreath
In this video, we're are making a Rustic Patriotic Rooster Wreath. This is a great way to show your patriotic side this summer. Here's how to make it:
Supplies
Grapevine & chicken wire wreath – 14″x22″ (Carolina Pottery)
Rooster sign (Carolina Pottery)
Florist wire or pipe cleaners
Assorted rustic wired ribbon (Carolina Pottery, The Wreath Shop, Sims Pottery)
Assorted silk greenery & flowers
[Tweet "How to Make a Rustic Patriotic Rooster Wreath"]
How to Make a Rustic Patriotic Rooster Wreath
Start by removing any tags and hangers from the rooster sign.
Determine where you would like to position the rooster on the wreath and attach it using florist wire and zip tie attachment hooks. Note: You can also attach with pipe cleaners attached with staples.
Next, make your bow. I used rustic patriotic ribbons and made a 9 inch tail and 14 inch loops. For bow-making details, check out my How to Make Bows page

.

Secure the bow with florist wire.
To make the floral sprays, I used an assortment of flowers and greenery. Trim each stem from the flower and greenery bushes. Then begin assembling the floral spray in your hand, taking note of the length you will need so that it drapes from under the bow properly. I made two sprays, one to go out from each side of the bow.
Secure each floral spray with a zip tie to hold it together and then another zip tie (or multiple) to secure it to the wreath under the bow.
Take time now to bend the flowers and greenery around where you would like them and trim the ribbon streamers if needed.
Next, trim stems of greenery and flowers and hot glue them into the bow loops.
If you would like an additional streamer of ribbon down one of the sides (I put one down the left side), simply cut a piece of ribbon and zip tie one end up under the bow to the grapevine. Let it trail down the side.
Ensure all of your wire and pipe cleaners are hidden. If needed, cover them with a small flower or piece of greenery using hot glue.
How to Make a Rustic Patriotic Rooster Wreath Video…
I hope you enjoyed this project! Make an extra one for your 4th of July hostess and be the talk of the neighborhood. If roosters aren't your favorite, simply substitute in any other patriotic sign.
If you would like to learn more about wreath making, join my Wreath Making Club.
Don't forget to join me on Facebook Live, for my other DIY tutorials. Even better, join our messenger bot HERE and we'll send you a message on Facebook the next time we go live. It's always more fun to join in on the conversation.
Happy Wreathing,
Julie
If you enjoyed this post, you might also like:
20 Best DIY Summer Wreaths You Can Make at Home
How to Make an Autism Awareness Wreath
How Selling Online with my Creative Business Has Changed My Life