How Selling Online with my Creative Business Has Changed My Life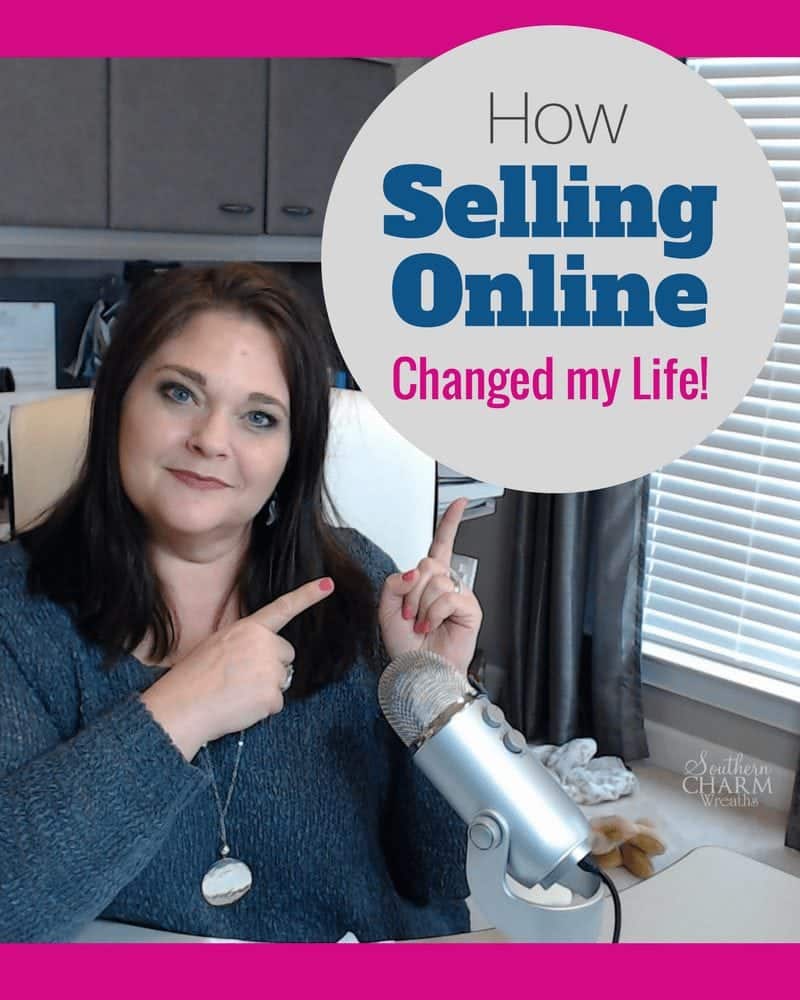 Opening an Etsy shop and learning to sell online has changed my life for the better. I have a lot more freedom now and I'm not tied to showing up to a j-o-b in order to get a paycheck. Plus, I'm making the world pretty with my handcrafted items in my creative business using the talent God gave me. I'm blessed and I want to tell you how you can also get this same freedom. This post contains some affiliate links for your crafting convenience. Click here to read my full disclosure policy.
The Beginning
Picture this…I was a stay at home mom, bored and wanted to decorate my house. But we only had one income, my hubs. It was all we could do to make the mortgage and put food on the table. What was a girl to do? Learn to make her own holiday décor instead of purchasing it. Once I did that my neighbors were asking me to make items for their doors too and they were willing to PAY me!
So I set out to learn as much as I could online and began to obsess about wreath making. I liked it, it was fun and I found it relaxing. It was a way to remove myself, temporarily, from the stress of mommin it all day. In 2009, I decided to go into business for myself even though people in my family were telling me I was crazy. I opened an Etsy shop and worked hours learning how to build a website and list items for sale on the website.
After the website was live and active, I could tell which items viewers were looking at the most and it was always a specific wreath style. TONS of traffic was coming to my site but nobody was buying. Of course I started to doubt myself, my pricing, my talent – thinking they're not buying because my wreaths weren't good or they were too expensive. But then it dawned on me, they were coming to my site for inspiration! They were makers too and they wanted to get ideas from me!
My A-Ha Moment
I asked myself – how can I also earn money from the 'DIYers' and not just the 'buyers'. I decided to research even more. After taking a course online, I learned how to write an e-book. If you're not familiar with an e-book, it stands for electronic book. You read it on your computer or mobile device. In this e-book, I taught how to make deco mesh wreaths and it grew in popularity. As I would learn more about deco mesh wreaths and honed my skills, I would update the e-book for free and send the new information out to those who already purchased it. About every quarter, new information would be added to the e-book making it better and better.
I was very giving of my tips, teaching what I knew about social media, Etsy SEO, client care, taking custom orders, etc. I was building superfans and I didn't even know it. They of course would recommend the e-book to their friends and it just slowly but surely started to grow.
This one e-book idea transformed my life. I started to understand the power of passive income – when you spend time on creating an online course, video or e-book using the knowledge you have already learned and then you can sell it over and over again.
When It All Changed
I never realized the potential of the money I could make with this e-book until the hubs was fired from his job. He was still the bread winner of the family because I was still treating my business as a hobby and not a business, therefore I wasn't getting paid like a business.
You see, we had plans to go to the beach with the kids but when he lost his job, we had to tell the kids we couldn't go. They were devastated and it broke my heart to see them disappointed. We never traveled with the kids because money was tight but we always managed to go to the beach every summer. This year, the trip would be canceled.
After I saw their devastation, I started praying and brainstorming. I thought to myself, if I could sell just 27 books this week, I would have enough money to go to the beach. So I set out really trying to sell the e-book. Not only did I sell 27, I sold 74! I made over $2000 in a week's time with e-book sales and wreath sales!
My eyes were opened to online selling.
If I had never started selling online, I never would have known people were interested in learning what I knew.
I never would have known that I can help others with my craft.
I never would have known I also have a teaching talent.
I never would have known how my handcrafted items make a difference in people's lives.
Selling online has changed my life and I'm not talking about money. I am more confident and doors have been opened to other talents I didn't know I had – a leader in the industry and a motivator to many women who are trying to make extra money selling their handmade items. Plus, the flexibility to work when I want to work and from the comfort of my home so that I can be home with the kids has been huge.
[Tweet "Selling online has changed my life and I'm not talking about the money. I am more confident and doors have been opened to other talents I didn't know I had."]
To continue to help my business grow, I reached out to Jennifer Allwood and invested in her Creator's Roadmap Course. I learned a lot about how to use my talent in order to scale and grow my business. Now I'm being asked to speak and teach at different events, mentoring thousands a day through my membership groups and building and developing a wreath making industry! Life is good!
How Selling Online Changed My Life Video
Jennifer has a free video workshop that will be starting soon and ending on April 29th. If you're trying to figure out how all the pieces of making money online fit together, this course explains it all.
Do not wait to start your handmade creative business! I'm a stay at home mom trying to pay my bills just like you. You can do this too if I can!
XOXO,
Julie
If you enjoyed this post, you might also like:
The Secret to Building Superfans in a Creative Business
3 Signs You Might Be Ready for Creating a Membership in your Creative Business