How to Make an Easter Lantern Swag Arrangement
Today I've got a fun challenge I'm working on in the wreath shop, and I thought it would be fun to share my process with you while I work on it. I'm making an Easter lantern swag. (I know, bit really a challenge.) The fun part of this one for me, is that I'm going to try and match it to a wreath that I sent my sister last year for Easter. The catch is that I don't have any of the same materials that I used last year. .
Let's see how this goes!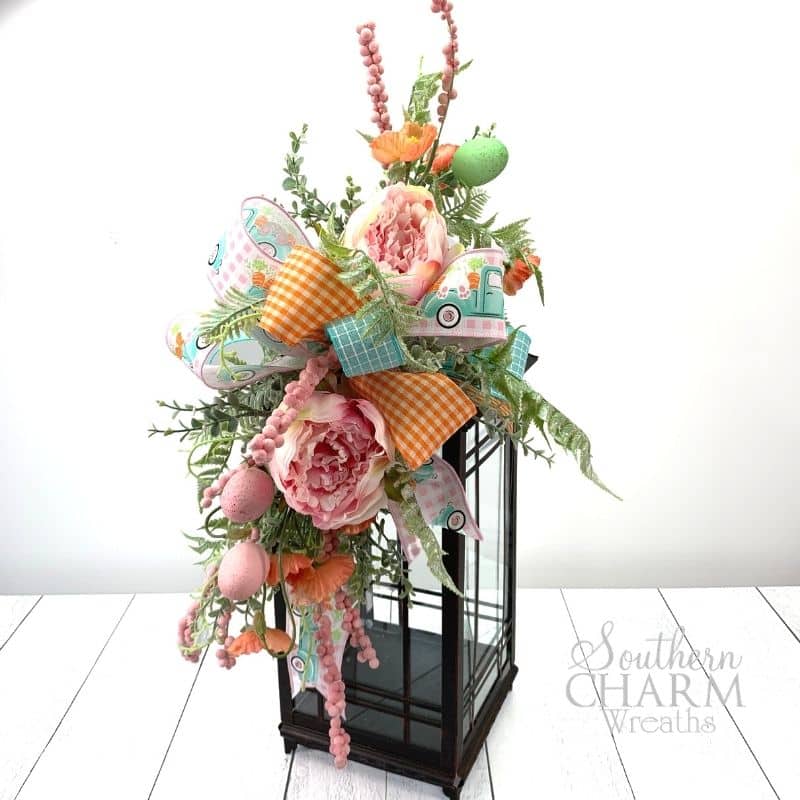 This post may contain affiliate links for your convenience. Click here to read my full disclosure policy.
Supplies for This Project
2.5″ Main Ribbon
2.5″ Coordinating Ribbon
2.5″ Coordinating Ribbon
Various spring flowers and greenery
Easter egg stems
Easter Lantern Swag Step by Step Tutorial
Step One: Make Your Bow
The focal point of this arrangement is going to be the bow, and then we are going to have all the other parts tie in with the theme of the bow.
You can make your bow however you like. I had three ribbons I wanted to use to help match the theme of last year's wreath. So for my bow, I did three 12″ loops of the main ribbon, and two 12″ loops each of the orange and blue ribbons.
Finish off your bow with florist wire and set it off to the side.
Step Two: Form the Base of Your Swag
There's lots of different ways out there to put together a lantern swag. If you've been following me for a while you know I like to use what I call the Julie Method.
What I like to do is arrange each side of my swag separately as if I'm making two bouquets.
I'll start with the main part of the swag, and once I have everything together the way I want it, I attach it all together tightly with a zip tie. Then I'll set that off to the side and work on the other end the same way.
Once they're both ready to go, I'll lay them down facing away from each of the with the stems overlapping. I like to keep about one fist length between the bulk of the flowers and greenery so that the bow doesn't get squished in the middle.
You may need to trim the ends of some of your longer stems to make the spacing work.
Step Three: Add the Bow to Your Swag Base
This part's easy. Just use the wire from when you put your bow together to attach it to the middle of the floral arrangement.
Step Four: Make a Hanger for Your Easter Lantern Swag
Next, we need to make a hanger to attach the swag to the lantern. I like to use a rustic wire for this because its a little sturdier. Twist a length of rustic wire around the stems several times and make a loop wuth the ends to attach it to the top of the lantern.
Step Five: Finishing Touches
For a lantern swag, I like to do the finishing touches after I've already attached it to the lantern. That way I can see what it will actually look like.
If you need to glue anything else in at this point, make sure the glue is sticking to the arrangement, and not the actual lantern.
For your finishing touches, go in and finish off the ribbon tails, (I went with a dovetail for these.) and fluff up any parts of the arrangement that got squished down when you were zip tying.
And lastly, add in any extra flowers or greenery to fill out the gaps. Make sure to get a little in between the ribbons to bring everything together and give the whole arrangement a nice cohesive look.
All done!
And the best part of this swag making method is that the swag is easliy removable, so you can switch it out for different seasons without having to buy a bunch of heavy expensive lanterns.
Watch the video tutorial below or leave a comment if you have any questions! Happy wreath making!
How to Make an Easter Lantern Swag (Video Tutorial)
If you enjoyed this and want to learn to wreath the professional way,
try our Wreath Making 101 Workshop!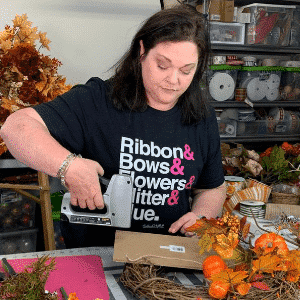 Happy Wreathing,
Julie
If you enjoyed this post, you might also like:
How to Make an Easter Bunny Deco Mesh Wreath
DIY Whimsical Easter Bunny Hat Arrangement
How to Make an Easter Egg Door Hanger
Liked this Easter Lantern Swag? Pin it for later!