4 Tips On How to Decorate a Wreath With Flowers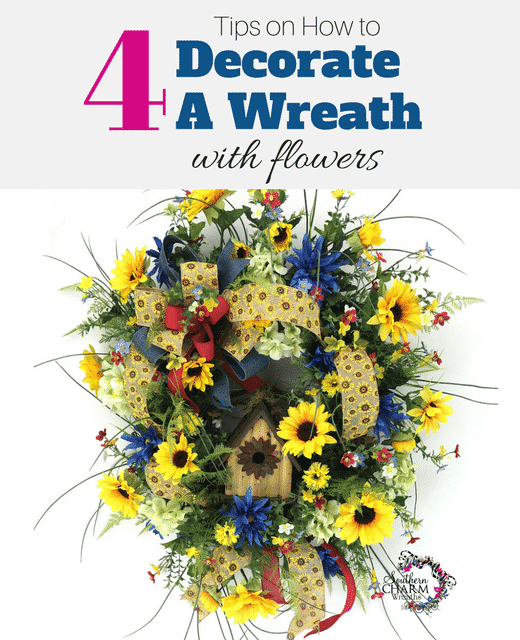 I've been teaching the art of wreath making for almost ten years and one of the biggest problems I see with wreath makers is how to decorate a wreath with flowers.  Flower placement is crucial when trying to achieve the designer look in wreath design.  Below are my 4 Tips On How to Decorate a Wreath with Flowers.  This post contains some affiliate links for your crafting convenience. Click here to read my full disclosure policy.
4 Tips On How to Decorate a Wreath With Flowers
1 Dimension
To give your wreath a designer look, try to add more dimension to your wreath by extending your focal flowers 6 inches from the wreath base.  It's best to use a sturdy frame like a grapevine wreath or an evergreen base.  Lightweight wreath forms like a Styrofoam base won't hold the weight of the flowers very well when you keep them long.
When you keep the focal flowers 6 inches or longer from the wreath frame, this adds to the wreath size producing a larger, wider and taller wreath.  For example, in the video below I used an 18 inch grapevine wreath but the finished wreath measures 28 x 36 inches.
Don't get me wrong, compact wreaths are beautiful too but using this method produces a larger three dimensional wreath giving you that designer look.
Because your focal flowers are now sticking out by 6 inches from the wreath base, you will need to fill in behind them using greenery, leaves from your focal flower bush or secondary flowers.  These fillers should be closer to the wreath base.
And when you add dimension to your wreath with longer flower stems, you're using the same number of flowers and materials as a compact wreath but you're producing a larger wreath; therefore, giving you more value for your dollar.
[Tweet "4 Tips On How to Decorate a Wreath With Flowers"]
2 Placement
Now that you know the length, where do you place the focal flowers on the wreath?  Well, focal flowers don't need to touch.  When you spread them out all over the wreath, it also disperses the flower color and gives a more airy natural looking wreath.
What about the Rule Of Three? I get asked about the Rule of Three all the time!!  The Rule of Three states that you should keep your elements (flowers, ornaments, etc.) in numbers divisible by 3.  But nope, I don't follow this rule.  I feel you should be free to create a wreath that you like instead.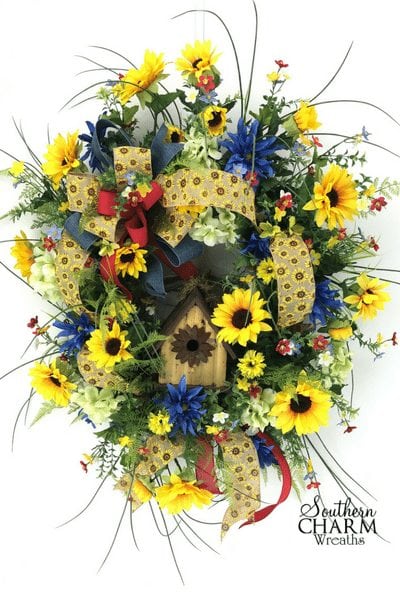 [Tweet "Do not follow the Rule of Three when making designer silk flower wreaths!"]
3 Different Directions
Please, please please…I beg of you…when you decorate a wreath with flowers, have the flower heads facing in different directions!  You want your beautiful flowers that you spent lots of money on, to be seen in all directions no matter how you approach the wreath.
For example, my door sits on top of a stoop, so visitors will actually see the bottom of my wreath first. I want my flowers to be facing downward.
Additionally, when you open the door, you want the flowers to be seen from all sides.
Also, don't forget to look at your wreath from all angles (see video below) you want to see pretty flowers facing all directions.
[Tweet "For a spectacular wreath, make sure your flowers face in all directions."]
4 Stagger Placement
Stagger your flower placement.  What I mean is you want the larger, focal flowers on the outside of the wreath almost forming an invisible line and then the filler flowers to be just a hair shorter than the focal flowers making a staggered effect inwards toward the wreath base. Again, watch the video for more info. 
I hope you enjoyed these flower placement tips for making a designer wreath! Remember to share this with family and friends and pin it to your pinterest boards for quicker reference.
What flower placement tips do you have? Please share.
If you would like more tips on making spectacular wreaths like this, join me in my Wreath Making of the Month Club where each month I give you a new tutorial and supply list just like this sunflower wreath!
I can't wait to get to know you better and see you in the club!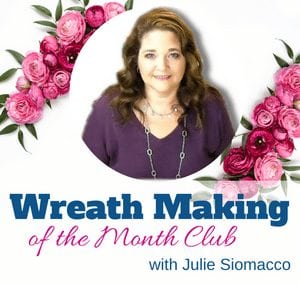 Happy Wreathing,
Julie
If you enjoyed this post, you might also like:
How to Make a Summer Sunflower Lantern Swag
DIY Summer Silk Flower Arrangement for Home