How to Make a Summer Sunflower Lantern Swag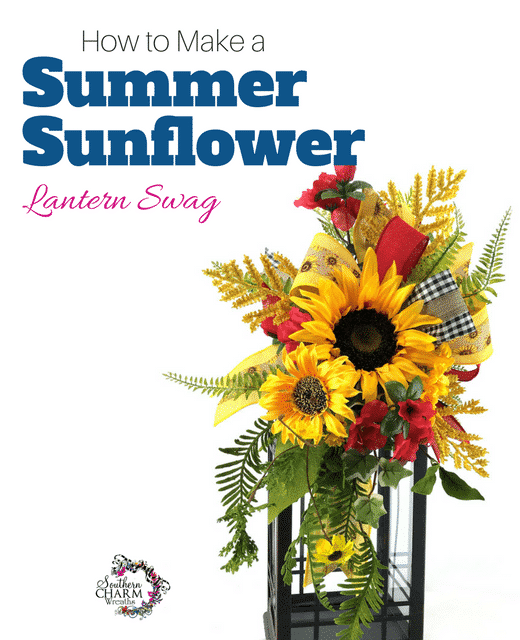 Today in the wreath shop, I'm showing you how to make a Summer Sunflower Lantern Swag using sunflowers and ribbon.   In case you didn't know, a lantern swag is a flower arrangement to place on top of your lanterns to add a pop of color or to help decorate for the holidays.  This post contains some affiliate links for your crafting convenience. Click here to read my full disclosure policy.
How to Make a Summer Sunflower Lantern Swag
Today's video, we're creating a sunflower lantern swag. You can use a lantern you already have on hand or purchase one from a home decor store or even on Amazon. You could also attach this lantern swag to a wreath, add it to a garland, attach it to your mailbox and more! Here's how:
Supplies
Silk Sunflower (Hobby Lobby)
Silk Mini Sunflower Spray (Carolina Pottery)
Silk Green Spray (Carolina Pottery)
Red Azalea Bush (Hobby Lobby)
Yellow Berry Filler (Hobby Lobby)
Wired Ribbon (several styles)
Scissors
Zip Ties
glue sticks or glue pillows
[Tweet "How to Make a Summer Sunflower Lantern Swag"]
How to Make a Summer Sunflower Lantern Swag
Make a funky bow! See video below for detailed instructions.
Cut the leaves off of the sunflower stem.
Prep all of your picks and florals by expanding their petals and leaves out because they are usually flat when they are shipped.
Cut the individual stems off of the azalea bush.
Start making the swag by layering the various elements. You'll want to begin with your largest piece, which for this swag is the sunflower.
Slightly bend the stem of the sunflower just below the flower. Add the mini sunflower pick and two azalea stems next to it.
Now begin adding items in the opposite direction, first with the greenery pick and then 2 more red azalea stems.
As you go, zip tie the pieces together. Use more as needed if you are having trouble holding them.
Attach the bow to the swag. Note: If the ribbon doesn't lay exactly where you would like, place a small dot of hot glue to keep it in place.
Cut off any excess stems that stick out from the arrangement.
Attach rustic wire to the back of the swag to allow for easy hanging. I used about 20 inches of wire.
Use small leftover silk flower leaves in you want and hot glue them anywhere zip ties or wire is showing.
Attach the swag to your lantern. My lantern has a little round top to it that you can wrap the wire around. If you do not have that on your lantern, you can also attach it to the corner of the handle.
For a special touch, I hot glue extra greenery and yellow berry stems into the bow loops.
Don't forget to decorate the inside of the lantern! Add a battery-operated candle, pine cones, ornaments, whatever you would like. Just remember not to burn a real candle in the lantern as the heat from the candle is a hazard with the swag on the top.
How to make a Summer Sunflower Lantern Swag Video…
I hope you enjoyed this Summer Sunflower Lantern Swag tutorial. Let me know if you enjoyed this tutorial so I know to do more of them!  You can learn to make other types of bows here and don't forget to join me on Facebook Live, most Thursdays 7:30PM EST.
I would be honored for you to join me in my wreath making of the month club!  I'm having a blast teaching hundreds the art of wreath making!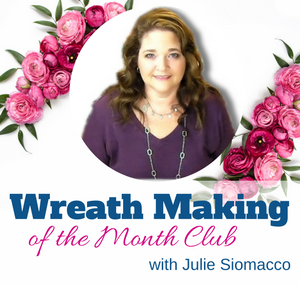 Happy Wreathing,
Julie
If you enjoyed this post, you might also like:
How to Make a Mardi Gras Lantern Swag Centerpiece
How to Make a Festive Patriotic Lantern Swag
How to Make a Christmas Lantern Swag
How to Make Halloween Lantern Swags