How to Make a Fall Lantern Flower Arrangement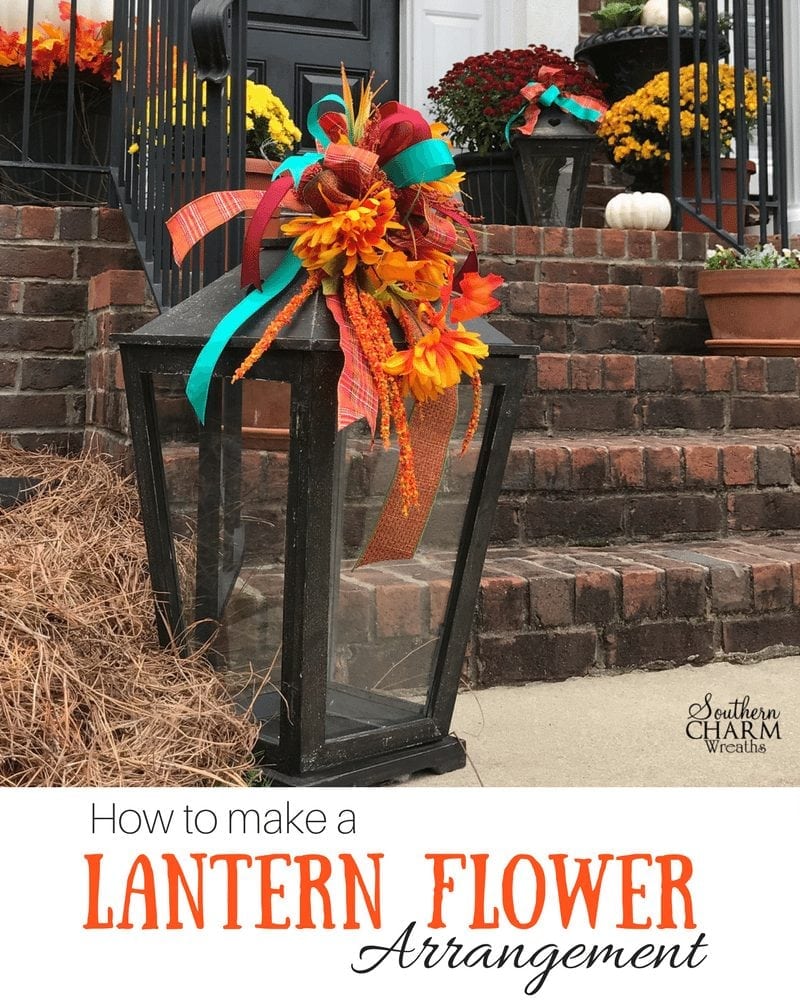 Today in the wreath shop, I'm showing you how I decorated my large lantern for my front porch with a fall lantern flower arrangement.  This flower arrangement is made to sit on top of my lantern to add a pop of color.  Use these instructions for making one for yourself for any holiday or season. This post contains some affiliate links for your crafting convenience. Click here to read my full disclosure policy.
How to Make a Fall Lantern Flower Arrangement
Today's video, we're creating a large fall lantern arrangement for your front porch lanterns. You can use a lantern you already have on hand or purchase one from a home decor store or even on Amazon. You could also attach this lantern flower arrangement to a wreath, a garland, mailbox and more! Here's how:
Supplies
[Tweet "How to Make a Summer Sunflower Lantern Swag"]
Large Fall Lantern Flower Arrangement
Make a bow! See video below for detailed instructions.
Cut the individual stems off of the flower bushes. You want to make sure to keep them as long as possible.
Start making the swag by layering the various elements. You'll want to begin with your longest pieces first, and then layer a mum with two other mums shorter.
Add a stem of fall leaves to the back to help add color and fill in a backdrop.
Now begin adding items in the opposite direction, with leaves, a mum and yarrow.
As you go, you can either zip tie the pieces together to help you hold it or you can wait and zip tie everything together all at once as I do in the video below.
Attach the bow to the lantern flower arrangement.
Cut off any excess stems that stick out from the arrangement.
Attach rustic wire to the back of the arrangement to allow for easy hanging. I used about 20 inches of wire.
Typically I attach the arrangement to the lantern before the next step but due to the large lantern, finished it off on the table so you can see.
In order to keep the arrangement flowing from top to bottom, I hot glue extra grasses, leaves, berries and yarrow into the bow loops.
Don't forget to decorate the inside of the lantern! Add a battery-operated candle, pine cones, ornaments, whatever you would like. Just remember not to burn a real candle in the lantern as the heat from the candle is a hazard with the lantern flower arrangement on the top.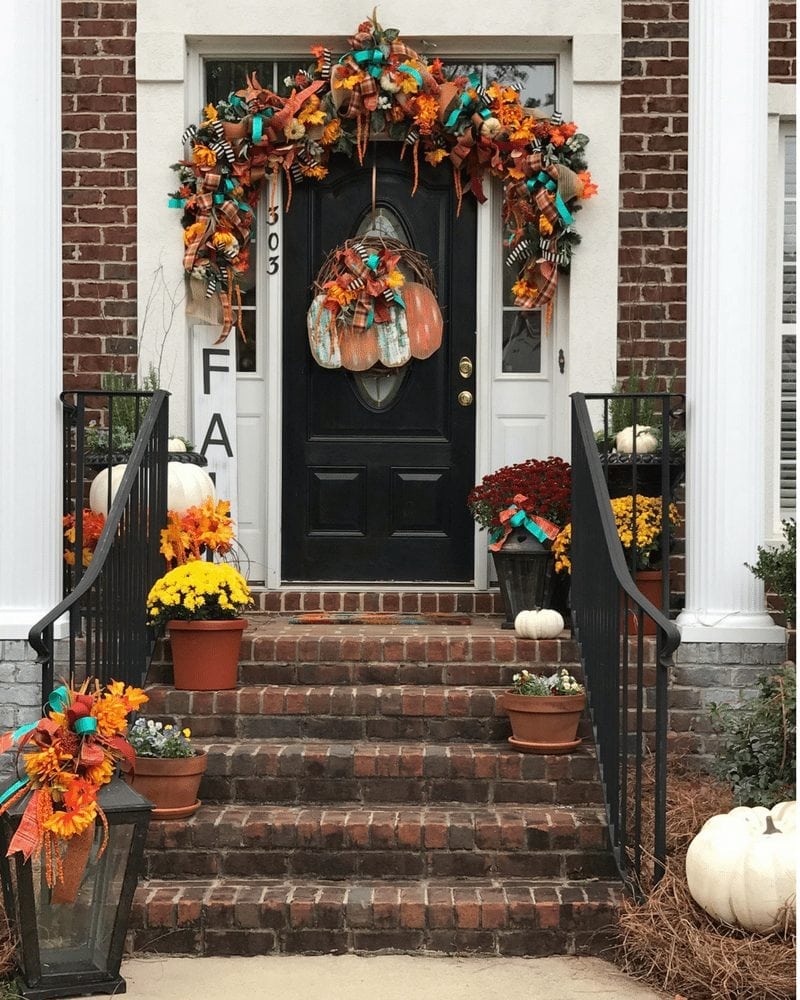 How to make a Fall Lantern Flower Arrangement Video…
I hope you enjoyed this fall lantern flower arrangement tutorial. You can see where I added it to my fall front porch decor below.
If you would like to learn how I made the fall garland, join my wreath making of the month club.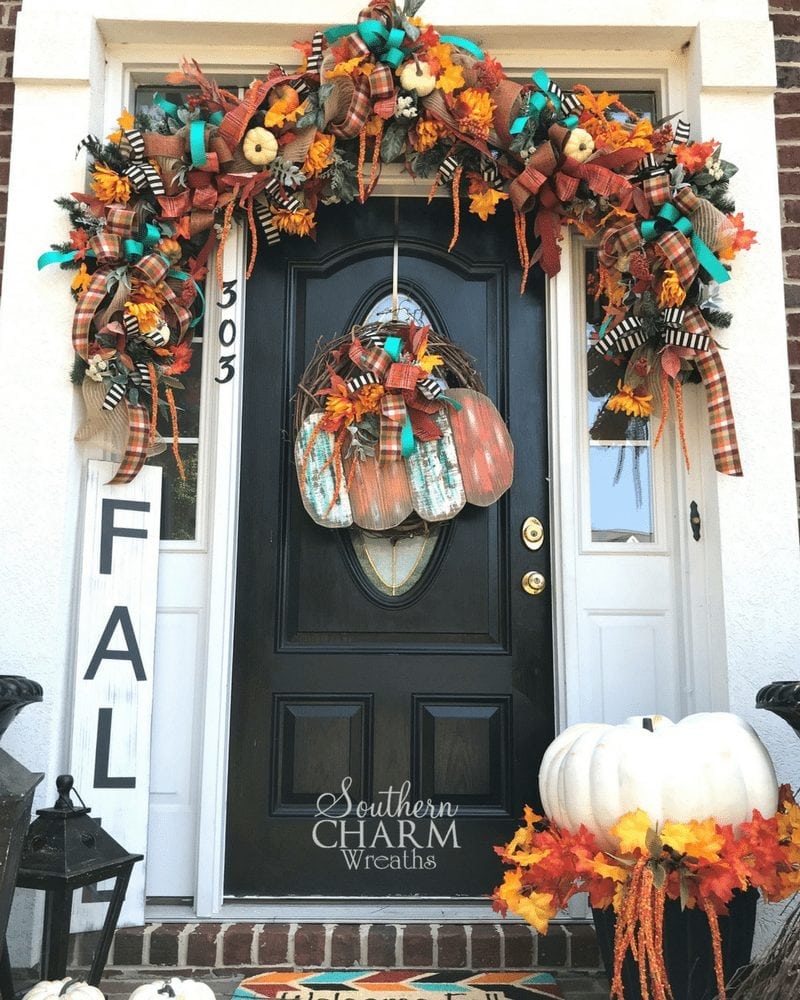 Learn How to Jazz Up a Store Bought Fall Door Hanger Using Flowers  like I did on my front door.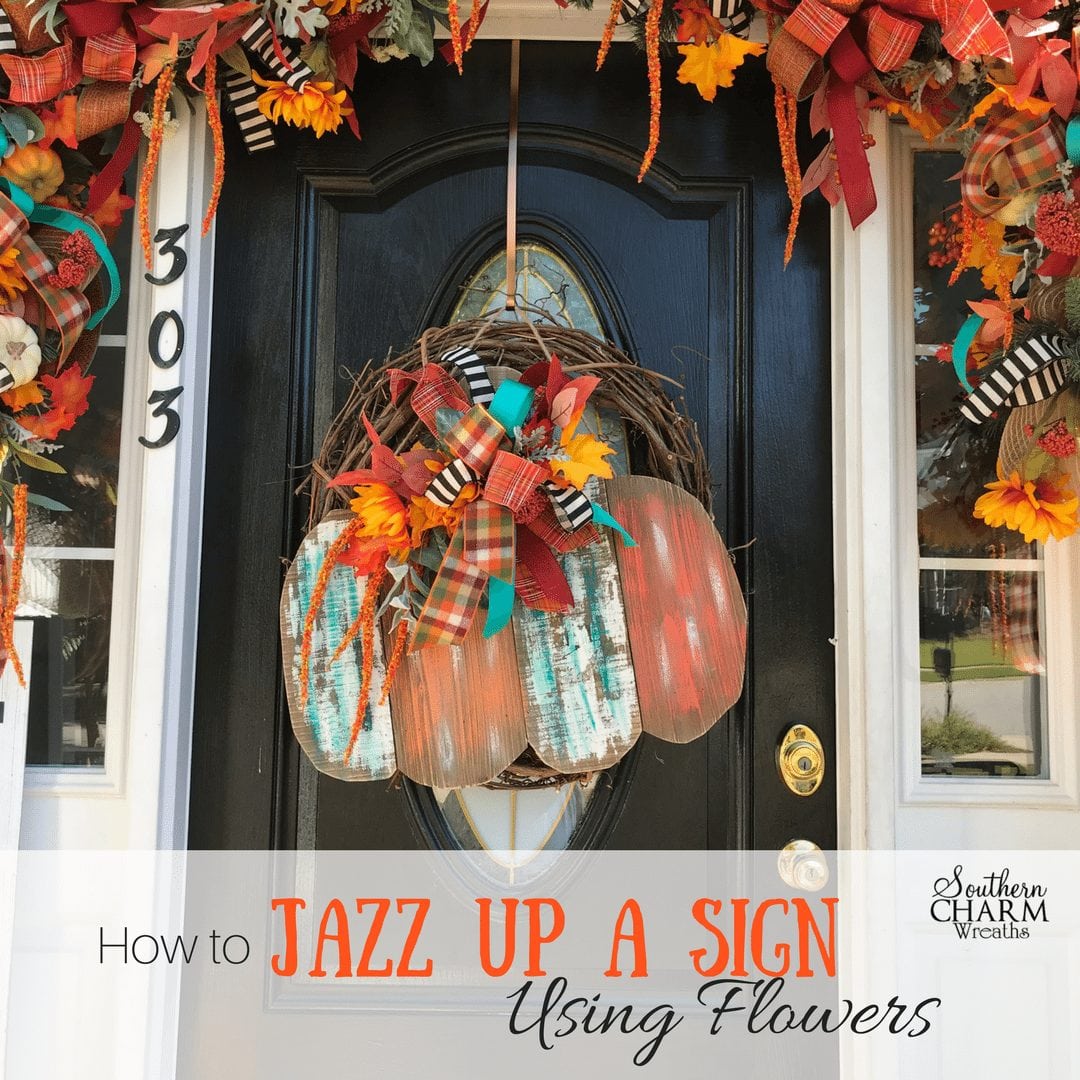 Don't forget to join me on Facebook Live, for my other DIY tutorials.
Happy Wreathing,
Julie
If you enjoyed this post, you might also like:
How to Make a Fall Lantern Swag Video
How to Make Halloween Lantern Swags
How to Make a Summer Sunflower Lantern Swag
How to Make A Funky Bow -Christmas Edition