How to Make a Hydrangea Centerpiece
In this video, we're making a Hydrangea Centerpiece for your table. Hydrangea centerpieces are very popular for many occasions including wedding, showers and graduation parties. This table centerpiece is perfect for Spring or Summer and is quick and easy to make. I know you're going to love it. This post may contain affiliate links for your convenience. Click here to read my full disclosure policy.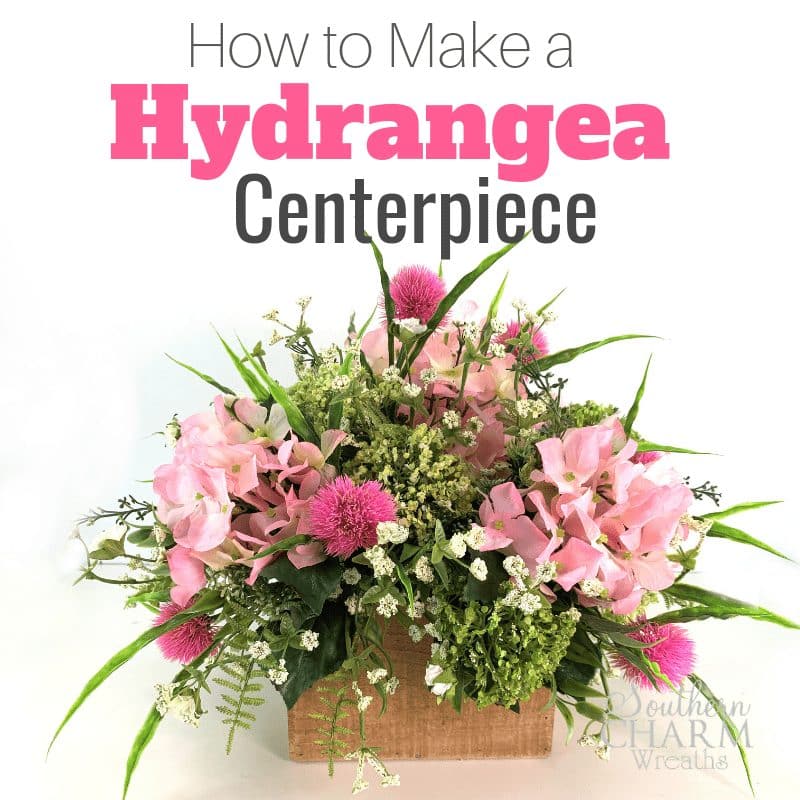 Today we're making a hydrangea centerpiece in a rustic square container for your table. This would be perfect for a wedding, baby shower, or Mother's Day Gift. For this project, we're using quality silk flowers from Trendy Tree.
[Tweet "How to Make a Hydrangea Centerpiece"]
Supplies
Wooden Container
Color Last Pink Hydrangea
Green Snowball Bush
White Green Gypsum Flower Bundle
Mixed Greenery
Plastic Pink Pom Pom
Styrofoam block
knife
Wood floral picks (6″)
Floral pins
Moss
Scissors
Wire Cutters
Hot glue gun
glue sticks
craft mat
Steel Pick Machine
How to Make a Hydrangea Centerpiece
Step 1 – Start by using a knife to cut Styrofoam to fit inside the container. I made a narrow piece for the bottom and a square piece for on top of it that fits the box.
Add hot glue to the bottom of the narrow piece and place it in the box. Then add more hot glue on top of it and place the other piece of Styrofoam on top of the glue.
Step 2 – Next insert wooden picks through the Styrofoam and trim any remaining sticking out the top. This will help to secure the two styrofoam pieces together.
To hide the Styrofoam, cover it with moss and attach the moss using floral pins.
Step 3 – Before adding the greenery, trim each piece from the bush and shape each piece.
Insert the greenery into the Styrofoam. I started with one piece in the center and then worked my way around the box until you have greenery around all sides and the center.
Step 4 – Now it's time to add the Hydrangeas. Again, trim each piece from the flower bush and insert into the Styrofoam. For good adhesion, add hot glue to each stem before inserting.
Continue adding Hydrangeas throughout the box.
Step 5 – Using the same process as the Hydrangeas, continue adding the other flowers until the box is full. Remember to vary heights and use flowers and greenery with a variety of textures.
Watch the video below for detailed instructions.
Video How to Make a Hydrangea Centerpiece
Isn't it beautiful? The simple wooden box really allows the flowers to shine and I love the rustic look. This would be perfect for a buffet table, wedding, reception, shower or to give as a gift. You could also easily customize this for any season by switching up the flowers.
If you enjoyed this and want to learn to wreath the professional way, join us in our exclusive Wreath Making of the Month Club!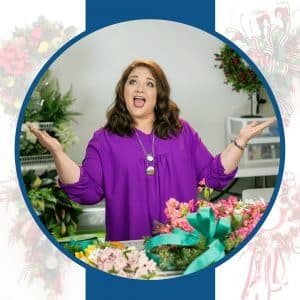 Happy Wreathing,
Julie
If you enjoyed this post, you might also like:
DIY Galvanized Farmhouse Wall Pocket Arrangements
DIY Farmhouse Table Centerpiece