Holiday Funky Bow Wreath Design
Get ready to get funky with my holiday funky bow wreath from Coach Laurie Anne! This design has everything you need for a fun and whimsical wreath, with patterned ribbons, deco mesh accents, and holiday extras.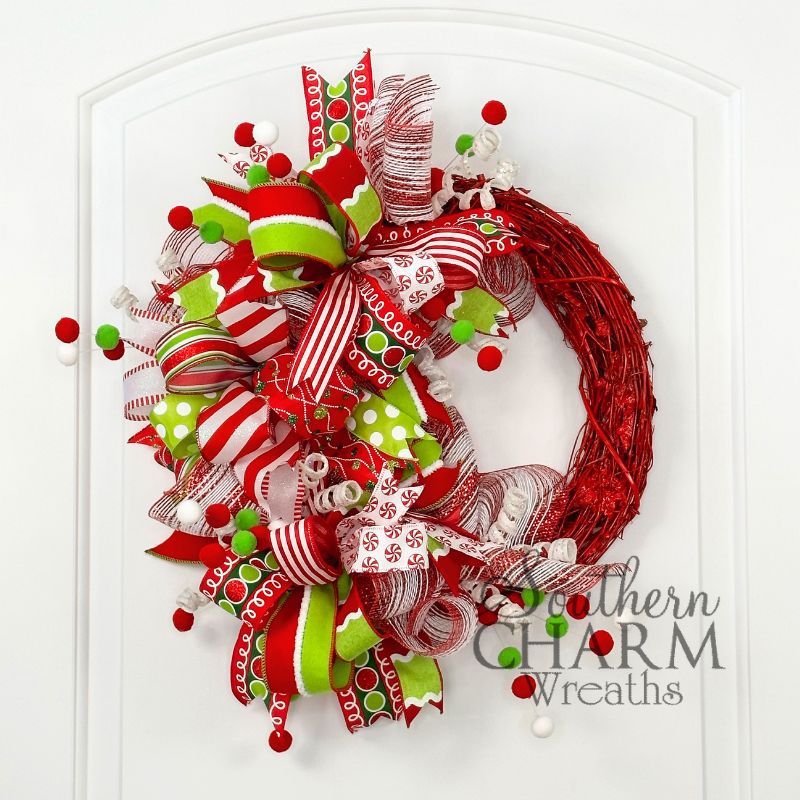 Holiday funky bow wreath
Laurie Anne's holiday funky bow wreath is one of our most popular designs, I think because it's just so darn fun!
The bows are made with tons of mixed patterns, holiday colors, and various sizes for a cute and energetic display.
This design is also a great way to use up extra supplies. Just follow the color scheme of lime green, red, and white, and you can probably add it to this wreath!
This post may contain affiliate links for your convenience. Click here to read my full disclosure policy.

Supplies for this project
You'll need:
14" Grapevine wreath (spray painted red)
Ribbon

2 ½" Green and red felted stripes
1 ½" Peppermint pattern
2 ½" Swirly polka dots
1 ½" Red and green panels
1 ½: Red and white stripes

Deco mesh
Holiday ornament picks like:

Red and white curls
Pom poms
Christmas ornaments

Hot glue
Clippers
How to make a holiday funky bow wreath
1. Make your bows
Your first step is to prep your bows using the funky bow method. Depending on the size of your wreath, you'll want to make 3-4 bows.
Start by measuring an 8" tail of your first 2 ½" ribbon; pinch and pleat here.
Then, measure 12" for 6" loop, twisting to secure and trimming the tail.
Repeat these steps working on top of this base, for your next four types of ribbon.
After this, make sure your loops are nice and separated. Wrap florist wire around the center and pull tight to secure.
Finally, dovetail some ribbon ends for more texture and polish!
Repeat this process for a total of three bows.
Feel free to alternate ribbon patterns for more variety. Just remember to choose new patterns in the same color palette of red, white, and lime green.
2. Integrate bows and deco mesh
Now, we're ready to pull everything together!
Cut 4 long pieces of deco mesh, using the length of your arm to measure the pieces.
Fold down the edges of one piece of deco mesh, pinch at the center, and twist the florist wire around that center.
Add your first piece of deco mesh to the wreath around the 11:30 position.
Then, add your bow tightly beside the deco mesh, using florist wire to secure it.
Repeat this process working around one side of the grapevine wreath, alternating deco mesh pieces with bows.
3. Add holiday picks
For a touch of holiday whimsy, feel free to add some fun holiday picks around the outer edge of the wreath.
Use curly picks, sparkly ferns, pom poms, or Christmas ornaments – whatever tickles your fancy!
And with that finishing touch, your holiday funky bow wreath is ready to enjoy.
Watch the video: How to make a holiday funky bow wreath
If you enjoyed this post, you might also like:
Like this post? Pin it for later!