How to Make a Bunny Wreath Door Hanger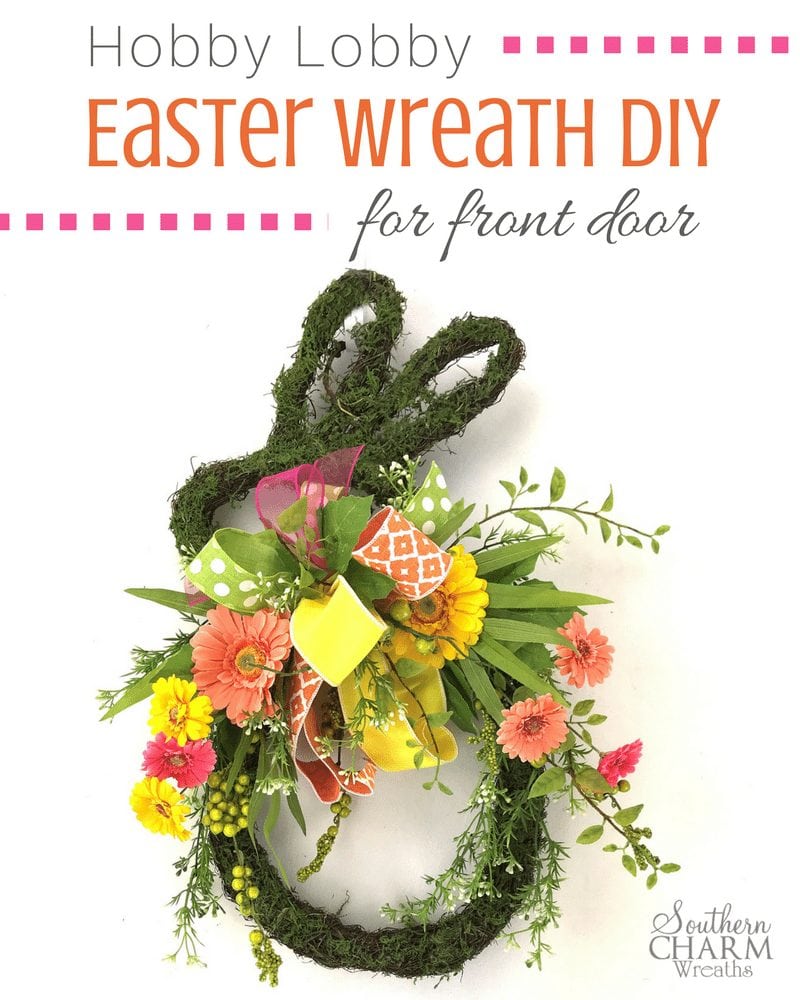 What could be more fun than a bunny-shaped grapevine wreath!? Let's make a bunny wreath door hanger with beautiful spring flowers and my signature funky bow. This post contains some affiliate links for your crafting convenience. Click here to read my full disclosure policy.
How to Make a Bunny Wreath Door Hanger
In this video, we're making a bunny-shaped grapevine wreath perfect for your front door this season. This simple project is ideal for beginners. Here's how to make it:
Supplies
Bunny-shaped grapevine wreath (Hobby Lobby)
Spring flower spray (Hobby Lobby)
Assorted Spring ribbon
Assorted silk greenery
[Tweet "How to Make a Bunny Wreath Door Hanger"]
How to Make a Bunny Wreath Door Hanger
Begin by removing the bow that came on the wreath.
Next, I made my signature funky bow with spring ribbon and attached it with florist wire. For bow instructions, check out my How to Make Bows page.
For flowers, I used a daisy spring spray and cut each stem apart.
To attach the stems, simply hot glue the stem and insert into the grapevine. Note: If the flower stems are difficult to insert into the grapevine, add a floral pick or a steel pick.
I started with the larger flowers around the bow and then added bits of greenery and berries. Note: Be careful not to add so many floral stems that you lose the shape of the bunny.
Continue adding flowers and greenery until you are happy with the result. Add leaves and other greenery to the bow loops and trailing greenery pieces along the bottom half of the wreath.
Trim any stems sticking through the back of your wreath.
How to Make a Bunny Wreath Door Hanger Tutorial Video…
I hope you enjoyed this Spring project! This would be a fun project to get together and do with friends – not a lot of supplies are needed and it comes together quickly.
If you would like to learn more about wreath making, join my Wreath Making Club.
Don't forget to join me on Facebook Live, for my other DIY tutorials. Even better, join our messenger bot HERE and we'll send you a message on Facebook the next time we go live. It's always more fun to join in on the conversation.
Happy Wreathing,
Julie
If you enjoyed this post, you might also like:
Spectacular St. Patrick's Day Wreath Tutorial
DIY Designer Easter Teardrop Swag Tutorial
Adorable Easter Bunny Grapevine Wreath Tutorial