DIY Farmhouse Wreath for Fall
In this simple Fall Farmhouse wreath tutorial I'll help you create a beautiful Fall wreath for your home using ribbon and silk flowers. I know I'm ready for all things Fall and cooler temps and I bet you are too!
If you want to make more Fall décor, try our other DIY Fall Decor ideas; DIY Fall Door Wreath Idea, How to Make a Fall Lantern Flower Arrangement, Fall Cornucopia Centerpiece Tutorial
This post contains some affiliate links for your crafting convenience. Click here to read my full disclosure policy.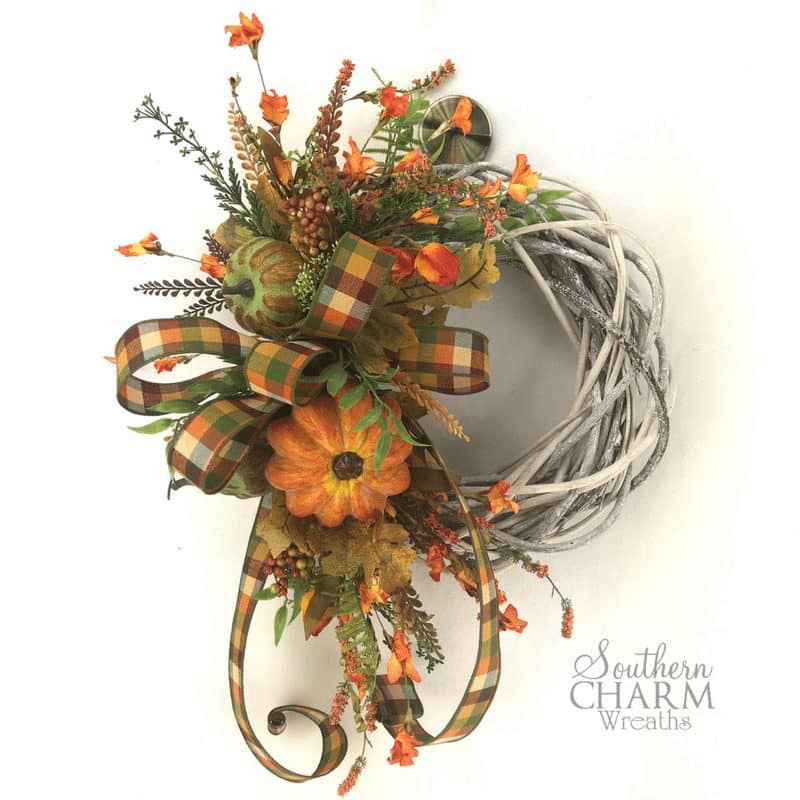 How To DIY Farmhouse Wreath for Fall
In this video, we're making a Fall Farmhouse Wreath using a whitewashed wreath base and beautiful Fall colored silk flowers and ribbon. When the leaves start falling, you'll be ready with a beautiful wreath for your home. Here's how to make it:
Supplies
Whitewashed wreath (Hobby Lobby)
Zip ties
Florist wire or pipe cleaners
Wired ribbon (Carolina Pottery)
Assorted silk greenery & flowers (Hobby Lobby, Carolina Pottery, Trendy Tree)
[Tweet "Simple DIY Farmhouse Wreath for Fall #howto #diy #falldecor"]
Steps for Making a DIY Farmhouse Wreath for Fall
First, make a swag for your wreath using picks including leaves, greenery, feathers, a pumpkin and more. Gather everything in your hand leaving space in the middle to secure it together with zip ties. Cover the zip ties with your bow to conceal it. You should have stems facing out both directions. Note: Make sure to fluff your pieces before attaching so that everything isn't flat.
Next, make your bow following my Funky Bow instructions or the video below. For this wreath I used 13 inch loops.
Attach your bow to the center of the swag using florist wire or a zip tie. After attaching the swag, make sure it's tight and doesn't move. If it does move around a bit, add one or two more zip ties or wire.
Move and bend the swag around so that it is more of a crescent shape around the wreath base versus just being straight up and down. Make sure the various flowers and greenery are not laying flat and also take this time to fluff your ribbon loops and move them where you want them.
For a beautiful finished look, take pieces of greenery and hot glue them into the bow loops and anywhere else around the bow or in the swag that has a gap that needs to be filled. This helps to blend the bow into the arrangement.
Lastly, check your ribbon tails. If they're too long, you can trim them or roll them to curl them slightly.
Video on How to Make a Simple Fall Farmhouse Wreath…
Look at how amazing this wreath turned out! So elegant, don't you think?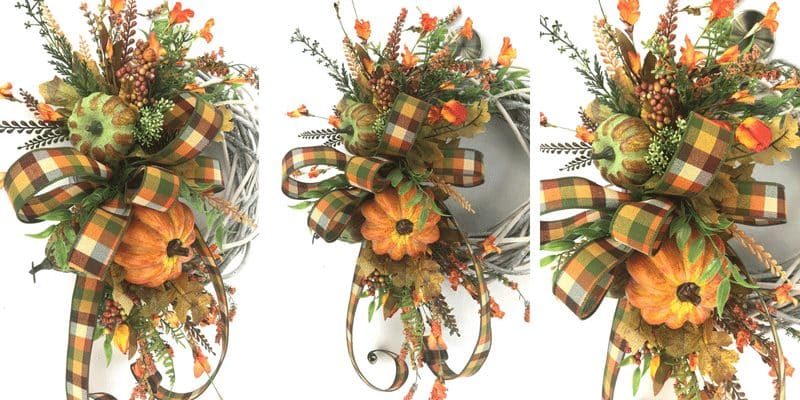 Did you enjoy this DIY Farmhouse Wreath tutorial? This is a simple project you can complete in one evening with just a few supplies and steps.
Hey, you can learn more about wreath making and how to become a professional wreath maker to help pay your bills in my Wreath Making of the Month Club.
And join me on Facebook Live, for my other DIY tutorials. Even better, join our Facebook messenger bot HERE and we'll send you a message on Facebook the next time we go live. It's always more fun to join in on the conversation.
Happy Wreathing,
Julie
If you enjoyed this post, you might also like:
How To Fall Oval Front Door Wreath
How to Make a Fall Lantern Flower Arrangement
How to Jazz Up a Store Bought Fall Door Hanger Using Flowers