How To Healthcare Hero Thank You Wreath
This week I went live to demonstrate how you can make a Healthcare Hero Thank You wreath. This is a great wreath to donate to a healthcare worker or a hospital to show your appreciation for their hard work on the frontlines of the coronavirus.
Thank you to Personalize It by Pam for donating all the profits for the sign sales to a teacher's group who will be using the money to make masks.
Let's get started!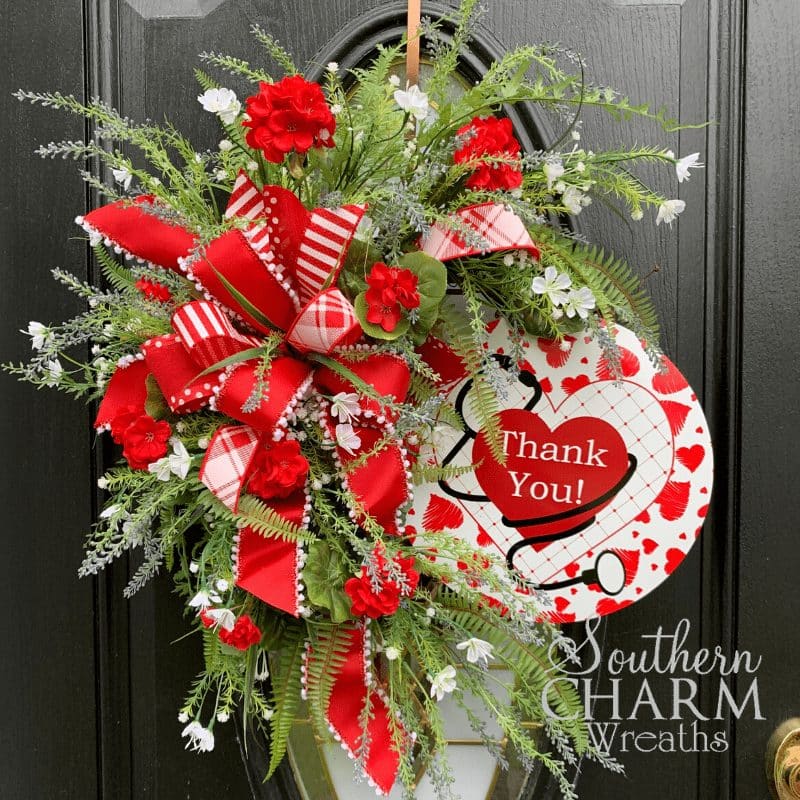 This post may contain affiliate links for your convenience. Click here to read my full disclosure policy.
Supplies:
16″ Grapevine Wreath
12″ Metal Sign
Red Bow
Greenery
Geranium Bush
White Filler Flower
Blue Filler Grasses
Metal Hole Punch
Wire
Rustic Wire
Glue
Glue Pan
Wire Cutters
Scissors

Steps for Making a Healthcare Hero Thank You Wreath
Step 1 – Attach the sign to the grapevine wreath. You will need to use a hole punch to create holes in the sign for the florist wire to attach to the wreath. Attach the red bow on the opposite side of the sign. Use rustic wire to create a hanger on the back of the grapevine wreath.

Now we're ready to decorate

Step 2 – Attach a few stems greenery bush to build up the wreath base. Using the bow as a binding point, place greenery behind the ribbon. Add the fern behind the bow as well to add dimension to your greenery.
Step 3 – Next add the red geraniums. Using the bow as a binding point again, place individual geranium stems from behind the ribbon. I placed three on top and three on the bottom.
Step 4 – Fill in with small, white flowers between the greenery and the red geranium flowers. Last we will place a few pieces of the blue filler grasses for color and dimension. Have a few of the blue filler grasses come out from the wreath.
And that's all there is to it!
Subscribe to my Youtube channel to see more easy floral arrangements like this!
How to Healthcare Hero Thank You Wreath
Comment below and tell me what theme you would like to see for a grapevine wreath.
If you enjoyed this and want to learn to wreath the professional way, join me in our exclusive Wreath Making of the Month Club or join a community of wreath makers in our Wreath Making Madness Facebook Group.
Happy Wreathing,
Julie
If you enjoyed this post, you might also like:
Summer Deco Mesh Wreath with Two Colors
Summer Flower Basket for Front Door
Liked this Healthcare Hero Thank You wreath tutorial? Pin it for later!