How to Make a Summer Deco Mesh Wreath with Two Colors
In this video, we're getting ready for summer with a Deco Mesh wreath using two colors of mesh. I've been teaching thousands online on how to make professional-looking wreaths and deco mesh is my specialty! This post may contain affiliate links for your convenience. Click here to read my full disclosure policy.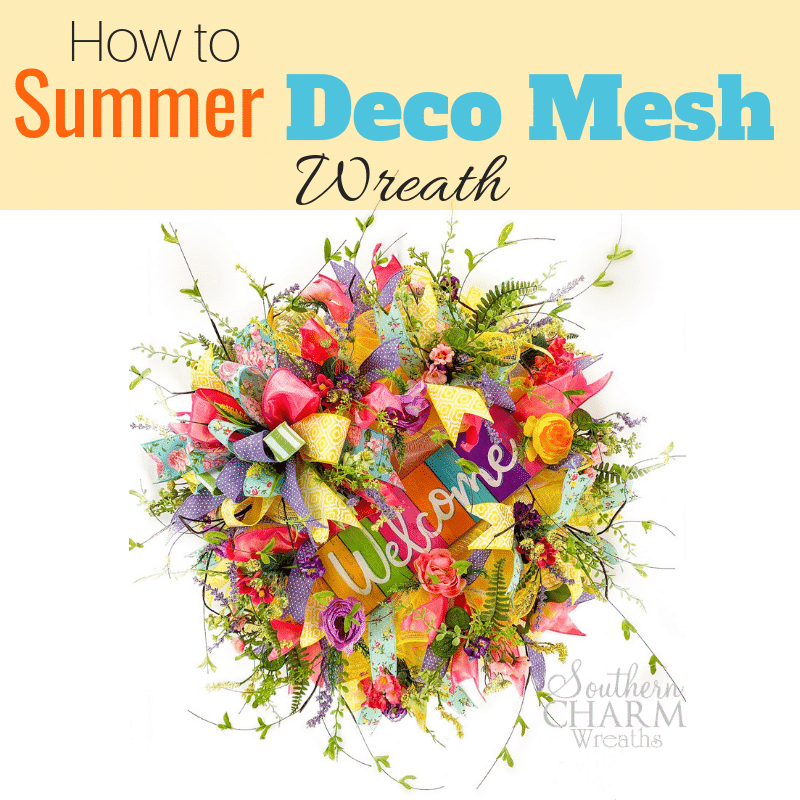 We're using two fun colors of mesh and fabulous summer ribbon to make a beautiful summer wreath for your door. If you've been following me for a skinny minute, you know I'm a ribbon addict! I hoard it like most women hoard shoes! I kid you not. I'll show you how to complete your vibrant wreath with a colorful welcome sign, you'll be ready to welcome in your summer guests in no time.
[Tweet "How to Make a Summer Deco Mesh Wreath with Two Colors"]
Supplies
24″ Work Wreath Form (Pencil)
10″ deco mesh in yellow ruffle method
21″ deco mesh poof method
2 – 2.5″ wired ribbon
2 – 1.5″ wired ribbon
Welcome sign
1 premade floral wreath
Florist Wire
Scissors
Wire Cutters
Hot glue gun
glue sticks
craft mat
Steel Pick Machine
Find my complete list of beginner wreath making tools here.
How to Make a Summer Deco Mesh Wreath with Two Colors
Step 1 – Lay out your work wreath form. Begin by making 10″ long poofs with sections of the Deco Mesh. Attach the sections to the wreath using the twist ties located in the inner ring of the work wreath form. Then move to the outer ring and do the same. Because the mesh is thin, go back around the outer ring again adding more mesh. Cut the Deco Mesh off of the roll when finished.
Step 2 – Next, cut 20″ strips from the yellow 10″ mesh and add using the ruffle technique (see video below). Go around the inner and outer rings.
Step 3 – Cut ribbon into 14″ long pieces. Layer the different widths together, fold them, pinch in the center and add to twist ties. Alternate the color patterns throughout.
Step 4 – To prepare the sign, first cut off the existing hanger. Hot glue wire to the back and attach the sign to the wreath using the wire.
Step 5 – Make a funky bow with multiple spring ribbons using 12″ loops. Attach the bow using wire when done.
Step 6 – Lastly, add silk flowers. I cut pieces from a pre-made spring wreath. Attach them into the wreath with hot glue and using a Steel Pick machine to make it easier to keep the pieces together and insert them into the wreath.
My finished wreath measures 28″ x 28″ x 12″ and sold for $187 in my Etsy shop.
Video How to Make a Summer Deco Mesh Wreath with Two Colors
This wreath may be a little more advanced but those who are just getting started but for an easier option, you can stop after adding the ribbon or the sign. Find a sign you love for summer and use that as your inspiration for the Deco Mesh and ribbon colors. Have fun!
Tell me something you learned today or if you'd like me to do more deco mesh wreaths in the future.
If you enjoyed this and want to learn to wreath the professional way, subscribe to our Wreath Making of the Month Club!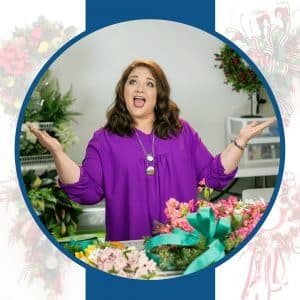 Happy Wreathing,
Julie
If you enjoyed this post, you might also like:
20 Best DIY Summer Wreaths You Can Make at Home
DIY Summer Flower Basket for Front Door