How To Make A Deco Mesh Summer Wreath
Looking for a fun bright summer wreath? Then this Deco Mesh Summer Wreath tutorial is perfect for you! I am loving all the fun summer colors and bright florals that make this wreath truly say hello summer!!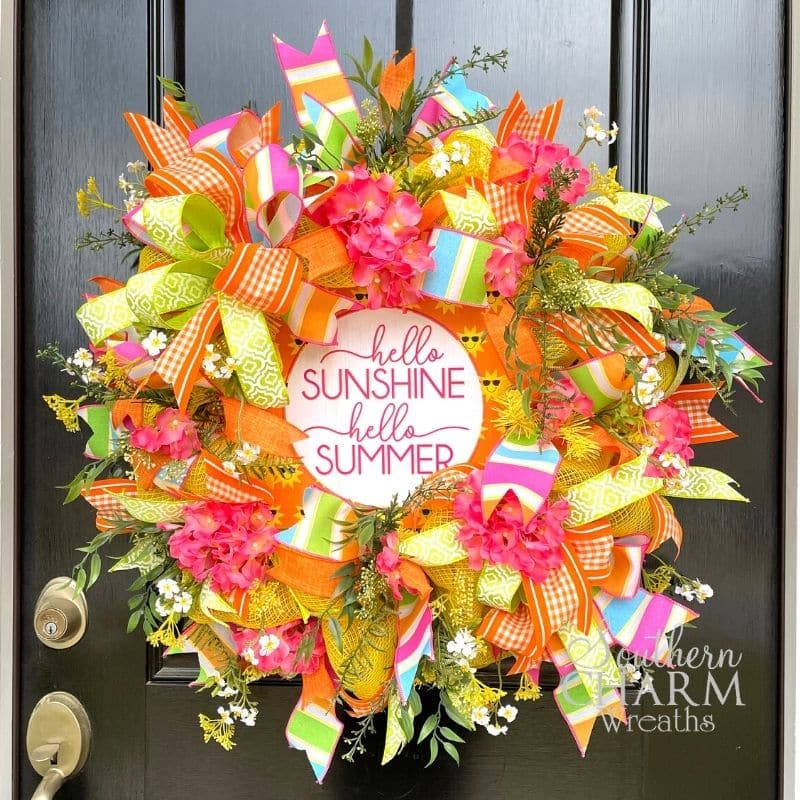 How To Make A Deco Mesh Summer Wreath
This Deco Mesh wreath is such a great wreath for beginners to learn how to master their own wreath making skills. With this step-by-step tutorial, you'll have no problem making a fun new summer wreath! I promise once you see the finished look you will be so proud to hang this wreath from your own door this summer!
This post may contain affiliate links for your convenience. Click here to read my full disclosure policy.
Supplies for this Project
15 inch Deco Mesh Work Wreath Frame (24-25 inch diameter)
Ribbon
Greenery Bush
Hydrangea Bush
Floral Filler
Wire Cutters
How To Make A Deco Mesh Summer Wreath – Step by Step Tutorial
1. Add Deco Mesh to Wreath Form
Take your wreath form and find a location in your inner ring and lay your mesh down into it and twist it tight with the twist ties. The twist ties are the fuzzy wire pieces that come attached to the wreath.
Next, measure out 10 inches and place in the next twist tie. You will make loops around your wreath using the twist ties. Work your way all the way around that section.
Once you are done connect your inner ring to your outer ring by pulling down your deco mesh and connecting it to one of the inner ring twist ties, and twist. Cut the end off and stick the end down into the frame.
2. Add Ribbon Tails
Using 4 different ribbon patterns cut each ribbon 14 inches long and dovetail the ends. Layer two ribbons on top of each other, fold in half, pinch, and start adding to your twist ties of wreath form.
Work your way around the wreath adding your ribbon tails but alternating ribbon patterns as you add to the wreath. After you have twisted your ribbon to the wreath form give them a little tug making an X shape.
3. Make Your Bows
Measure out your first ribbon tail, pinch it and make two loops both measuring 12 inches long and twisting after each loop. Do the same with the orange pattern ribbon, stacking them on each other. Adding in your third ribbon repeat the same process and secure the center with a wire. Don't forget to dovetail the ends to give your bow a finished look!
You will need to repeat these steps to make a total of 2 bows for this wreath.
If you need a beginner lesson (or even just a refresher) on bow making, check out my free 9 ways to make a wreath bow video tutorial here!
4. Attach Sign
Using pipe cleaners attach 4 to the back of the sign. Placing one in each corner. Use these as anchor points to secure the sign to the wire wreath base.
Thread the pipe cleaners around a wire portion of the wreath form. Then twist the pipe cleaners together to secure tight. Trim pipe cleaner wires down with wire cutters. Once the sign is in place pull out your mesh poofs to cover up the edges of the sign to help blend it in with your wreath.
5. Attach Bows
In the top left corner attach one bow then add the second bow in the bottom left corner. Once you have attached the bows take some time to fluff out all the loops and give your ribbon tails some love.
6. Add greenery
This is what adds texture to your wreath. You want to fluff out your greenery pieces first before placing them in your wreath. Once your greenery pieces are nice and fluffed start by placing them around the perimeter of your wreath.
Before placing be sure to dip then end of the stems into your hot glue pot. To place them simply just stick the stem in into your mesh right where the needle ties are placed.
7. Add Focal Florals
Dip the ends of your hydrangeas into the hot glue and place them into the wreath making a triangle pattern. Placing three floral pieces around the sign. One in the top center and two on each of the bottom corners.
Now add remaining hydrangeas to the outside of your wreath. You can be creative and place wherever you like. Just remember to keep things balanced.
8. Add Filler Florals
Start by separating the floral filler piece into several pieces. This will help add another layer of texture as well as color. Adding texture to a wreath is so important as well as color. These floral filler pieces help do both! Add texture and color!
You will want to balance out these pieces so as you place see where else one is needed. I added these by working them back and forth of each side and then top and bottom.
9. Final Touches
Step back and check out your work! If you see any holes you can add a ribbon piece to fill those gaps and holes.
 Watch The Video: Deco Mesh Summer Wreath
If you enjoyed this post, you might also like:
Liked this Deco Mesh Summer Wreath? Pin it for later!