Easter Lantern Flower Arrangement Tutorial | Easter Lantern Swag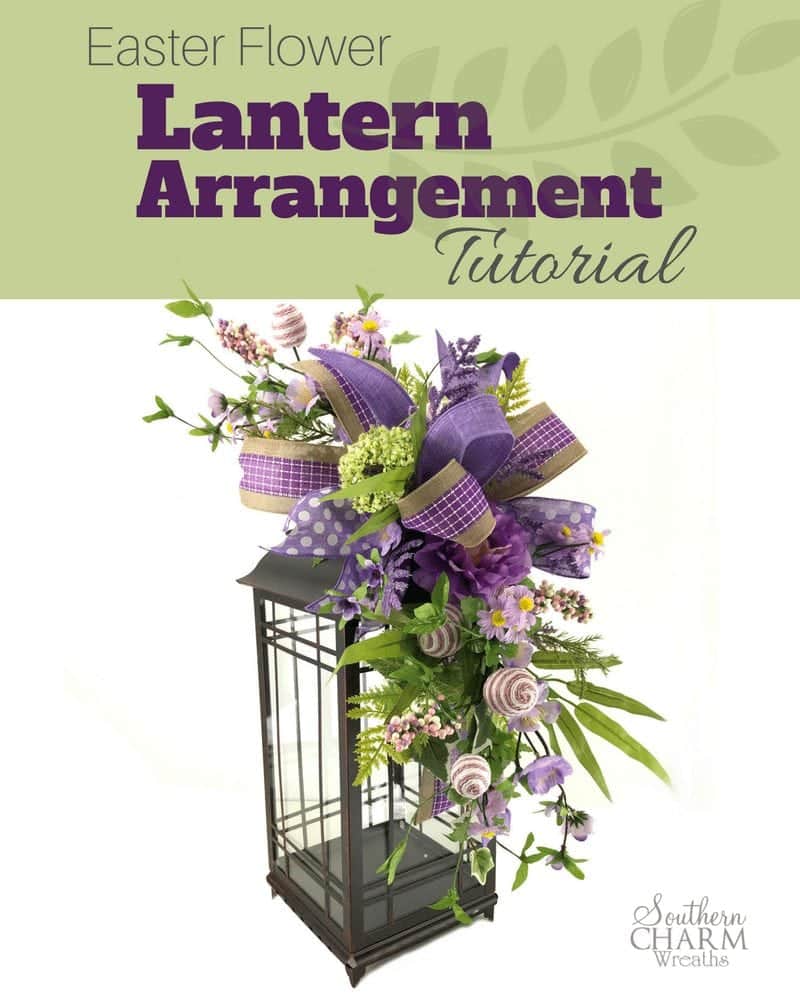 Today in the wreath shop a lantern flower arrangement tutorial to dress up your lantern for spring! These are also called lantern swags but feel free to use any flower and ribbon combination to create a beautiful lantern topper for your lanterns.  This post contains some affiliate links for your crafting convenience. Click here to read my full disclosure policy.
Easter Lantern Flower Arrangement Tutorial
In this video, let's make a lantern flower arrangement or lantern topper using silk flowers and ribbon. This lantern swag is easy to make and can be used on top of a lantern, a wreath, in a garland, on a mailbox and more! Here's how to make it:
Supplies
20″ Lantern
Egg sprays
Silk flowers & greenery
Assorted wired ribbon
Rustic wire
[Tweet "How to Make an Easter Lantern Flower Arrangement"]
Easter Lantern Flower Arrangement Tutorial
Start by cutting each stem free from the bushes so you are working with individual stems. Note: I like to shape the stems so they aren't straight and they look a bit more life-like.
Next, create a spray by layering in the various pieces you are using while holding it by the stems in your hand. For mine, I started with the egg spray and then added in greenery and purple flowers. Zip tie the stems now if you would like.
Leave room for a bow and create a spray going the other direction. The bow will go where the stems meet in the middle. Layer your spray as you did the first time. Zip tie all stems together so they are tight.
Next, add a bow. I made my popular funky bow out of 3 different ribbons with 12 inch loops following these instructions. Note: When you've finished your bow, secure with florist wire and push all the bow tails to the back and loops to the front.
Add your bow to the center of the swag with florist wire where the stems all come together.
Cut off any extra wire or stems.
For a beautiful finished touch, hot glue leaves onto backside of swag to cover any wire or zip ties.
Attach the swag to lantern using rustic wire and bend the pieces in the swag around to flow the way you would like on the lantern.
Lastly, add small pieces of greenery and flowers around the bow or anywhere you see a hole using hot glue.
Easter Lantern Flower Arrangement Tutorial Video…
I hope you enjoyed this quick Easter Lantern Swag project! I used a 20 inch lantern but you could easily adapt this for any size. Important: Do not light a real candle in a lantern with a silk flower swag! The heat will cause a fire. Instead, use a battery-operated candle.
If you would like to learn more about wreath making, join my Wreath Making Club.
Don't forget to join me on Facebook Live, for my other DIY tutorials. Even better, join our messenger bot HERE and we'll send you a message on Facebook the next time we go live. It's always more fun to join in on the conversation.
Happy Wreathing,
Julie
If you enjoyed this post, you might also like:
DIY Designer Easter Teardrop Swag Tutorial
Adorable Easter Bunny Grapevine Wreath Tutorial
Whimsical He Is Risen Easter Wreath Tutorial