How to Make Summer Multi Ribbon Bow
Today in the wreath shop, we're making a Summer Multi Ribbon Bow. I had the honor of making these bows on Carolina Pottery's Facebook page and thought I would share the video with you here!
This simple bow is perfect for your summer wreaths or mailbox. I used 4 different ribbons, starting with a fun bee print for inspiration and then 3 other coordinating colors.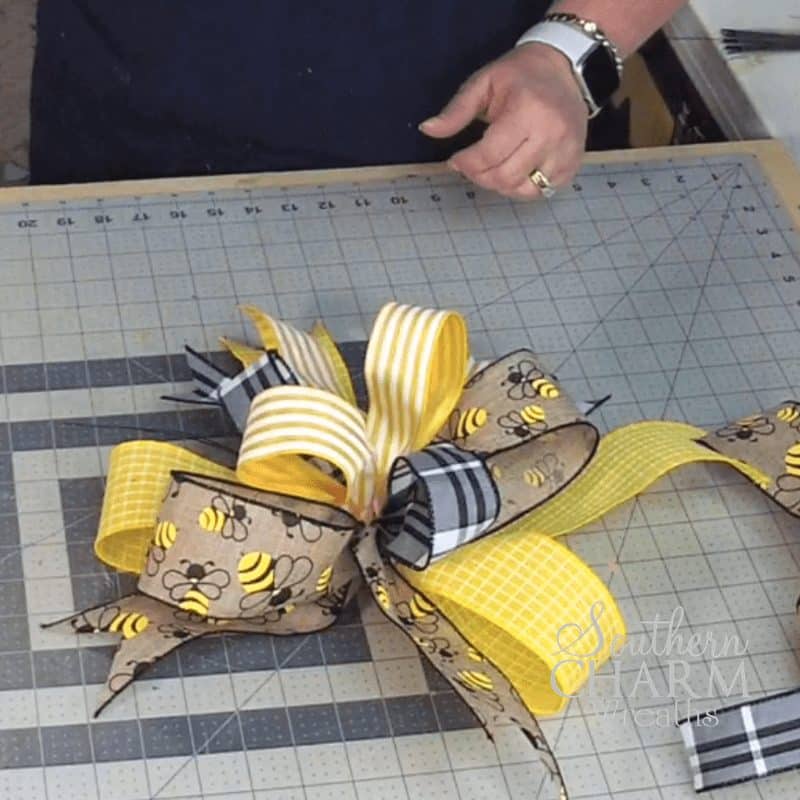 This post may contain affiliate links for your convenience. Click here to read my full disclosure policy.
[Tweet "How to Make a Summer Multi Ribbon Bow"]
Supplies for Making a Summer Multi Ribbon Bow
Four Wired Ribbons (The one's I used were from Carolina Pottery)
Scissors
Florist wire
Wire Cutters
craft mat
Steps for How to Make a Summer Multi Ribbon Bow
Step 1 – With your first ribbon, measure ribbon out 10 inches and pinch, this is the tail. 
Step 2 – Measure an additional 12 inches to make your first loop. Pinch it between your fingers to hold it in place. Then measure another 12 inches for your second loop and pinch. 
Step 3 – Take out your second ribbon and repeat the process above, first measuring out the tail, then the loops. 
Step 4 – Next, use your third ribbon to repeat the process. However, for this ribbon, use 10 inch loops. 
Step 5 – For your last ribbon, repeat the process making 10 inch loops again. 
Step 6 – With all of the ribbons pinched together in your hand, take out the florist wire and wrap around where you are pinching. Twist the wire until the bow is secure. Note: If you don't have florist wire, you could use a pipe cleaner.
Step 7 – Reposition your loops so that everything is equal on both sides. Also make sure to fluff up the ribbon so it isn't laying flat.
Step 8 – Lastly, dovetail the ends of the ribbons by folding the end and cutting at an angle. (optional)  
Watch the video below for more bow making details.
If you enjoyed this and want to learn to wreath the professional way, join me in our exclusive Wreath Making of the Month Club!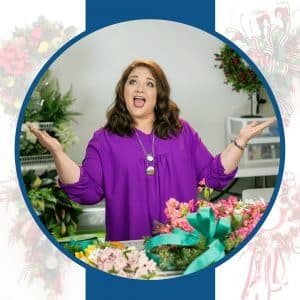 Happy Wreathing,
Julie
If you enjoyed this post, you might also like:
How to Make a Double Ribbon Bow the Easy Way
Review: How to Use the EZ Bow Maker
How to Make a Funky Bow – Christmas Edition
Liked this How to Make a Summer Multi Ribbon Bow Tutorial? Pin it for later!