How to Overcome Fear in a Handmade Business
Learn how to overcome fear in your handmade business with anxiety-reducing tips and practical solutions.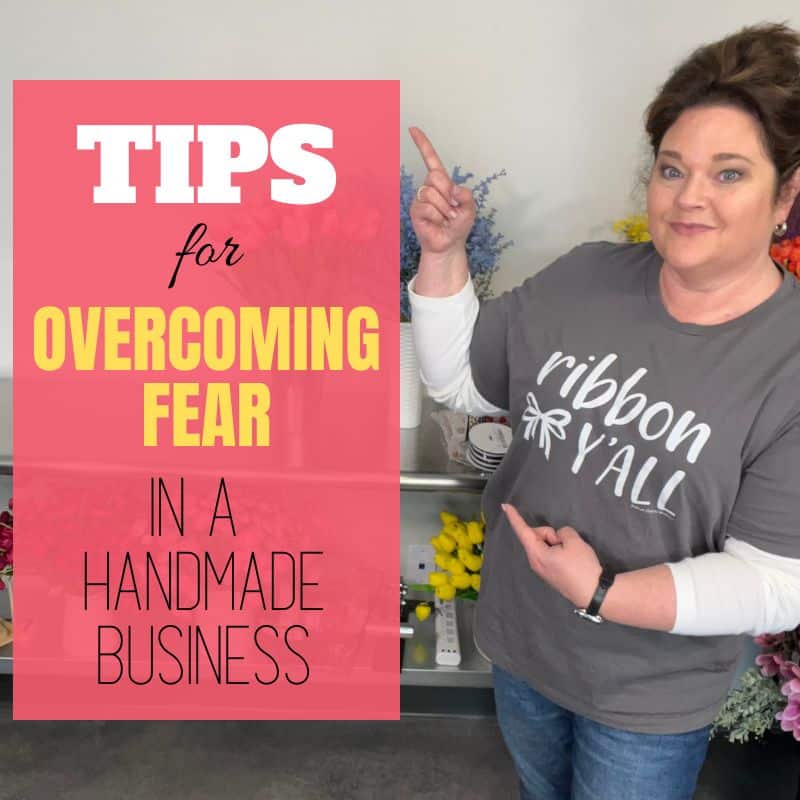 It can be hard to put ourselves out there – it's vulnerable!
But to run a successful handmade business, you need to overcome your fears.
11 Tips on how to overcome fear in a handmade business
In this post, I'm sharing 11 tips on how to overcome fear in a handmade business. Whether you're afraid to open an Etsy shop, post a reel, or "go live" for the first time, I have advice on how to challenge your anxieties.
1. Know you're not alone
The first step to overcoming fear in a handmade business is to recognize that you're not alone in it – we all carry fear!
When I started my business, I was afraid to ship my first wreath, open my Etsy shop, send my first email, and launch my first product; it's normal.
Acknowledge this common fear, but don't give in to it!
2. Shift your focus
Remember that you're providing an act of service.
We all have something to offer others. Don't hold back because you're afraid of the outcome.
When we shift our focus from ourselves to others, this gives us the motivation to push past fear and remember our purpose.
3. Celebrate the small
We limit ourselves when we expect amazing, grandiose products.
Be kind to yourself and celebrate little victories. They matter!
4. Don't put it off
The longer you put it off, the scarier it is.
Don't talk yourself out of it. Don't delay, Do it now!
5. Imagine the other side of the screen
Remember that there's a person on the other side of your screen. Just because you don't see them doesn't mean that they're not there.
By remembering your viewers and customers, it's so much easier to put out content.
It's also a good reminder to always be yourself and practice authenticity above all else.
6. Turn your anxiety into energy
In the first videos I recorded, I was a nervous wreck. But I turned that fear into energy, and people responded to it!
Use your anxiety to fuel your content. And if you have a little too much to spare, get moving to release some of your nervous jitters before hitting that live button.
7. Be honest with your audience
Let your audience know about your anxiety. People don't want perfection; they want authenticity.
8. Don't aim for perfection
The longer you try to be perfect and polished, the harder it will be for you to get started.
Perfectionism is the ultimate goal killer; stop listening to the negative voices, turn on the camera, and start serving.
9. Rely on notes
Afraid you'll lose your head while recording a video? A few notes will help you focus, organize your thoughts, and give anxiety-reducing reminders.
10. Be a problem solver
If you're afraid your viewers won't be engaged in your content, remember that you're offering a valuable service.
Know your followers, recognize their questions, and provide helpful solutions.
11. Remember confidence comes from doing
When it comes down to it, the only way to build confidence and overcome fear is to do the action!
The more you do it, the less fear exists. Do it for yourself.
Watch the video: Tips on how to overcome fear in your handmade business
If you enjoyed this post, you might also like: