Rustic Silk Sunflower Arrangement 
This rustic silk sunflower arrangement is the perfect conversation piece! Made with balanced pastel blues and sunny yellow silk florals, place it on a mantel or dining table for a gorgeous and summery display!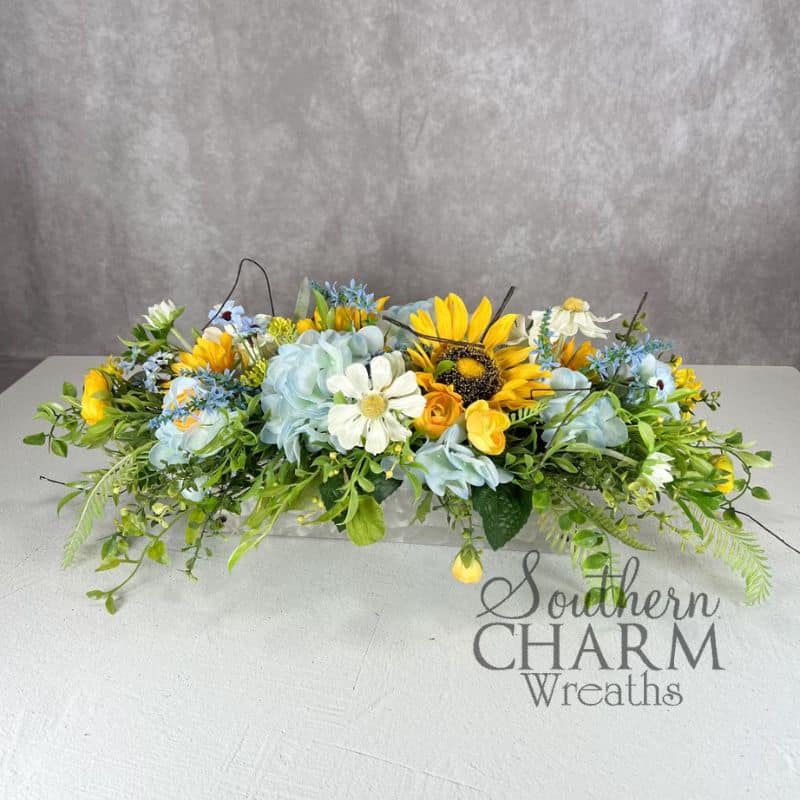 Rustic artificial summer sunflower arrangement
I love making long, low flower arrangements for any area where people gather and conversations are abundant.
Coffee tables, kitchen islands, or dining room tables are all perfect homes for this rustic silk sunflower arrangement.
Classic sunflowers are joined by feathery greenery, blue hydrangeas, and wispy accent flowers for an effect that is equal parts whimsical and rustic.
And today, I'm going to share with y'all how to make your very own!
This post may contain affiliate links for your convenience. Click here to read my full disclosure policy.

Supplies for this project
You'll need:
Long & low rustic container
Clippers
Hot glue
Needle nose pliers
Greenery

Hydrangea leaves
Nandina
Boxwood

Artificial flowers

3 large blue hydrangeas
2 sunflower sprays
Yellow ranunculus
Blue speedwells
Medium white daisies

Leftover floral or greenery stems
Twisty black stems
How to make a rustic silk sunflower arrangement: Step-by-step tutorial
1. Prep your container
Choose a container that is long and low to match your arrangement. Then, add a piece of desert foam to the container. The foam should fit snugly.
Camouflage your foam with a thin layer of moss; don't glue down your moss because this will form a hard barrier that is tricky to get stems through.
2. Set your sunflower sprays
Next, it's time to incorporate your sunflower sprays, which are one of two focal flowers.
Trim your sprays and add them to your desert foam, facing away from each other for an elongated effect.
Then, take a few leftover stems and trim them to 4 inches; use your needle nose pliers to fold stems into a hairpin shape.
Use these folded stems to secure your sprays, dipping them in glue and securing them in two places on each spray.
If your sunflowers are all in a straight line, adjust them slightly for better visual appeal.
3. Add silk flowers
Next, add your second focal flower – blue hydrangeas.
Make a sort of focal point with two large hydrangea bunches, sticking the ends into your foam and securing them with glue.
Divide your third hydrangea bunch into smaller pieces, and distribute them throughout the arrangement, fanning out from the focal flowers.
Finally, add your white daisies and yellow ranunculus evenly for light and interest.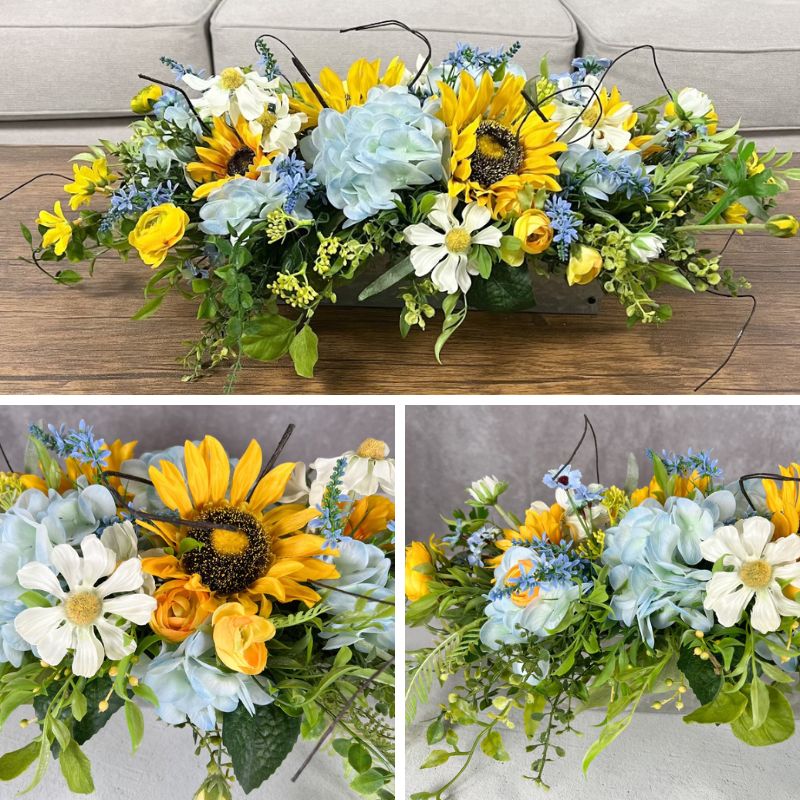 4. Bulk up with greenery
Trim bits on nandina greenery to add bulk to your arrangement as well as a slightly feathery effect.
You can also use bits of boxwood to fill in holes and add more depth to the piece.
Then, use some clipped hydrangea leaves to add near the base of the arrangement, bringing the leaf slightly down over the container.
5. Include feathery extras
For a little bit of whimsy, include some feathery accents in your piece.
Add small blue speedwells and twisty black sticks to the arrangement. Remember, this is a low arrangement, so don't add too much height!
Fill in any last holes with small sprigs of blue hydrangea and boxwood – and your summer sunflower arrangement is complete.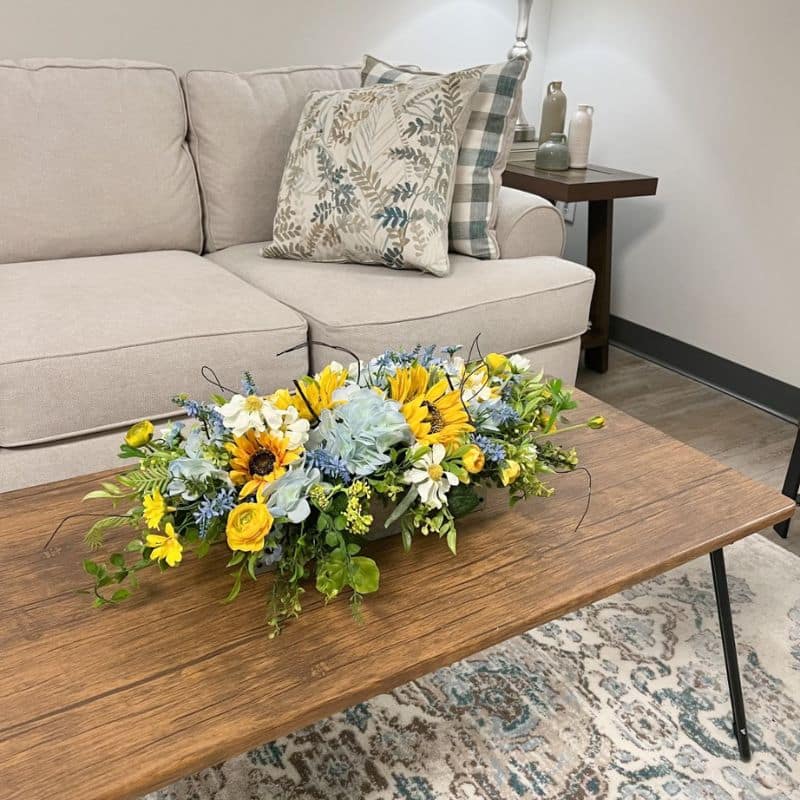 Watch the video: How to make a rustic silk sunflower arrangement
If you enjoyed this post, you might also like:
Like this post? Pin it for later!