Wreath Supply Haul from Trendz and Gemz
I'm unboxing supplies from one of my favorite online wreath supply shops! I can't wait to show you what I found! I love this shop because it's full of quality silk flowers which are hard to find anywhere else. This post may contain affiliate links for your convenience. Click here to read my full disclosure policy.
**Trendz and Gemz is now known as Greenery Market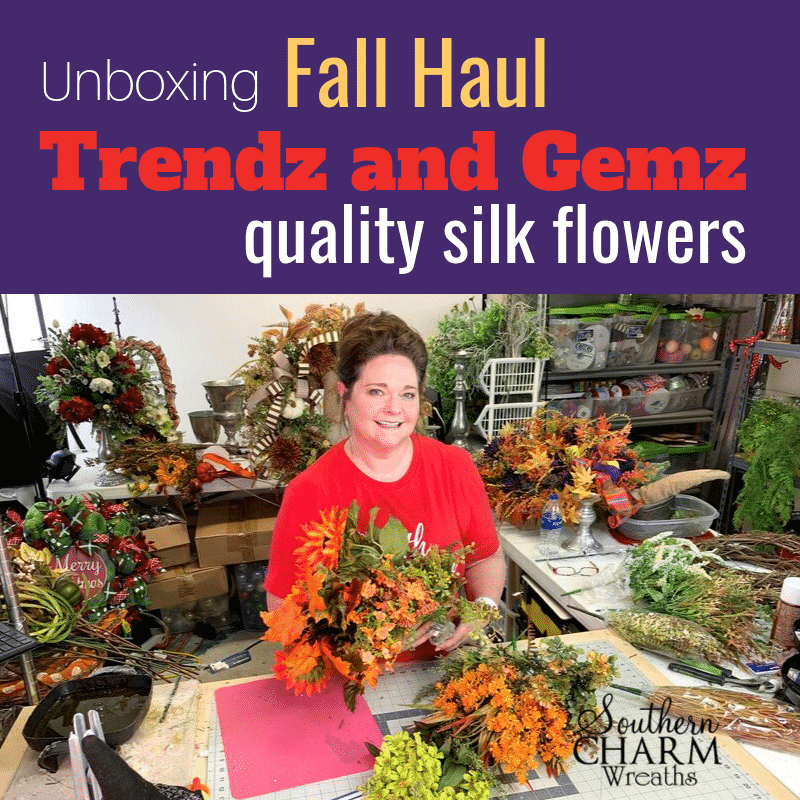 **Trendz and Gemz is now known as Greenery Market
I get a lot of questions about where I purchase quality silk flowers and items for my wreaths. Today I'm sharing what I found at Trendz and Gemz on Etsy. Let's get started!
[Tweet "Check out my supply haul of these quality silk flowers for wreath making from Trendz and Gemz"]
My Supply Haul from Trendz and Gemz**
Fall Haul
Burlap vine pumpkin - This is a great item to quickly add a bow and silk stems to the top and this becomes an easy item to sell at a craft sale or in your Etsy shop.
Fall Leaf Spray - These natural colors are very popular this time of year and you can use this spray in so many different projects. If a piece falls off, that is normal, just hot glue it back on!
Plum Eucalyptus - Purple is so popular right now! I just love this eucalyptus for a fall wreath.
Silk Flowers - I love these gold, orange and cream colors for fall! The long airy stems look beautiful and natural in an arrangement or wreath.
Natural Stems - These have seed pods and grasses. Take your time to fluff these and spread them out.
Gnomes - Gnomes are in right now! This witch gnome is perfect for your next fall project. These are on trend and you can find other gnomes on Trendz and Gemz.
Small Picks - I purchased a variety of smaller picks - some with birch leaves, some small pumpkins. All great for filling in a fall wreath.
Grasses - I'm asked all the time where I find nice grasses and here are some favorites! Remember to spread out the stems and fluff them up so they aren't laying flat in your designs.
Flower Bushes - The astilbes bush is gorgeous in a fall wreath to help brighten it since fall colors tend to be a bit dark. Of course you can never have too many sunflowers! Tip - yellow is going to be a huge color in 2020!
Summer Haul
Vine - This vine is fabulous because you can use it as one long piece or divide it into about 3 pieces.
Frosted Greenery - Frosted greenery can be hard to find and this one has great texture. This would be a great filler for your wreaths.
Draped Greenery - Sometimes I look for items that will drape down the wreath. This will do that for you and has some great texture as well.
Moss Greenery - Love the moss covered greenery and this one has a fun shape to it. It also bends really well so you can shape it as you like.
Dark Fall Greenery - This one is a beautiful dark color for fall. It can also be divided into small pieces for filler.
Geranium - I love geraniums! This one is a raspberry color which would make a beautiful statement in your wreath.
Yellow Baby's Breath - I love using baby's breath in arrangements. It comes in a variety of colors but this yellow is gorgeous with the raspberry colored geraniums.
Combination Greenery - This greenery bush is so full! Plus I love when it has so many different combinations of greenery in one bush. This is plastic, but don't be afraid of that! It will stay great in the elements.
Moss Basket - Perfect for a door! Use this all seasons - simply put Styrofoam inside and fill it but remember to leave some of the container showing because it is so pretty.
Succulents - Another popular plant group right now are succulents. These are so lifelike one is even furry! Take them off the long stems or leave them, depending on what type of arrangement you're doing.
**Trendz and Gems is now known as Greenery Market
Watch the videos below for detailed look at my wreath supply hall.
Video - Wreath Supply Hall from Trendz and Gemz
Video - Unboxing My Trendz and Gemz Wreath Supply Haul
What do I look for in silk flowers and greenery? I check to see how many ways can I divide a bush and how many pieces will I get out of it. I also pay attention to coloring. For instance, a lighter greenery can be incorporated more throughout the year. I look for quality and versatility.
I hope this was helpful! If you enjoyed this and want to learn to wreath the professional way, join me in our exclusive Wreath Making of the Month Club!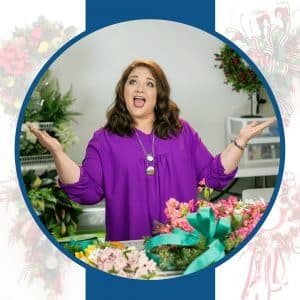 Happy Wreathing,
Julie
If you enjoyed this post, you might also like:
How to Price Wreaths to Sell for Profit
30 Craft Show Tips for Beginners
Liked this Wreath Supply Haul from Trendz and Gemz post? Pin it for later!