DIY Faux Poppy Floral Arrangement For Mother's Day
This summer bouquet is perfect for Mother's Day! Whether you are giving it away or selling it, this floral poppy arrangement is perfect.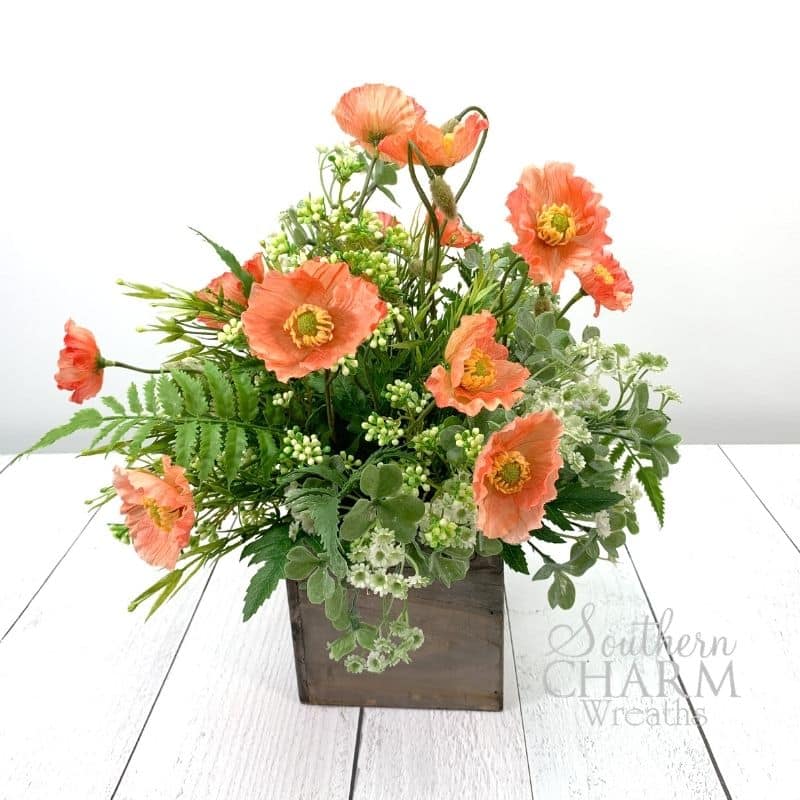 How To Make A DIY Faux Poppy Floral Arrangement
I just love all the bright colors in this floral arrangement. I think it's the best DIY gift for Mother's Day because it dresses up the table or shelf wherever it is displayed. Plus, it has classic summer colors that will brighten the day of anyone who receives it.
I'm breaking away from my normal wreath-making tutorials to teach you how to make a stunning bouquet / floral arrangement. Turns out, you use lots of the same techniques for both things.
This post may contain affiliate links for your convenience. Click here to read my full disclosure policy.
Supplies
Faux Poppy Arrangement Tutorial
Follow these steps to make your very own summer floral arrangement that is perfect for Mother's Day or just as a lovely summer arrangement for your house.
1. Prepare The Foam and Moss Container
Start out by preparing a removable container with foam and faux moss. This guide takes you through these steps from start to finish.
The one I used in the video below is 5″x5″.
2. Trim The Faux Poppies
Take a bunch of faux poppies and trim the individual blooms off of the bunch. Then, measure them against your container and trim them to the height that you want.
When they are the height that you want, dip the bottom of the floral picks into the melted glue and stick them into the foam and moss container.
Spread out individual poppies around the inside of your container and leave room in between them. That way, you can fill in those spaces with other types of flowers.
3. Add Some Greenery
Trim and glue some greenery in between the poppy picks. I like to use vertical stems without a lot of leaves, that way the poppies don't fight for attention.
Try to use a variety of shapes and textures in your arrangement. Use some that have tiny buds along with some longer fern-like leaves.
I added fern leaves with some mixed clovers with some small white buds.
4. Fill In Empty Spaces
Continue to add more greenery and tiny floral picks into your arrangement until you cover up any empty holes or spaces in between flowers.
I love how this turned out! Even though you certainly can add a ribbon around your container, I chose not to. I wanted the bright orange poppies to be the center of attention, without competing with colors in a ribbon.
Watch The Video: Poppy Floral Arrangement
If you enjoyed this and want to learn more on how to get started with wreath making, try my Wreath Making 101 Workshop!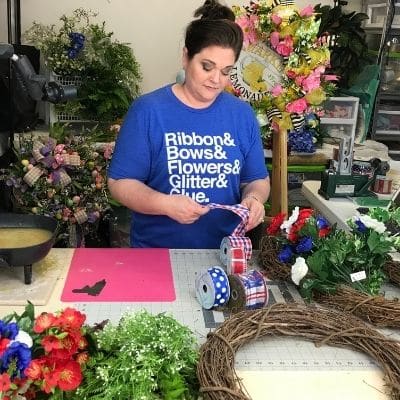 Thanks for joining me today in the wreath workshop! Comment below and tell me what's your favorite part or let me know what I should make next!
Happy Wreathing,
Julie
More Floral Arrangement Ideas
If you enjoyed this faux poppy arrangement, then here are some more floral arrangement projects you will enjoy too.
Liked this Summer Poppy arrangement? Pin it for later!