How to Make a Fall Lantern Swag
This Fall lantern swag is the perfect way to spruce up any room that needs a pop of color or some festive flare. They are quick and easy to create and always a showstopper! Let's get started!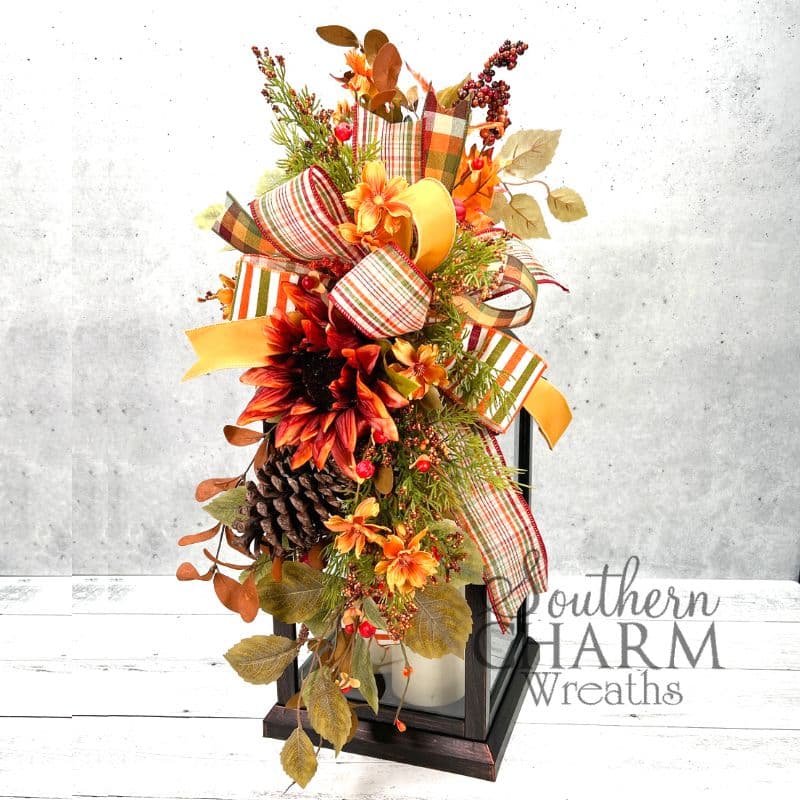 DIY Fall Lantern Swag
Have you ever seen or heard of a silk flower lantern swag? They are super popular right now and a new twist on a traditional floral swag arrangement. I created this Fall lantern topper and loved so much how it turned out that I decided to show ya'll how to create your own.
These lantern toppers are basically floral arrangements or swags adorning your favorite lantern. They are perfect additions to a front porch or a fireplace to add a simple yet impactful pop of color or flare to any room or table. The best part is how quick and easy they are to create for your own home or as a thoughtful gift.
There are so many beautiful Fall elements you can use such as flowers, berries, and beautiful Fall greeneries. It's also a great way to use leftover supplies from previous projects that would work into the Fall seasonal theme. To tie all your Fall floral elements together, we use beautiful ribbon with plaids and stripes that will pull all the Fall colors and make them pop! I like to use wide 2 ½" and mix in some 1 ½" wide ribbon as well to add texture and dimension. A pop of solid mustard yellow ribbon is a great color to anchor the different patterns together and reinforce that Fall color palate that we all love. I can't wait to show you how to create your own Fall lantern swag!
This post may contain affiliate links for your convenience. Click here to read my full disclosure policy.

Supplies for this project
18"-24" Lantern
Green Leaves with Orange Berries Bush
Fall Focal Flowers
Berry Stems
Fall Leaves Stems
Yellow Fall Filler Flowers
Greenery with Fall Berries
2.5" Striped Ribbon
2.5" Plaid Ribbon
1.5" Plaid Ribbon
1.5" Solid Ribbon
Floral Wire or Pipe Cleaners
Fall Lantern Swag: Step by Step Tutorial
1. Prepping to Start Your Floral Swag
Start with longer sprays or floral stems and take the time to spread out the leaves and each stem. Use your wire cutters to trim bushes into smaller stems. Take off the bottom stem of your fall leaves spray with orange berries to save for the top of the lantern. Add a large orange Fall flower and pinecone and hold them together at the bottom of the stems. Trim off any extra leaves if necessary while you are creating your swag. Play around with different combinations as you layer different stems in your hand to create and shape a fall swag.
Remember to keep some of the stems long enough to help with the structure of the swag. This also helps you hold it all together with the stems on the bottom. Use a zip-tie to secure the swag together at the bottom.
2. Create Your Topper and Add Them Together
Pull together the remaining Fall stems and Florals that you set aside earlier while creating your swag base. Arrange and layer each piece together, holding at the bottom with each stem in your hand. Zip-tie the bottom stems together to secure your topper. Trim the extra from both zip-ties. Use your wire cutters also to trim off any extra stems from your swag and topper.
Using the width of your hand as your guide, put the bottom stems of your floral swag arrangement and smaller topper arrangement together. Use another zip-tie or two to secure both pieces together so that you have one large cohesive piece. Use some remaining leaves to hot glue on top of the zip-ties. This will help to hide the mechanics of your piece.
3. Let's Make a Bow
Start with your 2.5" Fall Striped Ribbon and dovetail the end. Make a 14" tail and pinch and pleat. Measure 12" to create your first loop and pinch and pleat at the center. Do the same to make a second loop of the same length. Pinch and pleat and turn the ribbon so the right side is all facing out. Cut your tail shorter than the first.
Add a second layer with the 2.5" Fall Plaid Ribbon and measure a shorter tail matching the first layer. Measure 12" and create a loop. Measure another 12" to create a second loop. Keep pinching and pleating in the center and twisting so the ribbon is facing outward. Trim about a 14" tail.
Switch to the Fall Plaid 1.5" and layer on top of the previous ribbon. Make a slightly shorter tail and 12" lengths to create two loops. Pinch and pleat in the center and trim your second tail. You now will have three loops about your thumb and three loops below your thumb, holding your bow all together with your hand.
Add one more layer of the mustard yellow 1.5" ribbon with slightly shorter tails. Measure 10" lengths to create each of two loops for the bow. Pinch and pleat in the center and trim your second tail. Adjust all the loops and use florist wire or pipe cleaners to secure. Turn your hand over like you are checking your watch and secure around the center from the back. Twist your bow while you hold the wire.
4. Put it All Together
Take your layered bow and add it to the center of your swag. Use your floral wire to tie off in the back and secure into your floral swag arrangement. Trim the extra wire from the bag and push in so it doesn't scratch anything. Grab a piece of rustic wire and twist above the bow a few times. Place your swag on top of your lantern and secure with the rustic wire. Once your swag is attached, adjust ribbon tails, and bow loops to intermingle into your arrangement. Dovetail each end and trim any tails to fit the size of the swag. Reposition the florals also to lay smoothly on top of your lantern and add depth and dimension to your piece. Bend and shape the top of your swag so that it slightly wraps around the top of your lantern.
Add a few extra pieces of greenery or floral stems using hot glue to fill in any holes you may see once you have added your swag onto your lantern. This will help incorporate the bottom and top pieces to feel like one arrangement. It also helps to incorporate your bow naturally into your piece. When you add flowers, trim most of the excess stems to make them lighter and easy to integrate into your design.
Watch the video: How to Make a Silk Flower Fall Lantern Swag
If you enjoyed this post, you might also like:
Liked this Fall Lantern Swag? Pin it for later!