Simple Summer Flower Arrangement
Follow this tutorial to make a simple summer flower arrangement with lovely silk flowers. Use your favorite colors to match the season.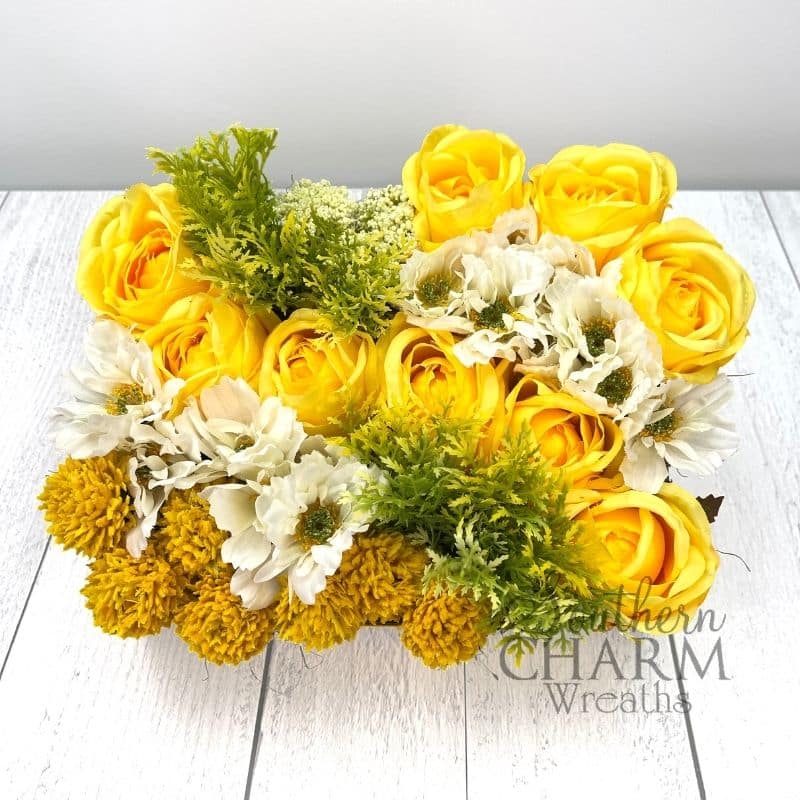 How To Make A Summer Flower Arrangement With Silk Flowers
This tutorial will show you how easy it is to make a pavé floral arrangement. What is a pavé arrangement? Well, pavé is French for "paved," so imagine you are trying to create a floral arrangement that resembles a paved cobblestone path. It's a technique that uses parallel insertions (like bricks that sit parallel to each other on a road).
That means you'll be trimming the leaves off the flowers and trying to get them as close together as possible. You'll also need to have really short stems so they sit lower in the box.
The result is stunning and you can use it as a centerpiece for your table. It's even perfect for party centerpieces – like bridal or baby showers.
Supplies For This Project
Small Wood Box
Spray Paint
Foam Blocks
Silk Flowers
Wire Cutters
Glue Sticks
U-Glue Adhesive Tape
Ribbon

How To Make A Silk Flower Centerpiece – Step By Step Tutorial
1. Prepare The Container
The very first step is to prepare the container – you can either paint or stain an unfinished wood box or buy one that is already finished. Then, fill it with floral foam blocks.
If you watch my video below, you'll see that when I ordered my container, it came as two smaller ones, so I just glued them together to make the size I needed.
2. Cut The Flowers
In order to make a pavé arrangement, you need to cut the stems pretty short, because you are going to insert them vertically into the foam and create a "paved" look in your box.
There won't be any variation of depth, so cut all the stems the same length.
3. Create Your Design
In my video, you can see that I chose to create a diagonal design with the yellow roses first. You can make a design that goes vertically, horizontally, or diagonally. That's the fun thing with this technique. Just decide which direction you want your lines to go and start with your biggest/showiest flowers in the first row of that design.
Try to get the flowers in this row to be as close together as possible. You don't want to see the green foam underneath the blossoms.
4. Add More Flowers Or Greenery
This is where you let your creativity shine! Now you can either keep adding the same flowers or add different ones for some color and texture variations.
I used some orange foliage because it has some light yellow shades that bring out the yellow in the roses.
No matter what type of foliage or greenery you use, try to make it the about the same height as your first row of flowers.
5. Keep Adding More Flowers
Then, just keep adding more flowers and greenery until it is as full and in the shape that you want. Stay within your original pattern, but move flowers around until you are satisfied with how it looks.
Remember to use colors that either compliment each other or are within the same shades. I used all yellow, white, and a few green colors in my arrangement since I was making a Mother's Day gift.
Try to mix it up with a little difference in texture too. That is why I used a few springs of Queen Anne's Lace. I love how the flowers add texture and depth to the arrangement.
6. Finish With A Ribbon
This step is completely optional, but it adds a beautiful final touch to your arrangement. I got the idea to add ribbon around the box when I looked at it from the side and you can tell I glued two boxes together. I just hid that seam with a yellow ribbon.
Since I used mostly yellow flowers, I used a yellow ribbon. Pick out a ribbon that pulls out the colors from your flowers.
Use some U-Glue adhesive tape to attach the ribbon to the box. It is double-sided and makes the job super-fast.
Watch The Video: DIY Silk Flower Pave Arrangement
If you enjoyed this post, you might also like:
Liked this Summer Flower Arrangement Tutorial? Pin it for later!